I've seen so many musicians go from working day jobs to making a comfortable living off their music full time. But if you're making this big transition, you owe it to yourself to acknowledge the reality of it all.
For a lot of musicians, being able to support themselves from music full time is the ultimate dream. Whether that's having a deal with a publisher or record label or being independent, the goal is to work with no cubicles, no boss telling you what to do, and no putting someone else's vision above your own.
But making the jump to being a full-time independent musician is a big deal. Let's not make light of that. You need a plan. And depending on where you are in your career, your plan could take a year or more to execute.
If you just tell yourself, "Oh, someday I'd like to be able to quit my job and do music full time," you'll probably never get there. You need to be active about it and you need to start taking steps towards that goal.
So let's go through a few key things you should think about and have in place before you start transitioning to a full-time music career.
What is your goal?
Before you can begin this process, you need to define your goals. What do you want to do with your music? If you had no other job responsibilities, what would you want to spend your time on? Do you see yourself getting a record deal down the road, or would you rather be in total control of your career? Do you want to tour? Is publishing or licensing a goal? Would you rather do freelance work like studio sessions, engineering, or production?
Be really clear and specific here because these goals will influence a lot of what we'll talk about later in this article.
What is your current situation?
Before you give up a job and head into the unknown, you need to take stock of where you are. What are your financial responsibilities? Do you have other people to provide for? Do you have a partner with a job who can pick up some slack while you get your music income established?
It's a good idea to create a spreadsheet of all of your financial obligations, so you can see just how much money you'll need to bring in from music.
Have a fan base and infrastructure
This is probably obvious, but it's so important that it's worth mentioning. If you want to be successful, you really should have an established fan base and some basic infrastructure (a.k.a. social media pages, a website, an online store, and an email list) in place before you start your transition to music full time.
Think of these things as your tools.
Save up a financial buffer
You don't realize just how much you rely on that day job income until it's gone. And when you're first figuring out your new independent life, the possibility that you'll hit a dry spot where the money just isn't coming in is very real.
Don't get me wrong, I'm not trying to scare you out of it. I've seen so many musicians go from working full time to making a comfortable living 100% from music! But if you're making this big transition, you owe it to yourself to acknowledge the reality of it all.
A good safe place to be would be to have three to six months of income saved up – enough to cover your basic living expenses (food, rent, gas, etc.).
If at all possible, it's also great to have some reliable music income in place, some revenue you can expect to see every single month. Maybe you have a Patreon page, or you regularly make a certain amount of money in ad revenue from your cover videos on YouTube, or maybe you have a regular set of paying gigs every month.
I'd also suggest tracking your music financials for a few months to a year before you quit your day job. This will give you a better understanding of which months may be slower than others so you can plan ahead.
Give yourself a transition period
This point is definitely optional depending on you and how you work. Some people really benefit from throwing themselves into something head first – it motivates them to hustle and work hard. These kinds of people tend to learn by doing, and that's totally fine!
But for the rest of us, it's beneficial to have some sort of transition period built in, some time to test the waters. The most obvious approach is to transition from a full-time job to a part-time job to maintain some reliable income as you build up your music revenues.
You could also transition from a full-time job to music freelance work if you have the opportunities and connections: giving lessons, playing sessions, writing music for a company or TV show, jingle writing, etc. Just make sure you remember your goals. The last thing you want is for your freelance work to take up all your time and energy and have the projects you want to focus on fall into the background.
So, why a transition period? Number one, it gives you the chance to see how well your music income holds up. Ideally, you'd have more time to spend on music and you'll be able to get a much clearer understanding of how your income will scale with the time you put in.
Number two, you'll be able to see how well you can manage your extra time. Going from working for someone else to being your own boss is a big shift in mindset, and it can be difficult to motivate yourself or make the most of your time. This transition period will allow you to figure that out before you dive in.
Have a few projects planned out
Whether you decide to use a transition period or not, you absolutely should have some projects planned out before you quit your day job, things you can start working on right away without too much waffling about.
These projects need to be something that fit the goals you set for yourself and they need to have the potential to bring in income. Things like a planned album, EP or song release, a Kickstarter or Pledge Music project, starting a Patreon page, a house concert tour, a tour, or some licensing deals or jobs in place.
These projects will serve as both financial and creative momentum. They will get some revenue coming in and also get you hitting the ground running. The last thing you want is to quit your day job and find yourself in an unmotivated rut. Having projects that you're excited about planned in advance will help put you on the right track.
---
Dave Kusek is the founder of New Artist Model and Berklee Online. Over the years he's worked with tens of thousands of musicians around the world across every genre imaginable and in many different markets. New Artist Model is an online music business school designed especially for indie musicians. Learn how to turn your music into a career, understand the business, and start thinking like a musical entrepreneur.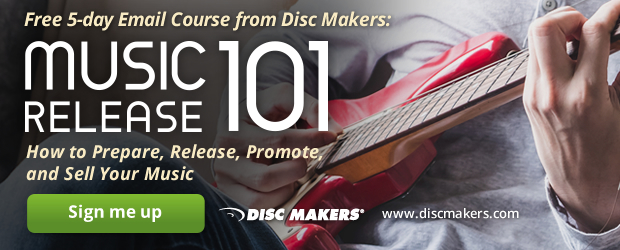 Related Posts
Working in music IS a "real job"
How do you know when it's time to quit your day job?
Will this gig help you reach your music career goals?
How to develop short, mid, and long-term music career goals
Want to make more money with music? Here's How (Part 1).