These four portable audio interfaces will help you get audio in and out of your laptop quickly and easily and sound great doing it.
In the age of digital music-making, it's easier than ever to record and produce music from a train or plane, hotel room or beach. But while it's a reasonably simple matter to begin crafting music via laptop-plus-GarageBand, Pro Tools, Ableton Live, or any number of software suites, there's another key challenge — getting audio into and out of your computer quickly and easily while retaining the integrity of the sound.
Luckily, there's a wide variety of high-performance, portable audio interfaces that can help you record audio on the go. Here are just a few that come recommended by professional musicians and producers who use these devices on a daily basis.
Apogee Duet and Quartet
Apogee's products received high marks and lots of love from my informal survey of professional composers, producers, and engineers. Apogee's Duet and Quartet are both portable USB-connective options, boasting different levels of input and processing power while offering the analog-to-digital convertors and mic preamps Apogee is known for. Apogee's audio interfaces are far from the cheapest around, but many feel the quality and ease-of-use you get in return is worth every penny.
Read Sound on Sound's review of the Apogee Duet 2.
Universal Audio Apollo Twin
Many top producers use Universal Audio products to craft radio hits, and with good reason. Users applaud the Apollo's excellent sound quality, monitoring capabilities, and ability to interface with additional Apollo units for greater recording power.
Another key selling point is Universal Audio's plug-ins — UA specializes in meticulous digital emulations of vintage recording gear. The plug-ins are powered by the Apollo, so they don't tax your CPU; a handful of licenses come standard, while others have to be purchased separately. The Apollo also comes with a new technology called Unison, which adjusts the unit's preamps to match those of classic analog gear.
Read Sound on Sound's review of the Apollo Twin.
To learn more about how Universal Audio's plug-ins work in context, check out some of the producer interviews I've written for the company's featuring Dave Tozer, Salaam Remi, and Armin van Buuren.)
RME Babyface Pro
RME's Babyface Pro, another committee recommendation, connects to your laptop via USB and can handle up to four analog inputs, two XLR jacks for microphones, and two quarter-inch inputs for keyboards, guitars, or anything else. You can plug a guitar directly into the interface without any need for additional amps or preamps, a useful functionality offered by a number of other interfaces as well.
The Babyface Pro is bus powered, which means it draws enough current to run from the USB connection — a nice feature if you're doing field recording. The Babyface received praise for its sound quality and interface, as well as its ability to handle MIDI as well as audio.
Read Sound on Sound's review of the Babyface Pro.
Focusrite Scarlett Series
Robust and low-cost, the Scarlett series was described by producers I contacted as "quality," and "great — no nonsense, no frills." With several versions available for under $300, Scarlett interfaces are intriguing options for a wide variety of applications. The Scarletts connect via USB and receive high marks for sound quality, ease of use, and robust construction.
Read Sound on Sound's review of the Scarlett 6i6.
Do you have a favorite portable audio interface? Tell us in the comments below!
---
Disc Makers' regular contributor Michael Gallant's debut trio album Completely received a four-star review from DownBeat magazine and a five-star review from Critical Jazz, which stated: "This, my friends, is the future of jazz. Fresh, invigorating, progressive – there are simply not enough positive adjectives to list here." Learn more, download through iTunes, or purchase through CD Baby. Follow Michael on Twitter at @Michael_Gallant or on Facebook.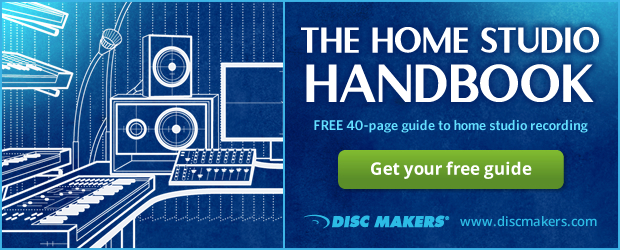 Related Posts
Going mobile: A look at music making apps
Virtual synths and musical instruments on your mobile device
Acoustics and the science of how a computer hears sound
Using a MIDI Controller In Your Home Studio
Choosing the right audio interface for your home studio