You've put together a great set of music and you're ready to perform. How do you make a connection and impress a club owner or talent buyer so they take a chance and book you for a high-profile gig?
I spoke with Chad Heimann and Molly Butera, two talent buyers in the San Francisco area, to find out just what they consider when checking out a new band.
Noise Pop
Chad Heimann is a co-owner of Salty Artist Management, a boutique artist management company that represents 14 musical artists, and a member of the team that books the Treasure Island Music Festival. He's also a talent buyer for the Noise Pop Festival, one of the nation's leading independent music events. During its 25-year run, Noise Pop has become renowned for introducing new artists that have gone on to become major acts, including Death Cab for Cutie, Big Star, Cat Power, and Kamasi Washington.
Since Noise Pop is a "hard ticketed" event (attendees are buying tickets and badges to see specific acts), when it comes to booking the popular Noise Pop dates in venues across San Francisco, the strategy is to book an established artist with a following as a headliner.
Once Heimann has booked the headliners, they identify local, up-and-coming acts that have attracted their attention. Their goal is to fill at least 50% of the bill with new artists opening for the headliners. "We try to champion local talent and give them the opportunity to play for a bigger audience – so they're able to say that 'one of the first festivals to put us on was Noise Pop.'" An example from this year's festival is The Bilinda Butchers, a new band Heimann has been championing, who opened a sold-out show for headliner The Radio Department at The Independent, a 500-capacity venue.
Still, when considering any first-time booking with an act, Heimann states unequivocally, "It comes down to the music. Does it move us? Does it excite us? Is it something we really want to get behind and champion? Then, we'll look at what they've done locally: are they primarily doing DIY shows and need that one shot to get into more local venues? Or are they a band that's been playing local venues every month, and if we're excited about them, we want to see the band grow and see their audience grow? If that's the case, we may reach out and have the conversation that 'We really want you for the festival, but we need to keep you out of the market for a little while so your demand goes up.' Then the Festival date becomes more of an exciting event for their fans and the festival's fans and not just one more in a string of weekly shows."
With regard to the importance of positive word of mouth, Heimann says "It matters a lot. We listen to what other agents and managers say about a band, or even the band themselves, if they can tell us 'we're good friends with this band and we've opened up for them a lot.' That tells us they know the ropes and understand what it means to fill that opening spot and are familiar with the protocols."
With respect to having a traditional hard copy press kit or EPK (electronic press kit), Heimann admits they rarely look at such materials. "The biggest assets for us are more about knowing who they are playing with and what kind of world they are in. We're looking at developing talent and reading any music blog write-ups and social media metrics. We're also looking at Spotify numbers: monthly listeners, are they getting playlisted? That kind of stuff is really key for us."
Once a booking is set, Heimann's team will reach out to the artist and ask for photos, links to music, or any other assets. Noise Pop uses these assets to push things out on social media, familiarize Noise Pop fans with a band's music, and get them excited about their upcoming appearance.
"Hopefully, when the day of the show comes, we have a packed house and people who are somewhat familiar with the band," says Heimann. "It's more organic than just getting links to an EPK, as we really use the Noise Pop Festival to build relationships with these new bands so we can continue working with them throughout the year in different venues."
When I asked Heimann what makes a band stand out among the many vying for a slot at a venue or festival, he says it's a combination of things. "We'd like to hear that your group is getting some local college radio play, or they are reaching out to ask us about playing support for a show that sonically makes the most sense. For us, it's often trying to find the right band at the right time. If they reach out with an intended show in mind that they're interested in, it makes our job easier. We don't have to listen to the music and try and spot them, they're doing the work and coming to us and saying, 'We sound a lot like this, this, and this, and we see that you have these shows coming up – please keep us in mind while booking support for those shows.' So we can review their request, see what the availability is, and determine if they make sense for that date."
This approach requires thorough online research and getting out to shows to identify established acts with whom your own music would be a good fit. Heimann also suggests trolling local venue calendars to identify where you might fit on a bill. "Find out what's on the upcoming calendar that makes musical sense, and if there are no support acts listed, reach out to those talent buyers, because they might be seeking support. Knowing you've done your homework saves time for the buyer because we don't have to spend time mulling over the question, 'Where does this band make sense?'"
As for follow ups, Heimann advises you keep in touch, be persistent (but not too persistent), and keep emails short and to the point. And be realistic: no one gig represents a total "make or break" proposition for any artist.
No no's include following up too much, sending angry or negative emails when you don't get booked, or acting unprofessional when your show date arrives. In any local music market, everyone knows each other and word travels fast. Your professional reputation is influenced by your behavior on and off stage at every show you play.
SXSW and Live at Lagunitas
Molly Butera and Laura Muckenhoupt run the music marketing department at the music-centric Lagunitas Brewing Company and book talent for the brewery's wide range of music events, including the very popular Live at Lagunitas summer concert series, held at Lagunita's Petaluma, CA brewery. These free concerts run from June through October, and this year featured headliners such as Mavis Staples, James McMurtry, Lake Street Dive, BADBADNOTGOOD, Low Cut Connie, and The White Buffalo.
Additionally, Butera and Muckenhoupt put together special Lagunitas-branded showcase concerts at major industry events such as SXSW, where this year they produced two back-to-back days of non-stop music featuring 10 bands. Another branded series of events which incorporate live music are the Lagunitas Beer Circus shows, day-long pop-up festivals staged across the country. Butera and Muckenhoupt book four or five acts for each one of the Beer Circus festivals. In addition to all that, all four of the Lagunitas tap rooms offer live music featuring local bands which are booked by each site's tap room booker.
Butera started booking bands five years ago, getting her start as a talent buyer at the University of the Pacific. For three years she helped lead a student team that booked major artists on campus, with venues ranging from the school's 100-seat on-campus pub to a sold-out arena show with Diplo. She's been part of the Lagunitas Music Marketing team for two years, putting together dozens of shows each year.
As to the type of artists Lagunitas books for their concerts, Molly explains they are working to expand the types of music they program. "Six years ago, when the summer concert series kicked off, we started with mostly roots and Americana rock artists. This year we branched out, booking artists who are more electronic, like Sylvan Esso, and we had Chali 2na from Jurassic 5 last year. We're trying to book the best live music there is in a variety of genres."
When considering a new band for a first-time booking, Molly said she looks at how far along their career path they are. Ideally, for Lagunitas, this means an act that is starting to do national tours. In her view, there's a big difference between your friend's band who has only played locally and an act that is already on a trajectory to grow beyond being an opening band.
"Some other things we look for is who is representing an act," says Butera. "If they are working with an agent we already work with, it's more of a known quantity. It helps establish a level of trust because we know their agent and manager will be on top of things. Another thing is if their name keeps popping up on festival lineups, that really helps. Those are some of the signs that tell us they are going to be more than an opening baby band. Of course, it does happen all the time that we get calls from someone who has a friend with a band, so people reach out to us. So we'll ask all the same questions, 'Are they nationally touring?' and go through all the other steps to review them."
I asked Butera how her team puts together the larger showcase events, such as their two-day lineup for SXSW last March, and how many openers vs. headliners they put onto the stage.
"With that, we had five bands on each of the two days," Butera replied. "We had two headliners each day, then two opening bands, for example, The Shelters and Rainbow Kitten Surprise, who were both nationally touring bands that have been generating a lot of buzz. The Shelters had been working with the support of Tom Petty and his management team to produce their album. Rainbow Kitten Surprise I ran into at Bonaroo and they were playing a number of other shows and festivals all over. We also look at what is being written about the bands we are considering, say in Paste magazine or Consequence of Sound."
Butera adds that if an agent she has worked with calls with a suggestion for a first-time booking, she's much more likely to check out the band than if it's a cold call or email coming in. "Especially, if it looks like the email has been cut and pasted into dozens of emails to promoters, which I must get at least five times a week. I don't even look at those," Butera cautioned.
When asked what Butera's team reviews when considering an opener or a first-time booking, she says "Most of the time, an unsolicited email will include links to an EPK, which I rarely look at, but sometimes an agent will also send a link to an EPK to introduce an act. I do look at their Facebook likes and to confirm they are on all the major social platforms to help us promote their show at our venue if we book them. Still, the number one tool I use is Pollstar Pro, which gives me the band's touring history and what kind of ticket counts they are capable of pulling in the particular market I will be booking them into."
With regard to the band's promo materials, Butera says it's easy to tell when the photos have been done professionally, which means she can expect everything else to be at the same level: it's a domino effect. "When I'm looking at hundreds of bands via their websites and social media, the ones with a solid digital presence stand out. And it is helpful if there are quotes from music reviewers or concert reviews, especially if they are from more well-known sources such as the ones I mentioned earlier."
For a band that does not have an agent and is reaching out to talent buyers directly, Butera advises: "Be as personable as possible. Don't copy and paste your words or sound like a robot – put some 'human' behind your email."
Regarding things to avoid, she said she expects artists to follow up, but not too much. "I appreciate someone following up, so if they follow up twice, that's something I look for, because I really can't get to all the emails I receive, I can't always respond. But the negatives would be when a band goes too far and starts hounding us, you know, calling the front desk, going around our team, being aggressive, trying to get through to other people in our company – that's when it gets to be a little too much. There is a logical progression to getting your band to the level where Lagunitas might consider a booking at one of our premiere concert events, and that usually takes some time."
Final thoughts
The advice Heimann and Butera offer suggests that a new artist working hard to land more and better gigs must find a way to become an integrated part of the local and regional music scene. According to these talent buyers, this happens gradually, by building relationships with other bands, musicians, clubs, and venues and by having a compelling live show to bring to the stage. Having a solid presence on social media, professional photos, and working to get mentions in well-respected music blogs and publications always adds credibility to your pitch.
Additionally, knowing where your music and performance style fits into the marketplace and becoming a student of similar acts in the region who are further along the career ladder can make the door easier to open to secure a first-time booking at a new club or festival. Landing an established booking agent is also a viable strategy, but that requires demonstrated ability to earn enough money from gigs to make the agent's investment worthwhile.
Put yourself in the shoes of a talent buyer and make it easy for him or her to see how booking your band will be an all-around win for the audience and the venue.
---
Keith Hatschek is a regular contributor to the Disc Makers Blog and directs the Music Management Program at University of the Pacific. He has also written two music industry books, How to Get a Job in the Music Industry, which just came out in its third edition, and The Golden Moment: Recording Secrets from the Pros.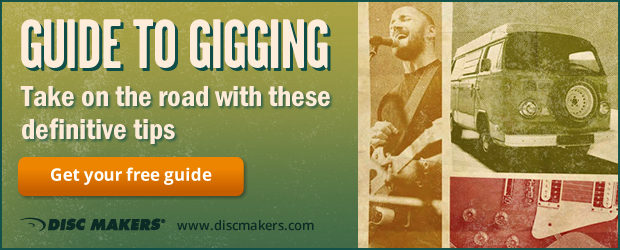 Related Posts
How to Land a Music Festival Gig
Gigging, touring, and performance contract tips
How to book high exposure music gigs as an independent artist
Expand your audience with opening act and support slots
The Indie Artist's Guide to Gigging: Booking Strategies
Five ways to get more gigs