You know that rush of excitement when you finally get the opportunity to perform on stage in front of a crowd? You love singing and you've been preparing for years and finally that opportunity has come. You're over the moon. You practice and practice and practice, and you love the way your voice sounds and the way things are coming together in rehearsal. You have found your opportunity, you've found your courage, and you're ready to perform.
But when the day arrives and you're getting ready to step out in front of the crowd, you're hit by something you did not expect: stage fright. Your mouth is dry, even though you've been drinking water like an addict. Your hands are stone cold, your knees are shaking, and you're certain that wearing these shoes was a bad idea. You're awkward and uncomfortable, and you're feeling like saying yes to this opportunity was the worst decision you've made in your life.
You start second-guessing yourself – "I'll never be as good as Daisy. Daisy has much more experience, better training, she's prettier than me, and has a better stage presence." How can you even think you compare to her?
If this sounds all too familiar, there's no need to panic. Consider these two ideas.
Really feel what you're singing
It's that simple! If you're performing a sad love song, write down a sentence or phrase that triggers an emotional memory from your past, ideally something from your love life, and deliver the song. Find something in the lyrics you can relate to. If there's nothing from your own experience to draw from, you can always make up a story or borrow from real life or a fictional character. Believe the story, relive the experience, and sing it to the person you want to address.
Visualize the person you're singing to
This can go two ways: an imaginary person sitting in the audience or an actual person sitting in the audience. Either way, see him. This can help you avoid the awkward, fake-emotion, eye closing pity-party and gives you a bigger presence on stage. See the person you're singing to, ask yourself, "What do I want him to feel while I'm singing the song?" and just make sure the person feels it."
Enjoy the video!
Janet Tabaka is a singer from Latvia (Riga) living in UK. She has studied a variety of music styles, including classical, jazz, pop, and musical theatre styles. Janet has shared the stage with many talented artists, doing gigs, weddings, and festivals and was a back-up singer for Sheila Ray Charles (Ray Charles' daughter) and participated in Eurovision. Janet has a degree in Musical Theatre and TV and Film acting at the School Of Creative Arts and is currently filming covers for her YouTube channel, making short films, and modeling, and dedicating her time to pass on stage presence wisdom to other aspiring singers. Find her on Facebook and Instagram.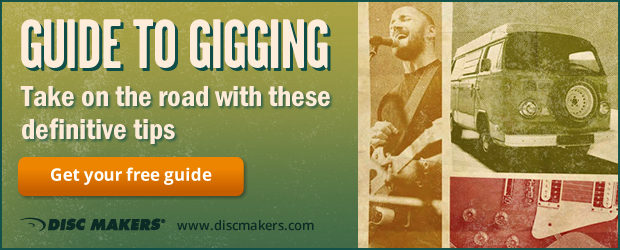 Related Posts
Stage fright! Overcoming music performance anxiety
Stage Banter and Your Live Show
Making magic when things go wrong on stage
Ditch the pre-show performance jitters
How I Bombed On Stage