This post will help you with the task of shopping recording studios and avoiding the "studio car wash" syndrome where artists get the same artistic whitewash.
So you've got 20 new songs written and you're ready to record, which means the next step is shopping recording studios.
I live and work in Nashville, and artists come here every day, shopping recording studios and looking for the team that will transform their ideas into reality. Many of these artists end up working with amazing musicians in renowned pro studio facilities, and they still end up with lackluster projects that don't meet their expectations even after they spend a lot of time and money. How does that happen? How do poor recordings happen even with amazing musicians recording in the best studios?
This post is intended to help you with the massive task of shopping recording studios and avoiding the "studio car wash" syndrome, where every artist is treated with the same artistic whitewash. If you've ever been there – and I have – the studio car wash is a lousy and frustrating experience that delivers disappointing recordings that lack artistic spark.
Before I get into the details, my first tip is to focus more on the team than the recording facility. In the end, the producer and engineer you work with are more important to your final product than the studio you end up in. Then…
1. Develop clear goals for the recording
Are you recording a song demo to pitch to artists, publishers, or producers to try to get a cut on an album? Is this a demo to shop to record labels? Is this an independent release? Is this just for you or do you intend to sell the recording to consumers? Are you a new artist or are you an established touring act?
Answering these questions will help determine how many songs you need to record, what kind of production value you should aspire to, etc.
Touring acts are more likely to make a full-length CD pay off as they can sell them at shows and make a profit. New artists may not need not a full length album – perhaps it's better to produce an EP and use the remaining budget for mission-critical marketing.
2. Know the difference between an artist track and a demo
By definition, a song demo is a demonstration of one SONG. The focus is on the melody, lyric, and vibe of the song. You're selling the song, not your recording of the track. Your goal here might be to get an artist to cut it.
Demos and home studio recordings on which you focus on crafting your tracks and arrangements before spending money in a professional recording studio are time well spent. They'll help you achieve your goals in the studio.
Demos intended to showcase your talent as an artist to a potential record label are irrelevant. A record label rep might love your music, but the label won't develop talent. They can't do anything about your amazing music unless you have a quality product and an audience to go with it. Today you have to have an audience and a cash flow before a label will sign you.
An artist track is designed to sell the actual recording, so the focus should be on the artist, the performance, the arrangement, and the song choice – and it has to be HOT.
Listen to Jamey Johnson's "In Color." It's a great example of a recording that's all about the song, the artist, and the vocal performance. Van Halen and Van Halen II, on the other hand, are all about the guitar. Ted Templeman found creative ways to ensure the mixes focused on the guitar sonically as well as with the arrangements – e.g. the guitar is coming out of the left speaker by itself while the drums and bass are in the right speaker. This was unusual creative production to feature the band's musical strength: the guitar work of Eddie Van Halen.
Artist tracks typically involve much more craftsmanship (pre-production; work on arrangements, instrumentation, and background vocals) than a demo, especially when it comes to the vocal – which means they're more expensive to produce. Fair warning: if you're getting an artist track for the price of a demo, you're probably not getting a deal, you're just getting less studio time.
Song selection is a very important consideration with artist tracks, and a good producer will tell you what songs you should record, when to keep writing, and what songs just aren't strong enough. You have to accept there's a difference between an A-list song and a B- or C-list song, and your producer should have the ability to recognize and convince you why some tunes just aren't going to stand up to others. Bottom line: an artist track has to blow people away!
3. Understand your genre and what it will take to reproduce what you're hearing in your head
Typically, country and rock music is recorded with a live band, though "new" country and rock is often programmed these days. If you choose a studio where the available musicians are online, then you may end up with a lifeless recording, so beware. These online, "choose-your-favorite-player" studios are typically the most expensive to record in with the lowest return. If you're recording solely for your own pleasure, this might be a good – albeit expensive – choice.
If the studio you are considering is basically just one guy producing the songs, engineering the tracks, playing all the instruments, and mixing as well, your recording will most likely suffer. These are typically inexpensive recordings (there are guys in Nashville who will do this for $400 a song), so if your recording doesn't have to compete with others on the market, this can be an attractive way to get your song recorded.
Keep in mind, professionals can identify these low-budget, all-in-one recordings instantly, so these might be good for your own personal use, but not for professional applications. They just won't compete in the marketplace.
4. Understand the difference between an engineer and a producer
Engineering, arranging, producing, and mixing are individual and specific art forms. There are people in Nashville and all across the country who make a living focusing on just one of these specialties. Sometimes you can find someone who is adept at one or more – maybe even all of them – but don't expect your guy has mastered everything. Figure out where he or she excels and where you may need to shop elsewhere (i.e. for mastering or the mix). After all, it's your track and you want it to meet your expectations.
That said, you may not be as picky about the mix on a demo, but you'll be better off being very picky about the producer, engineer, and mixing engineer on an artist track.
Sometimes producers are capable engineers, sometimes they aren't.
An engineer's job is to tend to the sessions and keep the creative flow going to ensure the integrity of the performances and the sound of the recording. An engineer ought to have a detail-oriented personality and painstakingly organize all your tracks to make post-production as efficient as possible, whether it's for him or another engineer (which is often the case).
Different engineers have different "ears," and that should factor into your decision making. For instance, if you listen to Queensryche's Operation: Mindcrime, you'll hear that James "Jimbo" Barton has very "clean" ears. While this record is considered a masterpiece by many in the rock world, and Jimbo's engineering is a big part of that, he would have been a poor choice to engineer an album like Guns N' Roses' Appetite for Destruction. Put some thought into how you want your record to sound and choose your engineer appropriately.
A producer will be in charge of captaining your artistic ship and articulating your vision while constantly infusing energy into the project. A producer has to understand the artist in terms of vision, song choice, arrangements, and sonic goals, and has to be expert in communicating with performers and vocalists to push them to perform to their ultimate best when the red light is on.
A producer is also a project manager, which means he or she is in charge getting you what you want on time and under your budget. If you're using session musicians, your producer will have (or build) relationships with them and be capable of leading them. In Nashville, if you don't have a seasoned producer, the musicians will often "lead" a rookie artist, which might make for a "car wash" situation. Most musicians are wonderful, capable people, but they're getting paid to perform, so that's what they're going to focus on. With no captain on the ship, the project can easily run aground.
The art of making records is vastly different than knowing how to press the "record" button. A producer is often the best musician in the room, and the best will create musical and psychological bonds with you and your band mates to elevate your understanding of the recording process, develop trust, and help everyone excel at their performance.
5. What musicians will the studio be using?
Like a great film, casting your band is crucial, so listen to past works. I keep five or six amazing acoustic players in my stable, and they all have different nuances that are more appropriate for certain tracks (e.g. Stonesy vibe, delicate fingers, very clean fingerpicking). It's also possible to utilize a premier studio for certain tracks and over-dub the guitars or horns somewhere else (for instance) with someone more appropriate for the job. Does your team have access to all the musicians you need?
6. Learn to trust the people with the experience
Bruce Springsteen's first two #1 hits were "Blinded By The Light" and "Spirits In The Night," both on his debut recording, Greetings from Asbury Park, N.J. But it was Manfred Mann's recording of them that landed in the charts, not Springsteen's. As a matter of fact, when Springsteen first handed the album to Columbia records, those two songs weren't even recorded or written! Upon first listen, Clive Davis told Springsteen there was nothing he could push on the radio and he needed to write some more songs. Reluctantly or not, Springsteen listened to Davis and wrote his first two number ones (albeit recorded by another artist). Manfred Mann once told an interviewer that he enjoyed restructuring and "playing" with Springsteen's early songs. When asked why he didn't continue to revamp more in lieu of the successes of the first two, Mann replied that Springsteen had gotten so good at songwriting he didn't feel he could improve them.
The point is, while Springsteen's first and second releases were critically acclaimed by folks who identified his raw brilliance and unusual songwriting approach, they didn't sell well. It wasn't until Springsteen's third release, Born To Run, that he refined his craft to the point where the masses began to respond. It's also important to note that Springsteen was willing to accept criticism and work on his songwriting at the behest of the record label head.
He could have put his foot down and insisted his product was just fine the way it was, that art is "subjective," and all the nonsense you hear from non-professionals. Instead, he chose to listen and learn, and it led him down a path to being considered one of the greatest songwriters of the 20th century.
7. Choose your studio and record your songs when you're ready
Martin Luther King said, "Faith is taking the first step when you can't see the whole staircase." Every journey begins with a first step, and you never see the whole staircase. One demo, LP, or EP is merely a snapshot of your artistry at a particular moment in time, so don't let "perfection" get in the way of forward progress.
I hope this helps you create an amazing recording!
---
Johnny Dwinell is a veteran Nashville artist/producer/businessman who created Daredevil Production in 2011 to provide innovative artist development in the new music business. In mid 2013 Daredevil Production started a weekly blog as a free resource for artists and songwriters to use for inspiration, advice, support, and knowledge. In late 2013 Johnny Dwinell wrote the bestselling book, Music Marketing On Twitter. Thousands of artists and songwriters have improved their understanding and execution of social media with the help of this free book!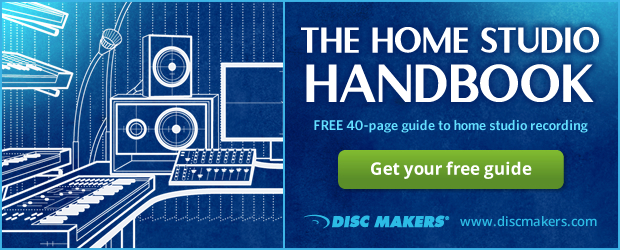 Related Posts
How to choose a recording studio
Preparing to record in a professional recording studio
Prepping for the recording studio, Part II
Why indie musicians make CDs [Infographic]
Finish your music projects, don't wait for "perfect"