We take a look at the University of the Pacific's efforts to find a signature vocal mic for the campus recording studio. What they learned might help you choose your next great studio mic.
Most musicians have a favorite instrument they rely on whenever they step on stage to perform. Eric Clapton and Bonnie Raitt prefer a Fender Strat, while B.B. King relied on his Gibson ES-355 semi-hollow. Every instrument has distinctive tonal qualities that enables an artist to achieve the exact sound and feel he or she is looking for.
The same is true for microphones. Each has its own sound characteristics, and it's useful for vocalists and sound engineers to be aware of which microphones best complement a performer's tonality and singing style.
This past spring, after eight years of operation, the recording studio at University of the Pacific was ready to add one "signature," high-quality, large diaphragm condenser vocal microphone to its mic locker. We were fortunate to have a budget of up to $3,500 to invest, so we got to work researching our various options and narrowed the list down to three contenders.
The good news is there's a wide range of very high-quality condenser mics that fit the bill for a vocal specialty microphone. The major manufacturers (Neumann, AKG, Audio-Technica) have products in this category, as do dozens of smaller boutique manufacturers (Mojave, ADK, Telefunken, Manley, MXL, BLUE). You can find mics costing less than $500 that provide exceptional performance, all the way up to the top-of-the-line, hand-made beauties in the $8-10,000 range.
We were looking for a reliable, bright, high-quality condenser that would primarily be dedicated to capturing lead vocals.
Building a microphone locker
When the studio first opened, we purchased a basic selection of 11 microphones to get us up and running. These included a pair of Audio-Technica AT4041 small diaphragm condensers for drum overheads and acoustic instruments, a pair of AT4050 large diaphragm condensers, an Electro-Voice RE20 for kick or low brass, a pair of Audix D2s used for drum mics, a pair of affordable Cascade Fat Head ribbon mics, and two versatile Shure SM57s made up our entire starting complement.
This collection of mics was chosen to afford students the opportunity to learn about mic selection and placement with a handful of microphones typically found in a well-stocked project studio. Like most musicians getting started with a home studio, we didn't have the budget to purchase the big-ticket microphones that can be found at the top studios.
The extremely versatile AT4050s were the workhorse of the Owen studio, serving as our primary instrument, room, lead, and backup vocal microphones for many years. The $699 retail AT4050 is a multi-pattern microphone offering omnidirectional, cardioid, and bi-directional pickup polar patterns – and proved to be very versatile. It's an outstanding choice when you have only one pair of large diaphragm condensers.
New toys in the mic locker
In 2014, a grant was obtained to significantly expand our microphone locker. We purchased a pair of Shure KSM44 large diaphragm condensers, a pair of AKG414 XLII large diaphragm condensers and a pair of Beyerdynamic M160 ribbon dynamics. The addition of these mics changed the overall sound palette of the studio's recording output tremendously.
Now we could use the KSM44 ($999 retail) and AKG414 ($1,100 retail) as lead vocal microphones and achieve great results. When compared to the relatively neutral sound of the AT4050 on lead vocals, the KSM provides a warmer, silkier sound, while the 414 delivers a brighter, crisper vocal presence than either the KSM or the 4050.
Depending on a given vocalist's natural timbre, we now had a range of vocal mics to better accommodate him or her. When we were working with a female singer with plenty of natural high-end presence, choosing the KSM44 would add a touch of warmth to her recorded track. Similarly, for a male singer with a darker vocal signature, selecting the AKG 414 would enhance the upper overtones of his voice.
Of course, for many professional recording studios, this list of mics is fairly standard. However, it's not unusual for a recording studio to boast a few high-end microphones for the vocalists who walk in wanting something special to help crystallize their vocal sound. Some might even be vintage, prized models from the 1950s or '60s such as an AKG C12 or Neumann tube U67.
Picking the contenders
In the fall of 2016, two advanced student engineers, Scott Nelson and Ethan Castro, worked with recording studio manager Jeff Crawford to identify a trio of potential condenser mics to conduct a mic shoot-out at our studio, with the goal to add a terrific new vocal mic to our locker by the end of the semester. The campus studio provides recording time for Pacific's Conservatory of Music, as well as many rock, jazz, pop, and opera vocalists, so a dedicated vocal mic that offered a distinctive sound seemed a wise investment. After some research and confirming our budget range, we selected three professional, large diaphragm studio microphones for comparison.
Our first contender was the Neumann U87 condenser microphone, ($3,500 retail), a standard vocal mic in almost every major professional recording studio. The U87 is a three polar-pattern, large-diaphragm condenser with -10db pad and a low frequency roll-off switch to minimize proximity effect. A descendant of the famed U67, the U87 has been the vocal mic of choice for countless commercial recordings and usually is mated with its distinctive "birdcage" shock mount.
Next, we selected another Neumann mic, the relatively inexpensive TLM103 ($1,300 retail), and one of Neumann's best-selling models. The TLM103 is a large-diaphragm, single pattern cardioid, condenser microphone fashioned after the sound of the U67 with a single plate diaphragm capsule. The letters TLM mean "transformer-less microphone," which replaces the output transformer of the classic U67 with an electronic circuit. The circuit ensures good common mode rejection and prevents RF interference that may influence the balanced audio signal, which can be a problem in poorly shielded home studios.
And finally, we selected the Manley Reference Cardioid condenser microphone ($2,700 retail), informally referred to as the "Manley Black" to differentiate it from its more expensive, multi-pattern big brothers, the Silver ($3,980 retail) and Gold ($4,950 retail). The Manley Black is a single pattern cardioid, all tube mic with a -10 dB pad and a frequency response of 10Hz – 30kHz. It comes shock mounted and includes its own custom tube pre-amp. Known for its warmth and clarity, the Manley rounded out our list of microphone contenders.
Testing, 1, 2, 3
Once all the mics were set up, plugged in and working, Scott and Ethan placed a six-foot high wall of gobos between the mic stands and the control room window, shielding the mics from the eyes of the control room operator. All testing was done with the U87 in cardioid mode, typical for a vocal session. Each mic was connected to an individual mic channel and the mic pre-amp trim for all three mics on the mixing board were set to unity gain.
Opening a Pro Tools session, Scott enabled the record lights on the three mic input channels and began recording. With Scott and Ethan having no line of sight to the mics, Jeff began speaking and moving between them, while the student engineers listened to the sounds and discussed what they heard while recording the sound of each mic onto a separate track.
Listening back to the recordings, Scott and Ethan made several preliminary observations. First, each mic clearly had its own definitive sonic character. The Neumann U87 sounded very consistent regardless of how close or far Jeff stood from the mic's capsule. When looking at the waveform, the uniformity of the U87 acoustic wave print on the screen was similarly clear and concise. The Neumann TLM103 sounded clear with a slight low mid-range edge around 2kHz, but had a noticeably lower output level than the U87. The Manley sounded very clear and natural, slightly warmer then the U87, with a thicker graphic print than expected when we studied the waveform.
For step two, we needed to bring in a singer to hear the mics' tonal characteristics for our intended use.
The following day, local artist CJasmine was invited into the Owen Studio to sing an a capella pop ballad. We removed the gobos from in front of the control room window and had CJasmine sing several melodic vocal lines, in different vocal ranges from low to high into each mic. She also performed the parts varying between both soft (sotto voce) and loud (forte) dynamics.
Once we finished recording each vocal pass on each mic, all four of us sat down to evaluate the sound of each take. As we had noticed the night before, each mic sounded distinctively different. The U87 continued to live up to its reputation for being an outstanding vocal mic. CJasmine's voice sounded clearly commercial, as the shimmering highs and presence in her voice came through the control room's reference monitors beautifully. Similarly, the Neumann TLM103, though slightly lower in output level, sounded great, and when Ethan pushed the fader up, the mic's sound filled in and that perceived center edge – the 103's midrange boost – worked nicely to give our singer's performance a little extra bite and sizzle.
The Manley Reference seemed to offer another level of transparency and warmth than either the U87 or TLM103. We surmised this was because the Manley is an actual tube mic and the others were not, although their designs emulate classic tube mics of the past. The Manley delivered a more detailed, richer sound than either of the other two competitors. Interestingly, our test team noted that the Neumanns each offered nominal 20 Hz – 20kHz frequency response, while the Manley has 10 Hz – 30kHz response.
The team hypothesized that because the Manley was a single polar-pattern (cardioid), as opposed to the U87 multi-pattern system, more engineering focus may have been directed into the Manley's vocal specific (cardioid) application than even its big brothers, the multi-pattern Manley Reference Silver and Gold. With all four listeners in the control room favoring the sound of the Manley Black on both spoken word and CJasmine's vocals, we made the decision to add the Manley to our studio mic collection.
In addition to its winning the shootout, the Manley Reference Black would have the cachet of being the only tube mic in our studio locker.
Final thoughts
Taking the time to consult with reputable pro audio sales professionals is a key ingredient in figuring out which among the many options available today to add a signature vocal mic to your studio. And while we focused our options on large diaphragm condensers, another choice may be to add a high quality ribbon mic from Royer, AEA or Beyerdynamics to deliver a warm, luxuriant tone, similar to the classic recordings of Frank Sinatra.
Before we added the Manley Black, we found that the Shure KSM44, AKG 414 and the AT-4050 had worked well for any standard commercial pop song or soulful ballad we recorded, not to mention classical and jazz repertoire. Even a relatively inexpensive mic such as Shure's SM58 ($99 retail) or Beta 58 ($159 retail) can sound perfect on a beat-box or hip-hop vocal track.
Your choice in vocal mic really depends on the vocal style and sound you are trying to capture. Just remember to listen and think about the vocal texture you want for the tune you are producing. If the mic you have chosen is not giving you the expected result, try a different mic. Just as every singer sounds different, every microphone sounds different, as well. Matching the vocalist to the microphone as they deliver a dynamic performance is truly the heart of the art of vocal recording.
As far as our new Manley Reference Black microphone, we're now on summer break, but we can't wait to return to studio operations this fall term to see how we can use it to help our students and faculty achieve their optimal vocal sound.
---
Special thanks to our vocalist, CJasmine, and our student engineers, Ethan Castro and Scott Nelson. We appreciate the support of Mike Picotte and the team at Sweetwater who provided us with the evaluation mics for this article.
Jeff Crawford is a recording engineer and producer with more than 30 years of industry experience. He is the Recording Studio Manager at University of the Pacific and also teaches music technology there.
Keith Hatschek is a regular contributor to the Disc Makers Blog and directs the Music Management Program at University of the Pacific. He has also written two music industry books,  How to Get a Job in the Music Industry, now in its third edition, and The Golden Moment: Recording Secrets from the Pros.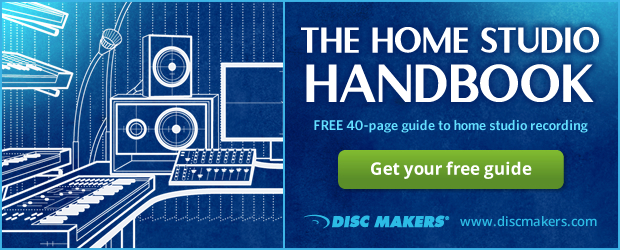 Related Posts
Pro Studio: Vocal Mics in the Studio
Stage and studio advice from a vocal producer
How to get a great vocal sound in your home studio
Isolation headphones and your home recording
Recording Studio Microphones: Good, Better, and Wow!
Recording tips for producers, engineers, and musicians