The fifteen minutes between one artist's final note and the next group's first "hello" are precious. How you handle the transition can set you up for your best performance at your next music gig.
Like so many of you, I've played lots of shows where four or more bands performed on the same stage on a given evening, each with a forty-five minute set and fifteen minutes of transition time in between.
That means those fifteen minutes between one artist's final note and the next group's first "hello" are precious. How you handle that time and that transition can make a big difference when it comes to setting yourself up for your best performance at your next music gig.
Here are some tips to help you make the transition times before and after your performance as smooth, efficient, and peaceful as possible.
Give the band before you some space
If you rush to haul your gear into place the minute the band before you screams "goodnight!" you'll be doing both you and them a disservice. By cluttering the stage with unnecessary people and equipment, you'll slow them down as they pack up — and probably annoy them, too — so give them the time and flexibility they need. It'll make for a faster, smoother, and happier transition in the long run.
Go with the flow
Did the band before you run long, leaving you with even less transition time than you'd normally have? Take a deep breath and try to deal. Maybe the sound person showed up late, or there were technical problems that prevented the band from starting on time, and you'll be given extra minutes as well to complete your set. No matter how impatient you are to get on stage, try to be cool and treat the band before you as you would like to be treated.
That said, if you feel the act ahead of you is taking its sweet time getting off the stage and you're eager to set up, ask if you can help them clear their stuff. Chances are you'll make new friends and get yourself set up and ready to go faster as a result.
Talk to the sound engineer beforehand
Giving your sound engineer all the info he or she needs to dial you in — instrumentation, number of vocal mics, number of DI boxes needed, etc. — can go a long way toward getting you on stage and ready to go in a speedy and drama-free manner. You never know how busy your sound engineer will be, so try to show up early and have this conversation during a moment of downtime. An input list is a helpful bit of info to have on hand.
Minimize your gear
Quick-change sets may not be the time for you to bring your heavy vintage amp collection, change guitars between every song, or cart out your four-walled fortress of analog synths. Of course, bring the tools you need to be true to your songs and vision — but if there's anything that's more "just for fun" than "essential for the music," consider leaving it at home. The less gear you have to haul on, plug in, line check, and haul off, the easier it'll be for everyone involved.
Know your gear
Knowing that your power cables are always easily accessible in a certain zipper compartment, or that your effects processor is pre-programmed with all the sounds you need for your set will help make your setup time as painless and efficient as possible. In other words, anything you can do prior to load-in to prevent wasting time futzing around with equipment on stage is a blessing. At this point, I've pre-programmed, set up, and broken down my Nord keyboard rig so many times that it's all practically a reflex. Especially when you're performing in a crazy packed club with zero space and lots of chaos, the more you know your own gear to the point of being able to set it up in your sleep, the better.
Get off quickly
When you're done with your own set, break down your equipment and clear the stage as quickly as you reasonably can. There's nothing wrong with saying quick hellos to a few friends or fans while you pack up, or getting your mailing list circulating, but don't dawdle or get involved in long catch-up sessions. In other words, vacate the stage with the quickness, professionalism, and welcoming spirit that you'd like to displayed by the bands going on before you.
Do you have any suggestions on how to get on and off the stage as smoothly as possible? Tell us in the comments below.
---
Disc Makers' regular contributor Michael Gallant's debut trio album Completely received a four-star review from DownBeat magazine and a five-star review from Critical Jazz, which stated: "This, my friends, is the future of jazz. Fresh, invigorating, progressive – there are simply not enough positive adjectives to list here." Learn more, download through iTunes, jam along with the new JamBandit app, or purchase through CD Baby. Follow Michael on Twitter at @Michael_Gallant or on Facebook.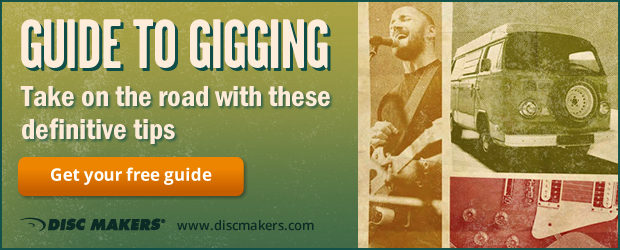 Related Posts
Gig Etiquette – Set-Up and Breakdown Habits To Live By
The indie artist's guide to gigging and touring
How to survive four hour marathon gigs
Last-minute bandmate – What to do when your key players can't play the gig
Making magic when things go wrong on stage