Whether contributing backing vocals, laying down beats, blowing sax, or anything in between, playing the role of a musician for hire can be complicated.
As an indie artist, you already know that writing and performing your own music can be hugely rewarding, but helping bring other artists' music to life can be a great experience as well.
Whether you're contributing backing vocals to your favorite touring reggae band, laying down beats for a local underground hip-hop act, blowing sax for a jazz ensemble, or anything in between, playing the role of a musician for hire can be more complicated than it looks.
"There's a lot that a sideman has to do to keep things running smoothly, and a lot of it happens before you even leave the house," says New York drummer (and frequent bandmate of mine) Rob Mitzner. "I sometime spend the whole afternoon before a gig making sure everything from gear to transportation to music to attire is all in order."
Here are some tips to help you make your best music, and have a great time, in any musician for hire setting. 
Be up front about expectations
Does the artist who's hiring you want you to alternate between ukulele and baritone guitar throughout the set? Are you expected to show up in a tuxedo, all black, or full punk attire? Is it okay if you're reading music on stage, or does the artist want you to have everything memorized? How much music is there to learn, and are there lead sheets and recordings you can use as reference? Will this be a one-off engagement, or will there be multiple gigs involved? 
Pre-gig discussions with artists hiring you don't need to be long or tedious, but the more questions you can get quickly answered up front, the better the chances are that all parties involved will be happy with how things turn out in the end.
Be up front about money
Some may argue with me on this, but when you're hiring or being hired as a side musician, I always feel that the less money-related ambiguity, the better for everyone involved. Well before you start rehearsing, learning music, or performing, have a frank exchange about how much you'll be paid, how you'll be paid, and when. Early in my experience as a sideman, before I started working as a bandleader in my own right, I had enough negative, "Oh, don't worry about it, we'll figure money out after the gig" experiences to ever want to play that game ever again. 
Learn the music
Few things are going to turn an artist or bandleader off more than having a hired musician show up unprepared to a rehearsal or gig, so be sure to do your homework and learn the tunes.
If you're rehearsing, don't feel you have to have everything perfectly dialed in before you walk in the door — but at least make it a point to have a solid understanding of the material you're being asked to play so you can efficiently work out the kinks in person. 
Learn the vibe
Getting the notes and chords right is important when working as a hired musician, but so is making sure that you fit into the overall sound and feel of the performance.
According to Mitzner, lot of this comes down to choosing the right tones and instruments. "Don't bring a Marshall stack to a jazz trio cocktail hour or a tiny bass drum for a huge metal show," he says. "More subtle versions of this offense might be using too much distortion on clean sections of a song or swinging on a groove that should be straight. It's easy to ruin a relationship with musical offenses like overplaying or playing too loudly."
Give your input, but remember who's running the show
If you're working up a new song as a hired musician and have a cool idea for playing the bridge in half time, or adding a vocal harmony, don't be afraid to speak up — but read the artist's vibe and don't force anything that doesn't feel welcome. Remember, you are there to help the artist realize his or her vision, not to push your own artistic agenda. 
Emphasize professionalism as a musician for hire
Though being a freelance musician for hire may not feel like a regular job, treat it like one. I work with one vocal producer who always arrives fifteen minutes early to every engagement and told me once that he went by the mantra, "If you're not early, you're late." That really left an impression. I knew, right off the bat, that this was a reliable professional, a guy I could count on. 
Further along these lines, Mitzner recommends paying attention to common-sense matters like "remembering to bring a music stand, not wearing white sneakers on a tux gig, remembering to shower, not drinking or eating without asking at a private event, not mouthing off to a client or booker when it's not your gig and not your relationship" — and the list goes on.
In your own freelance work, the more professionally you act – by arriving a few minutes before your call time, showing up clean and appropriately dressed, having all of your equipment in order – the better your chances will be of getting the call the next time an interesting musical opportunity comes around. 
Keep a good attitude
Before you take a gig as a freelance player, make sure it's something you can get into and pursue in good faith. If you feel like the music you're being asked to play is somehow unworthy of you and your talents, don't say yes and then cop an attitude at rehearsals and gigs — just don't take the gig in the first place. 
Even if the music seems to be a good fit and you go in with the best intentions, sometimes freelance gigs go bad — the music ends up taking a turn towards the crappy, the venue is a total train wreck, you can't stand the other musicians on the gig, or any number of other things can go wrong.
Once you've committed to a gig, though, it's best to grin and bear it, engage with as much professionalism as you can, play the best you can under the circumstances, try to have fun, make sure you get paid, and chalk it up to experience. Even bad gigs can be educational; if nothing else, you'll know better which freelance opportunities to politely decline in the future.
Be low maintenance
Whenever I'm hiring musicians, I try to find players who are reliable, skilled at their craft, low drama, easy to work with, and fun to be around. The moment egos, weird hang-ups, or hidden agendas get in the way, I make a point of choosing a different musician to hire the next time around — and I know I'm not the only bandleader to think this way. In short, the easier you make yourself to work with, the more people will want to work with you.
Do you have advice to share, either as a hired musician or a hiring bandleader? Tell us in the comments below!
---
Disc Makers' regular contributor Michael Gallant's debut trio album Completely received a four-star review from DownBeat magazine and a five-star review from Critical Jazz, which stated: "This, my friends, is the future of jazz. Fresh, invigorating, progressive – there are simply not enough positive adjectives to list here." Learn more, download through iTunes, jam along with the new JamBandit app, or purchase through CD Baby. Follow Michael on Twitter at @Michael_Gallant or on Facebook.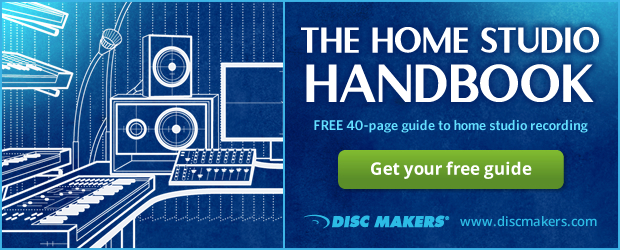 Related Posts
How to find and manage session players for your studio recording
Last-minute bandmate – What to do when your key players can't play the gig
Want to communicate with your drummer? Learn drum lingo!
Tales of the worst music gigs ever
Networking is key to success in the music business