Listening to Chris Cornell cover various songs from a wide range of styles can teach you a lot about how to make the most of your own attempts.
Like many musicians and music fans around the world, I am shocked and saddened by the passing of Chris Cornell. His work with Soundgarden in particular – not to forget Audioslave, Temple of The Dog, and his various other projects – had a huge impact on my musical growth, and I know his songwriting, lyrics, and raw vocal firepower were an inspiration to untold thousands of musicians.
While Cornell may be best known for Soundgarden songs like "Spoonman," "Outshined," "Black Hole Sun," and "Burden In My Hand," I've found his acoustic cover song performances to be treasures in their own right. If you're looking to add new cover songs to your repertoire, or make the ones you already play sound more like you, take a look at the tips below, inspired by the memory and memorable cover song performances by the great Chris Cornell.
Start with great material – "Nothing Compares 2 U"
Cornell has a knack for covering timeless songs with strong, memorable melody lines. This acoustic performance of Prince's "Nothing Compares 2 U" is a great example; Cornell's rendition of the unforgettable chorus line is raw and heartbreaking.
When working on your own covers, remember that starting with a great, timeless song with an unforgettable melody will take you far, putting you on the right track towards a successful cover song performance.
---
Grab songs from any and all genres – "Billie Jean"
Michael Jackson's iconic, synth-infused classic "Billie Jean" is a far cry stylistically from the sort of music that Cornell is known for, but that doesn't stop him from taking the mega-hit and making it his own in this beautifully haunting, minimalist interpretation.
Even if your own performances are focused in metal or reggae, jazz or hip-hop, don't hesitate to look to French art songs, bluegrass, tango, trance, or nearly anywhere else for inspiration; you never know when you'll discover a song that will work wonderfully when reinvented in the context of your own vibe and style.
---
Strip it down – "A Day In The Life"
In contrast to the Beatles' lush and psychedelic arrangement of "A Day In The Life," Cornell's version is as simple as can be — bittersweet vocals and acoustic guitar. This is a context in which Cornell excels, letting the brilliance of his voice and the song itself shine without anything getting in the way.
In your own cover performances, try decluttering your arrangements as much as possible and see what happens. You may be surprised by the power and impact that a "less is more" approach can convey, even for songs that were heavily arranged in their original incarnations, like "A Day In The Life."
---
Change up the tempo, time signature, and overall feel – "I Will Always Love You"
Whitney Houston's smash hit "I Will Always Love You" (originally written and recorded by Dolly Parton) is a pop power ballad that showcases the late singer's amazing range and expressiveness. Cornell's unexpected cover is powerful in its own right — and while he stays true to the song's lyrics, melody, and harmonic structure, he makes plenty of changes to make the song his own.
First off, Cornell changes the meter from a straight-four pop interpretation into a wistfully organic 6/8 feel; he also slows the song down a bit from the propulsion of the original. Finally, due to everything from the minimalist instrumentation to his world-weary vocal interpretation, he changes the overall vibe dramatically from the original.
In your own cover songs, play with the time signature, make the piece swing or play straight, try some substitution chords, take it out of time completely, or do something else to give the tune an utterly different feel. Speed it up or slow it down, make it sound farcical or deadly serious — the more you experiment with variations, the more interesting and unique your final interpretation may become.
---
Bring a friend… or family member – "Redemption Song"
Cornell brings his daughter Toni along for a duet rendition of Bob Marley's "Redemption Song" in this video. Though it takes a few seconds for the two singers to totally lock in, the result is great — the younger Cornell's vocals match the tone, inflections, and interpretations of her father's performance, giving the song a heartfelt honesty.
To make cover songs your own, invite a guest singer – or two, or ten – to help you with harmonies, call and response, or other interesting vocal arrangements. Especially if a song was originally sung solo, adding additional voices can help you make your cover performance truly your own.
---
Have fun with lyrics – "One"
This cover performance has a great story behind it. While trying to learn U2's classic song "One," Cornell stumbled upon the lyrics to Metallica's song by the same name. For kicks, he decided to see what happened if he sang the Metallica lyrics to the U2 chords and melody. Check out the video to see the results for yourself. As a fan of both groups, I found the moment toward the end where Cornell sings "Hold my breath as I wish for death" chill inducing.
If you see an opportunity to experiment with lyrical mashups like Cornell's, or other lyric-related experiments, give it a try and see what happens — and remember the more honest and respectful you are in your approach to the source material, the more powerful the result.
Do you have any cover song tips inspired by Chris Cornell, or other iconic singers? Tell us in the comments section below.
Image sourced from Shutterstock (editorial use only).
---
Disc Makers' regular contributor Michael Gallant's debut trio album Completely received a four-star review from DownBeat magazine and a five-star review from Critical Jazz, which stated: "This, my friends, is the future of jazz. Fresh, invigorating, progressive – there are simply not enough positive adjectives to list here." Learn more, download through iTunes, jam along with the new JamBandit app, or purchase through CD Baby. Follow Michael on Twitter at @Michael_Gallant or on Facebook.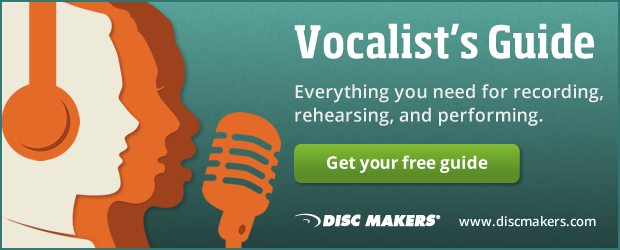 Related Posts
"The Sound of Silence" – How Disturbed's cover version hits all the right notes
Are you bimusical? You should be.
Spice up your musical arrangements with substitution chords
Things I learned being a fan of David Bowie
Three approaches to recording and performing cover songs
Musicians who died in 2017