Copyright termination gives music artists the opportunity to reclaim the rights to their songs. It also serves as a reminder of the importance of understanding every legal transaction you get involved in.
Paul McCartney and Duran Duran have each been locked in a battle to secure the rights to their early-era hit songs from the mega-publishers that have controlled their copyrights for decades. The stakes are high for both as the songs of these English legacy acts have withstood the test of time. Both artists' catalogs are still in regular rotation in every music delivery format: from terrestrial radio to music streaming to YouTube.
What are the stakes?
The stakes are enormous. Consider that the top ten Beatles' tracks on Spotify all have more than 20 million plays and The Beatles' catalog enjoys more than nine million spins every month. Remember when The Beatles' catalog first became available on iTunes in 2010? They sold two million downloads in the first week. Furthermore, as Beatles' songs are still used around the world in film, TV, motion pictures, and ads – not to mention their constant play on the radio – we're talking tens of millions of dollars a year in publishing revenue. McCartney's share would be substantial since he and John Lennon co-wrote the great majority of the Beatles' catalog.
In the case of Duran Duran, the band regularly registers a very healthy 2.6 million Spotify spins every month. Spotify's top ten streamed Duran Duran songs range between four and 40 million plays apiece, which adds up to a pretty substantial income stream for the songwriters. In addition to the band's staying power among its baby-boomer fans – they charted seven US platinum albums over the years – Duran Duran's music is still making waves today. The online serial drama Beyond recently licensed a cover of Duran Duran's "Ordinary World" to play against the closing credits for this season's finale and the Academy Awards featured a remix of "Notorious" in a promo for the most recent awards telecast.
What's the beef?
While we live today in a world where information is freely available to emerging artists about what constitutes a good or bad recording or publishing deal, let's time travel back to early 1963 when The Beatles' first number one song, "Please, Please Me," was climbing the charts. Musicians were basically clueless when it came to the potential lifetime value of their songs. Likewise, Duran Duran's early contracts with EMI Records were most likely structured similar to most other band deals in the early 1980s. Artists dreamed of substantial artist royalties fueled by hit singles, album sales, and the new phenomenon of MTV. The long-term value in the original song catalog was rarely, if ever, discussed or understood by the artists themselves.
In 1982, Duran Duran's second album, Rio, was racing up the US charts. However, it would prove that little thought was invested on what they were giving up when they signed a significant part of the publishing rights to their material away. In December 2016, after losing its first legal round in the UK courts, Duran Duran co-founder Nick Rhodes recalled, "We signed a publishing agreement as unsuspecting teenagers over three decades ago, when just starting out and when we knew no better."
The dispute arises in both of these high-profile cases as the artists are trying to exercise their right to recapture 100% ownership of their original songs. This comes from a provision in US Copyright Code that allows authors to reclaim their works during a precise window of time 35 years after they were sold, published, and concurrently registered with the US Copyright Office.
Referred to as "termination rights," an author or composer can submit written notice to whoever controls the copyright (in both of the current cases, it's publishing giant Sony/ATV Music), who must comply with such requests in the US as long as they are submitted within the proper timeframe. As some of these classic songs generate hundreds of thousands of dollars a year in sales and licensing revenue, the stakes remain high even though the songs are no longer on the charts.
McCartney, as he became wise to the ways of the music industry in regard to copyright, founded MPL Communications, a diversified media holding company that affords him total control of his post-Beatles output. Meanwhile, Duran Duran is now signed to SONGS Music Publishing, an indie publisher well versed in today's music rights environment. As mentioned, Duran Duran lost its initial case to regain control of its songs when a UK court declined to honor US copyright law and the judge ruled the original UK contract did not provide any interpretation that would allow for US termination rights. However, the court has since agreed to hear an appeal on the matter.
Earlier this year, McCartney sued Sony/ATV Music to affirm he has the right to terminate their ownership of his early Beatles songs. Both cases are a bit more complex since they involve international publishing rights and interpretations of both British and US contract and copyright conventions and statutes. Since Duran Duran's appeal and McCartney's case are both pending at the time of this writing, let's turn to a case which has been resolved with the songwriter emerging victorious and regaining control of his songs.
Victor Willis and The Village People
The 1979 hit single "Y.M.C.A." by The Village People has proven its staying power and is one of just a handful of pop singles to sell more than ten million copies and generate millions of dollars in publishing and licensing revenue. The Village People's lead singer, Victor Willis, co-wrote the song with the track's producer, Jacques Morali. Prior to being recruited to The Village People, Willis was a successful actor on Broadway, appearing in the 1976 hit musical, The Wiz. Morali invited Willis to become the lead singer of a concept group that would capitalize on the disco explosion, and Willis played a central role as lead singer and songwriter from 1977-1980, the era of the group's greatest success.
In the mid-2000s, Willis married an attorney familiar with copyright law who informed him of the revisions to copyright code that would allow him, as one of the original songwriters of 33 of The Village People's songs, to reclaim his rights. Willis filed written notice to the publishers that controlled those songs, explaining he wished to terminate the rights he had granted when he signed over his share of the authorship back in the late 1970s.
It's not surprising that once they received Willis' termination notice letter, Scorpio Music and Can't Stop Publishing, who had controlled and benefitted from the rights to The Village People's hit catalog, sued to prevent him from regaining control of his share of the songs. Many of the songs – including "Go West," "In the Navy," and the mega-hit "Y.M.C.A." – are regularly played on the radio, at top tier sporting events, and venues around the world. In September 2013, after six years of battling, the court decided in Willis' favor and he regained control of his share of the popular songs he had co-written.
Willis was quoted in the New York Times immediately following the victory, saying he wanted to alert other artists, both established and emerging, to protect their copyrights. "I'm hoping that other artists will get a good lawyer and get back the works that a lot of us gave away when we were younger, before we knew what was going on. When you're young, you just want to get out there and aren't really paying attention to what's on paper. I never even read one contract they put in front of me, and that's a big mistake."
How to terminate previously granted rights
Entertainment attorney Don Passman explains just how a songwriter goes about filing notice of intent to terminate previously-granted copyright control from a publisher, label, or production company in All You Need to Know About the Music Business. He does note that the law, which went into effect in 1978, applies only to US copyright, which is why UK-based artists have a more complicated path to recapture their US song rights. Passman describes the termination right as a "do over" for the often lopsided deals baby bands or young songwriters sign at the start of their careers.
How termination rights actually work can be confusing, so let's work with an example. Let's say you wrote a song and sold the composition to a publisher. (Bear in mind, "works for hire" are treated differently by copyright law and are not subject to any recapture option.) The way the law is written, you have to give advance notice to that publisher of your intent to terminate the copyright transfer two to ten years before the termination right is to become effective. The "effective date" for the termination to go into action must be within five years after the 35-year period during which the publisher controlled the song.
Let's say you wrote and sold a song in 1992; 2017 would be the first year in which a notice could be sent with an intention to terminate.
Year of publication: 1992
Years when termination can be effective: 2027-2032
First year that notice can be sent to pub: 2017 (ten years before termination)
Last year that notice can be sent: 2030 (two years before termination period ends)
If all of this seems a little daunting, hire a capable entertainment attorney to represent your right to terminate, especially as the notice of intent to terminate can lead to a new negotiation with the publisher, label, or production company in which they may be willing to offer more lucrative terms for the remaining portion of the agreement and the future. A 2012 article in The Hollywood Reporter reported that Bob Dylan, Tom Waits, The Eagles, and Tom Petty had all filed termination notices to start the recapture clock ticking on their extensive song catalogs or renegotiate the terms of their current deals.
Two more victories for Victor Willis
Victor Willis didn't stop his full-court press on his original publishers after recapturing his share of the ownership of the songs he had co-written with The Village People. He went on to argue that his 33% ownership was a misrepresentation of the actual authorship of some of the songs in the group's catalog. Originally, a French producer named Henri Belolo was credited as having written the lyrics in French, a fact that was asserted in a jury trial by the publishers who controlled the catalog. Willis took the stand and explained the exact process that had been used to write the band's most popular songs, explaining that Belolo had no part in their creation. The jury ruled in Willis' favor, awarding him 50% ownership in 13 of the band's most popular tunes.
Referred to as a "cut-in," the practice of awarding a piece of a song's copyright to someone who played no part in its creation goes back more than one hundred years in the music business and has historically provided an easy way to incentivize and reward a manager, promoter, deejay, or other key contact for advancing a song or artist to greater popularity. Probably the most infamous example was Chuck Berry's song "Maybellene," of which rock 'n roll deejay and '50s pop king-maker Alan Freed was given a one-third share of the song in 1955 by Leonard Chess. Similarly, Chess cut-in a person named Russ Frato, who had some unspecified financial ties to Chess Records. In 1986, Berry successfully had a court return 100% of the song's ownership to him, even though his share of the millions it had earned since its release had been diluted due to the payouts to Freed and Frato.
Back to Willis, he decided to go for the trifecta and sued his publishers for his attorney fees, which topped out at more than $500,000. Judge Barry Moskowitz ruled in Willis' favor, stating that the award of lawyers' fees was justified to "encourage authors like Willis to assert their rights to regain their copyright interests and to deter production companies … from attempting to interfere with those [recapture] rights." Willis claimed the ruling set a precedent which he hoped would send a loud message to producers and publishers that interfering with or delaying any artist's efforts to regain their song copyrights would not be allowed.
Even if you don't have any original songs that will soon be coming up for possible recapture via termination rights, the cautionary part of all three of these cases clearly illustrates that it is never in the best interest of a songwriter to sell or sign over the rights to an original song for the life of its copyright. Fortunately, US Copyright law provides the one-time chance to effectively and legally recapture those rights – a small victory for the creative community. Time will tell if Duran Duran and Sir Paul can also reap the benefits of a copyright "do over."
Images sourced from Shutterstock (editorial use only) or from album cover art.
---
Keith Hatschek is a regular contributor to the Disc Makers Blog and directs the Music Management Program at University of the Pacific. He has also written two music industry books, How to Get a Job in the Music Industry, which just came out in its third edition, and The Golden Moment: Recording Secrets from the Pros.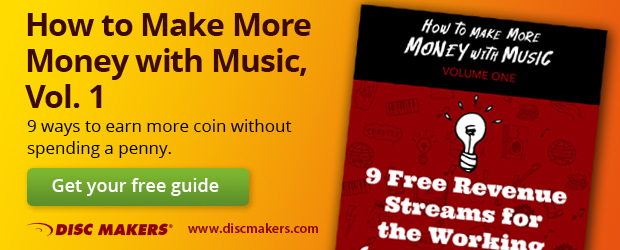 Related Posts
Retaining your master rights is smart business
Five qualities to look for in an entertainment attorney
Getting the most from your entertainment attorney
Music licensing and leveraging your songs
Making money with music licensing – Part I: Copyrights and revenue