When emailing music bloggers, there are a lot of factors that go into whether or not your emails get read. These best practices can improve your chances of getting noticed and taken seriously.
Emailing music bloggers can be downright frustrating for a lot of indie musicians. More often than not, you put all this time into your emails, and then when you hit the send button, you never even get a response.
There are a lot of factors that go into whether or not your emails get opened, read, or responded to, and many of them are definitely out of your control. But, there are best practices you can follow to improve your chances of getting noticed, and more importantly, taken seriously. Let's take a look…
Email the right people
This is probably the most important step. If you're emailing the wrong blogger (someone who has no interest in your style of music or working with indie artists), none of the other points will matter.
To make sure you're emailing people who are interested in what you do, it's going to take a little research. Dig through their blogs, read their tweets, check out some of the other bands and musicians they've featured, and get an idea for their musical tastes.
It will definitely take more time up front for you, but in the long run you'll actually save time: you won't have to burn daylight emailing and following up with people you never have any chance of getting a response from.
It's also important to remember that the big, popular blogs aren't the only ones out there. Just like in indie music, there are a TON of indie bloggers out there looking to cover cool artists and bands. These guys can be awesome partners for you and their audiences, though smaller, should not be overlooked. Plus, they can be a great PR ladder to get to the bigger outlets down the road.
Write compelling subject lines
Of course, if you want a response you need your email to actually get opened, so the subject line you choose is really important.
Here are some things to keep in mind when creating a killer subject line:
Keep it short.
Include the recipient's name, if possible.
Hint at what's inside.
DON'T USE ALL CAPS or overuse exclamation points!!!!
Get to the point
Most bloggers are short on time, and sorting through all the emails they receive has made them really proficient scanners. Be respectful and aware of this and keep your email as short and as easy to read as possible.
It sounds totally backwards, but it's often difficult to edit your message down to something really concise. As musicians, we have a tendency to want to tell our whole story, which can make your emails difficult to read (and make it hard to decipher the purpose of the email).
With this in mind, it's best to write your emails in steps. First, write down the purpose of your email. Do you want to get a blogger to review your album? Cover your upcoming tour?
Once you establish the purpose, take a first pass and write down everything that immediately comes to mind. Let the ideas out and get it all down on paper.
Then do a series of cuts. For each sentence, ask yourself, "Is this really important to the person I'm emailing? Does it support the purpose of this email?" If the answer to either of those questions is "No," delete it.
Going through these steps will take more time, especially at first. But once you get the hang of it, you'll have a much better idea of what you need to include and what's not relevant, and you'll have to do less and less editing.
Make use of white space
Not only do emails need to be short, they must also be easy to read. Most people don't read entire paragraphs – they scan them to pick out important points.
To ensure your recipient is getting all of the information you want him to get from your email, space things out so the email is easy to skim. Here are some tips:
Write short, one-to-two sentence paragraphs.
Make use of white space.
Use bullet points and numbered lists.
Use a website or EPK for supplemental information
If the blogger decides your story is worth checking out, he'll need some more information. You can add it to the email without confusing your message by linking to your website or EPK.
So if you're emailing music bloggers to review your new album, rather than telling them about your band's history and where you're from, link to a page with this information in case the blogger wants to learn more (like a bio or an EPK) and get straight into the details about your new album.
Use the blogger's name
Nothing screams, "I didn't do my research!" like generic greetings. Remember, there's a real person on the other end of every email you send.
So instead of opening your email with "Hi [music blog name]" try to include the recipient's name directly. This simple addition shows that you put in the effort to actually do the research and will set you apart from the vast majority of emails that hit the inboxes of music bloggers.
It's fairly easy to find the blogger's name by digging around their site, checking out the "About" section, or finding them on social media.
Understand it's not personal
It sucks getting rejected or ignored, but when you start pitching your music to bloggers and other press outlets, rejection is going to happen. The important thing to realize is that it's not personal and it doesn't mean your music sucks.
The music blog sphere is very much driven by the personal tastes of the bloggers and writers. So maybe your music just isn't that particular person's jam. That's okay.
Your goal with music is not to make everyone like you. It's to find your own voice and connect with fans and people who have similar tastes and form a tribe.
It may take some work and some digging, but if the quality is there for your music, you will find a blogger or press outlet in your niche.  
Tell a story
There are thousands of bands releasing albums, or new singles, or going on tour. The next time you're writing to a music blogger ask yourself, "What makes me different? What story can I tell?"
Is there some personal story behind your most recent album? Did you do something cool or different with the way the album was created or recorded? Think this through and your story will be much more attractive to bloggers.
Dave Kusek is the founder of New Artist Model. Over the years he's worked with tens of thousands of musicians around the world across every genre imaginable and in many different markets, and now, along with Daniel Roberts, he's developed a new approach to reinvent the way music theory is taught. Hit Music Theory is the best and most practical way to learn music theory. Taught in context of modern hits, you learn how top songwriters are applying theory and how you can use it in your own music.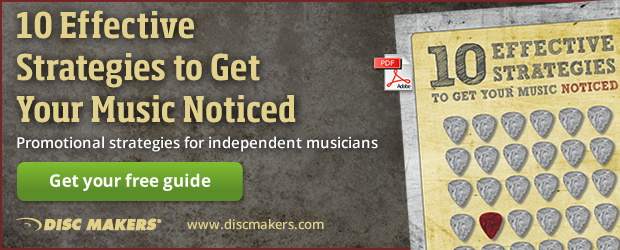 Related Posts
How to segment your email list (and get more fans opening your emails)
Online music marketing etiquette: tips for email, social, and YouTube
How to submit your songs to music blogs, record labels, radio, and press
Work to find your artistic voice
You're in the music business, so act like a business person