There are standard tricks a mixing engineer can call on to cater to and complement the song structure and arrangement and create a great overall mix.
A great song is not static: it grows, contracts, and changes from intro to ending to keep the listener engaged and create an emotional connection. By its very nature, music is dynamic, full of life and emotion, and an expert arrangement and mix should contribute to that.
When listening to an album or collection of songs that are mastered and mixed well, one characteristic the songs might have in common is a shift in energy from one section to the next. It's typical that the feel of a song will change as it shifts from a verse to a chorus or a chorus to a bridge.
In a good mix, part of what you're noticing could be a combination of additional elements being introduced (vocals, percussion, new instruments) and a change in the way the elements you're hearing sound. These alterations create forward motion that propels the track or serves to pull back on the reins over the running time of a song.
There are standard tricks a mixing engineer can call on in service of these goals:
Add tracks to your choruses. Varying the denseness of instrumentation can build momentum and sustain your listeners' interest. Keep the arrangement thinner on the verses and introduce something new in each section of the song as it progresses.
Don't use every recorded track. It's pretty common for an artist to present the mixing engineer with a full complement of tracks and instrumentation for every section of a song. As a mixing engineer, you can sculpt and shape as appropriate, making creative and objective decisions about where to mute, cut, edit, and alter parts to enhance the arrangement.
Pan verses narrowly – pan choruses wide. You can get creative with this idea, perhaps having the verse feature an acoustic guitar panned halfway to one side while the chorus includes double-tracked guitars panned hard left and right to widen the stereo image.
Create harmonic excitement by varying the frequency range. Shape the frequency range on verses to conform to narrower low- and high-end parameters while choruses cover a fuller range. The contrast will create harmonic excitement as the mix will become more lush when the bridge or chorus hits.
Use different effects and vary the settings in different parts of the song. Try using mono effects or shorter decay times in verses and stereo effects with longer decays in the choruses. This will affect the depth of the mix as the song progresses from section to section.
Use distortion sparingly in verses – if at all – and bring it in gradually in the chorus. This trick creates more harmonic excitement than you can achieve with EQ alone. Distortion probably shouldn't be extreme, as just a little can dramatically change the sound of an instrument. Don't overwhelm the track; use distortion to give it a little kick.
Experiment with changes in the ambient drum sounds. Bringing up your overhead microphones will widen the stereo image of the drums and make the kit sound larger. Conversely, bringing those ambient mics down will leave more room for guitars and other harmonic instruments when they appear. Experiment with bringing those tracks up or down in your choruses and verses to determine if such a change meets the needs of your mix.
Every song is telling a story – through the lyrics, music, and mood of the song's arrangement – and every good story has its ups, downs, and transitions. The mixing engineer uses the tools of his trade to frame and embellish the "plot" of the story so the song can connect with the listener.
Using automation in your mix
Another tool in an engineer's arsenal is automation, which is helpful for changing the level of tracks from section to section within a song and can be used to achieve some of the same effects we've mentioned already. You can think of automation in two ways:
1. Corrective automation. Corrective – or "micro" – automation involves making slight, detailed adjustments to reduce the sound of breaths, even out a performance, or fix inconsistent levels. For example, corrective automation on a lead vocal track can emphasize particular words and phrases within the song and keep the vocal on top of the mix to achieve the best emotional impact. It's a good idea to do this before setting any compression.
2. Expressive automation. Expressive – or "macro" – automation involves subtle adjustments to an entire section of a song to augment the arrangement. It's best to make these macro adjustments after compression and other processing. A good use of expressive automation might be to emphasize and build a particular instrument to add drama or intensity to a section of the song.
Create a connection with your listener
For all of these tips, and others you pick up as you gain experience, always strive to make your mix better. These ideas can all be effective in various scenarios, depending on the song you're working on and the instruments recorded, but a great trick is only great when it's used with purpose and serves the song. The goal of any song – and the instruments, sounds, performances, and arrangements that bring it to life – is to connect with listeners who have made an investment in your material. Give them an experience worth their time.
---
iZotope makes innovative products that inspire and enable people to be creative. Based in Cambridge, Massachusetts, iZotope has spent over a decade developing award-winning products and audio technologies for professionals and hobbyists alike. Used by millions of people in over 50 countries, iZotope products are a core component of GRAMMY-winning music studios, Oscar and Emmy-winning film and TV post production studios, and prominent radio studios, as well as basement and bedroom studios across the globe. Through a robust licensing program, iZotope also powers products made by industry partners such as Adobe, Avid, Microsoft, and Sony. iZotope was recently honored with an Emmy® Award for Outstanding Achievement in Engineering Development for its flagship audio repair suite, RX®.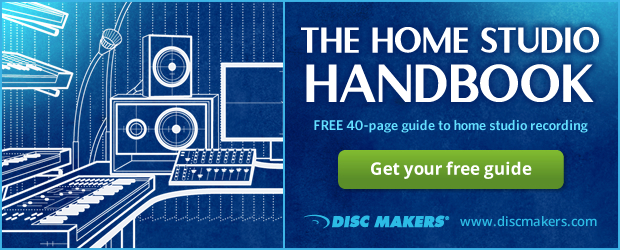 Related Posts
Psychology and the music producer
10 ways to lay the groundwork for an amazing vocal recording session
Home studio posts – recording tips for producers, engineers, and musicians
Make the most of your studio time (and space)
Getting great results when you're the singer AND producer in your home studio