As a musician, it's important to listen to music genres outside of your own. The term "bimusical" has been coined to express a degree of fluency in different styles of music, and there are compelling reasons to aspire to being bi.
We all know what it means to be bilingual, but have you heard of what it means to be bimusical? Bimusicals are people who have been exposed to, and have grown familiar with, more than one genre of music. It's easy to fall into a comfortable place listening to music that is local to where you live or popular among your peers, but being monomusical could be greatly hurting your creativity and growth as an artist in the music profession.
Research by Peter Wong on the bimusical brain and how it processes music has shown that bimusicals use different neural resources to distinguish between one musical system and another, and demonstrate a more complex behavioral-neural relationship. Simply put, people exposed to a wide variety of music are more likely to engage the emotional part of the brain to differentiate between types of music. And while bimusicals aren't the only ones who use the emotional part of the brain when listening to music, due to their familiarity with various sounds and genres of music, they report feeling less tension when listening to unknown or foreign music. Interesting.
There are many takeaways from this study and the theories surrounding it, and musicians especially can benefit from understanding how exposure to different types of music affects the brain. Listening to various genres of music can not only make you more comfortable experimenting with new sounds, it can evoke certain emotions that may spur some creativity – creativity that had been hindered by the comfort of having been exposed to the same music all the time. Becoming more familiar with new and unusual sounds can make for a more well-rounded and unbiased musician, one who isn't afraid to take risks. And, as we know, risk-taking can be a necessary step in creating innovative or unique music.
It's also worth noting how different genres of music have been said to affect the brain. While there's a lot of research that supports the ways different genres of music evoke certain emotions, it's still a much-debated topic. It's commonly believed that heavy metal listeners tend to have a stronger sense of self and have fewer regrets than those who listen to other genres. Jazz makes listeners feel relaxed and free, and country music conveys a similar feeling of joy. Classical music has been the subject of its own theories and studies, with many suggesting that listening to classical music can deter or prevent crime, instill a feeling of peace, and even boost memory. Rap music comes with its own claims of fighting depression and promoting self-confidence. It's no wonder then, that being exposed to multiple styles of music could help a person understand and translate emotion into an auditory masterpiece.
If you'd like to see how your own brain perceives music, try this exercise. Recreate Wong's research on a personal scale by playing music from different genres, artists, and cultures. Jot down how each sample makes you feel, and indicate how much tension you sense. Chances are, if you grew up listening to exclusively Western music, for example, your mind will perceive non-western music as being more anxiety-inducing and distracting. It's not all bad news for monomusicals, however; in fact, Wong's research suggests that true monomusicalism has become less and less common as technology integrates and spreads music from culture to culture, creating unique blends of genres and even forming new ones.
Breaking out of a monomusical mentality and becoming a more well-rounded musician can be as easy as exposing yourself to new music regularly. Becoming more familiar with foreign sounds can help stimulate your mind and boost creativity when brainstorming or seeking inspiration. Feeling stuck in a rut or experiencing writer's block? The solution may lie in giving a new type of music a listen. Challenge yourself to incorporate new sounds into your practice, or try blending multiple styles or genres together to create a unique mix. Exploring new musical influences has been a hallmark of all great musicians, and doing so may greatly enhance your next practice or even your journey as a musician.
---
If you're an aspiring musician in the NYC area who's in the process of creating a band or who needs space to rehearse, check out NYC's The Music Building. The Music Building is NYC's largest music rehearsal studio space, and can help you establish yourself as a musician by providing a professional space for you to practice or record music.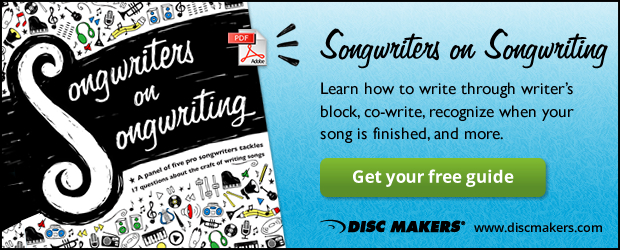 Related Posts
Should you stop listening to music to find your voice?
Take risks with your music
Songwriter's block: where does it come from?
Every music genre in one incredible interactive infographic
What Makes You So "Eclectic?"
"The Sound of Silence" – How Disturbed's cover version hits all the right notes
Don't Get Stuck In A Musical Rut