Disturbed's cover version of Simon and Garfunkel's "The Sound of Silence" is exemplary in many ways – from its intention to pay homage to its power to stand on its own.
When I first heard Disturbed's cover song of Simon and Garfunkel's classic "The Sound of Silence" live on Conan O'Brien, I was blown away. The original track, recorded in 1964, remains haunting, poetic, and wistfully beautiful — but the new version has something different. There's a reborn sense of innocence, relevance, and rage that made this song, now over fifty years old, seem very much like a song of right now.
I'm not alone in pumping my fist along with Disturbed's cover. The tune scored a Grammy Award nomination, has nearly 250 million views on YouTube (if you combine the official video and the Conan appearance), and praise from Paul Simon himself. Read on for a just a few reasons why the reimagined version is so powerful — and how you can use lessons learned from Disturbed's creativity to make your own cover song performances more effective.
It's epic but not overly dramatic
It would be easy for a metal band's re-imagining of a beloved folk classic to fall into parody. While the strings swell dramatically behind David Draiman's increasingly raw vocals as the track progresses, it never crosses the line into cliché. The band was smart in avoiding the use of a standard metal-sounding drum kit, crunchy overdriven electric guitar, a horn section, a choir, a pipe organ, or anything else that might have upped the grandeur but made the whole effort feel too heavy-handed. The centerpiece here is very clearly the story, as told by Draiman's vocals. Every other element of the performance does a great job of simply supporting such efforts.
Lesson learned: In your own cover songs, focus on letting the lyrics and melody tell the story, whatever your interpretation of that story might be, and build everything else around that. Avoid clutter in your arrangement and cut anything that gets in the way of the song's power and delivery.
The singer has the chops to pull it off
This rendition of "The Sound of Silence" is vocally challenging, as it covers roughly two-and-a-half octaves from bottom to top. That's quite a range, but Draiman pulls it off in style. One reason why this song works so well is that it makes use of the different colors his voice can create — a resonant, quiet, clear, almost heartbreakingly innocent baritone; piercing clean high notes; and the searing growls and roars for which he's well known. The performance plays to his strengths in each range, letting him use his toolkit of vocal effects for maximum impact and never pushing him out of his comfort zone.
Lesson learned: Even if you're playing a song someone else wrote, customize it so it plays to your own vocal strengths. Don't hesitate to shift the key, register, and phrasing so the words sound as good coming out of your mouth as they did from the original artist.
The song has an arc
So many current popular songs have zero ebb or flow — they start at a certain level of volume and intensity and stay that way from first note until last. That works in some contexts, especially for more electronic productions, but adding a real arc works wonders in this context. With each verse, new sonic elements develop, helping the song expand and gain momentum in tandem with Draiman's intensifying vocals. It's a well-worn cliché that good art takes you on a journey — but this song lives up to the hype.
Lesson learned: Avoid letting your own cover songs stay stagnant when it comes to intensity; especially when working with loops and digital production, it's a trap that's all too easy to fall into. As you play with a cover song and make it your own, try making certain parts more driven and gritty and other parts more innocent and airy, for example. See what works for you on a gut level when it comes to communicating the emotion and message of the song.
The song sounds like Disturbed — but still like itself
Draiman's vocals are so distinctive, the atmosphere of storm clouds on the horizon so palpable, and the energy behind the performance so strong, that the song really sounds like the band that's playing it. When bands play cover songs, it can be easy for them to lose their own identity in the process of trying to sound like the original artist, trying to sound better than the original artist, or trying to sound like something other than themselves.
It doesn't feel like Disturbed is really trying to be anything other than itself in this track — and that approach pays off. At the same time, the band shows real respect for their source material by keeping the reimagining of the song pretty straight — again, to great effect. While the arrangement is notably different than the original, and Draiman riffs on the vocal melodies from time to time, "The Sound of Silence" still sounds like "The Sound of Silence" in a meaningful way. Nothing is bastardized, dumbed down, or twisted beyond recognition.
Lesson learned: Find the balance between staying true to the meaning and composition of the original song and sounding like you in the performance. It's not the easiest balance to strike and there's no secret formula for success, but recording your experiments with a new cover song and listening back can help you find the sweet spot.
It's not perfect
Across the board, the performance has rawness that makes it feel authentic; such a powerful protest song as "The Sound of Silence" needs to hit like it comes from the heart, not like it's made of plastic. By not overproducing the song and ironing out every perceived kink and imperfection, Disturbed keeps the performance feeling honest and powerful.
Lesson learned: Don't edit and auto tune the life out of your performance. Keep the takes that really say something powerful and have genuine love or rage, sadness or hope behind them, not the ones that may be the most technically perfect. If needed, ask some trusted, musically-minded friends, or an external producer, to help you make the right calls.
What are some of your favorite examples of cover songs done right? Tell us all about them in the comments below. Here are some tips on getting permission for art, text and cover songs if you're planning on including one in your next album release.
Disc Makers' regular contributor Michael Gallant's debut trio album Completely received a four-star review from DownBeat magazine and a five-star review from Critical Jazz, which stated: "This, my friends, is the future of jazz. Fresh, invigorating, progressive – there are simply not enough positive adjectives to list here." Learn more, download through iTunes, jam along with the new JamBandit app, or purchase through CD Baby. Follow Michael on Twitter at @Michael_Gallant or on Facebook.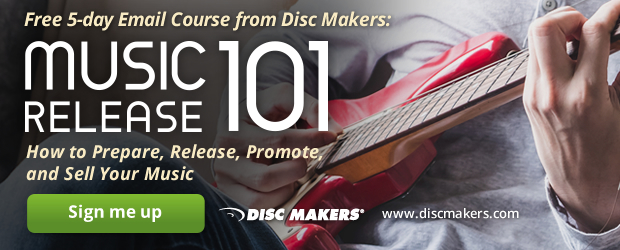 Related Posts
Three approaches to recording and performing cover songs
Anatomy of a Cover Song – Four takes on "Big Yellow Taxi"
How to survive as a solo cover musician
Planning your album: get permission for art, text, and cover songs
The song worlds of three musical greats
Add a little jelly to your home studio recordings