You can transform your mobile device into a Swiss army knife of virtual synths and virtual musical instruments with these recommendations from Dream Theater keyboardist and musical entrepreneur, Jordan Rudess.
Smart phones and tablets can be good for a lot more than texting and Candy Crush-ing, managing your bank accounts, and navigating traffic routes. Thanks to an ever-expanding number of innovative developers, a wide variety of music-oriented mobile apps can also help you create amazing sounds — worthy of integration into performance, production, or recording — with the tap of a finger.
By choosing the right app, you can summon orchestral strings, overdriven guitars, glitched-out synth textures, and hip-shaking drum loops. "At this point, there is a huge selection of instruments available on mobile devices," says Jordan Rudess, keyboardist for Dream Theater and founder of mobile music app company Wizdom Music. "The choices are plenty and the quality is there."
Read on for just a few of Rudess' personal recommendations for where to start when it comes to transforming your mobile device into a powerful variety of virtual musical instruments.
KORG iWAVESTATION
In 1990, KORG released a keyboard synthesizer called the WAVESTATION — an instrument for which Rudess designed many of the original sounds — that presented never-before-seen ways to synthesize compelling new tones and textures. Now, that instrument is back, and improved, in a powerful pocket-sized edition.
"Big companies like Moog and KORG have released many of their classic synths on mobile," says Rudess. "The latest one from KORG that I find really exciting is the KORG iWAVESTATION. It goes beyond the original in many ways. You have multi-touch access to the wave sequences and the vector synthesis."
In other words, whether you're a synthesis expert or a newbie looking to get your feet wet with electronic sound design, the iWAVESTATION is a deep and powerful place to start.
---
Moog Animoog
Legendary synth maker Moog Music applies its analog expertise to the digital download world via their Animoog app.
"Moog's Animoog gets you into the Moog world of synthesis in a fresh and creative way, by doing things like allowing you to change the timbre of a sound based on the vertical position of your finger on the on-screen keyboard," says Rudess.
Described by Moog Music as "the first professional synthesizer designed for the iPad," the app offers an impressive range of analog-style parameters, allowing a high level of dynamic, on-the-fly sound sculpting.
---
IK Multimedia SampleTank 2
"SampleTank by IK Multimedia is a powerhouse of an app and has a tremendous sound library," describes Rudess.
Indeed, SampleTank boasts over 1,900 virtual musical instruments, as well as a built-in eight-track MIDI recorder. Spread over 16 different categories, SampleTank's sounds include acoustic and electric pianos, organs, synth leads and pads, guitars and bases, drums and percussion, brass and woodwinds, vocal sounds and textures, and a variety of sound effects to boot. In-app purchases also give you access to hundreds of additional sounds across a wide variety of genres.
---
Crudebyte iSymphonic Orchestra
"iSymphonic has a wide selection of great orchestra sounds available from master sound designer Kurt Ader," says Rudess. "When you have those loaded into your mobile device, you will feel like a king!"
The base app includes twenty five sounds that range from full orchestra to individual trombone sections, brass sections, cello and woodwind combinations, and more. Those sounds also cover the bases when it comes to bowed and plucked strings, as well as a variety of additional articulations and styles.
Need more virtual orchestra members to work with? Over two hundred more sounds are available via a dozen optional sound sets.
---
Sugar Bytes Effectrix
Rudess loves apps that get creative with the way that multi-touch interfaces are used — and he cites Effectrix as a great example. This app lets you import or record audio, and then draw different effects parameters in as you listen, giving you access to fourteen different effects that can help you twist, distort, explode, or glitch out your tracks to your heart's content.
---
Kymatica SECTOR
This tool lets you slice, dice, and puree audio loops, adding all sorts of glitches and modulations to help your sounds soar, groove, or explode; for integration into your live show, the app also lets you adjust and trigger changes in real time.
"Kymatica always pushes the boundaries," says Rudess. "Their SECTOR app will allow you bend time and warp audio slices into glitch heaven."
---
Wizdom Music MorphWiz, SampleWiz, Jordantron, And GeoShred
As the founder of Wizdom Music, Rudess has overseen the creation of a growing portfolio of powerful, flexible, and fun apps for sound creation. Rudess uses many of his Wizdom Music apps on stage and in the studio with Dream Theater; in fact, signature sounds from his live Dream Theater keyboard rig have been replicated and packaged for mobile use via Wizdom Music's Jordantron app.
"For creating magical multipart harmony with the touch of a button from a drawn melody, my company created HarmonyWiz," says Rudess, while his GeoShred instrument was described by Electronic Musician magazine as "one of the most innovative, groundbreaking products to emerge in the past twelve months." The app specializes in modeling a diverse spectrum of guitar tones, letting users create effects and bend, stretch, and manipulate sounds in a variety of ways. And Wizdom's MorphWiz app combines visual and sonic effects to help users explore new horizons of sound synthesis.
These app suggestions are just the beginning when it comes to powerful mobile music making. What are some of your favorite digital musical instruments for phone or tablet? Share your thoughts in the comments below!
---
Disc Makers' regular contributor Michael Gallant's debut trio album Completely received a four-star review from DownBeat magazine and a five-star review from Critical Jazz, which stated: "This, my friends, is the future of jazz. Fresh, invigorating, progressive – there are simply not enough positive adjectives to list here." Learn more, download through iTunes, jam along with the new JamBandit app, or purchase through CD Baby. Follow Michael on Twitter at @Michael_Gallant or on Facebook.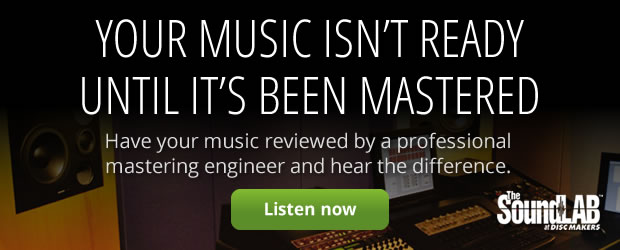 Related Posts
Virtual instruments – the secret ingredient of film, TV, and video game music
Going mobile: A look at music making apps
Using virtual instruments: Eight home recording tips to make your tracks sing
Virtual synths and the art of imperfection
Using a MIDI Controller In Your Home Studio
Remote collaboration: Nine tips for sharing music tracks