Mozart not only had a new release, he technically has the biggest selling CD of 2016. We look at 12 notable posthumous record releases of original material.
2016, as this blog and numerous other news and entertainment sources have explored, followed 2015 in the parade of influential popular music artists who died, often far too young and unexpectedly.
2016 also brought with it two near posthumous record releases. David Bowie's Blackstar was released on January 8, 2016, his birthday, and was followed by his death two days later. Similarly, Leonard Cohen's You Want It Darker was released on October 21st, and Cohen died barely three weeks later. In both cases, their deaths brought greater meaning to the releases, and certainly in Bowie's case, the album was steeped in his knowledge of his impending death, which informed the material and adds another layer of intrigue to an already excellent album.


These near posthumous record releases got me thinking about other postmortem albums, many of which are ill-advised and exploitative, a huge number – like the Thanksgiving day release of Prince's 4Ever – are compilations or best-ofs that may include an unreleased track or two to warrant its purchase, and a decidedly more select group that are unfinished gems that serve as an indicator of where the artist was going with his or her career. The big, "what if?" the artist had continued to make music.
Another huge percentage of posthumous record releases are live albums, some preserving a beautiful legacy, some more exploitation and opportunistic money-grabs (which category they fall into may be determined by your personal thoughts about the music industry).
And while I'm speaking more to popular music, the same holds true for jazz and other genres of music. Jazz At The Philharmonic, Complete Live in Stockholm, November 21, 1960 was released in February 2016, featuring an array of late jazz greats (including Stan Getz, Oscar Peterson, and Dizzy Gillespie, who died on this day 24 years ago).
And Wolfgang Amadeus Mozart not only had a new release in 2016, thanks to the fact that Mozart 225: The New Complete Edition was a 200-disc set, he technically has the biggest selling CD of 2016, as each individual disc in the collection counts toward the sales' total. Cheating, perhaps, but the massive box set sold over 6,000 copies, and there are few artists in history who could even warrant a 200-disc collection. (Grateful Dead fans needs not comment.)


Anyway, seemed like reason enough to post about notable posthumous record releases – not including best-ofs and live albums. These are records with predominantly unreleased, often new, material issued after the death of an artist. As always, I'll add the (unnecessary) caveat that this is not a comprehensive list, nor is it an attempt at a "best ever." Add your favorites in the comments, and tell us why you think they merit inclusion.
12 Notable posthumous record releases
Queen
Made In Heaven
Released 11/7/95
Freddie Mercury died in 1991, 10 months after the release of Innuendo, which seemed the last album of new material the band would record. But after Mercury's death, the remaining members of the band constructed an album around vocal and piano parts Mercury had recorded before his death. It is a singular approach – and Queen fans and critics alike took to the album. It went platinum four times over in the UK, debuting at #1, and sold 7.5 million copies around the world. Talk about a voice from the grave, many of the tracks refer directly to life and death (and love), with titles like "Made in Heaven," "Let Me Live," Too Much Love Will Kill You," and "Heaven For Everyone."
---
Jimi Hendrix
First Rays of the New Rising Sun
Release 4/22/97
Jimi Hendrix had recorded a ton of material before he died, though much of it was unfinished. Of course, that didn't stop a flood of posthumous releases, including Cry Of Love, War Heroes, and Voodoo Soup, though producer Alan Douglas was vilified for using studio musicians to overdub parts and tarnish Hendrix's legacy. In 1995, when the rights to Hendrix's estate were returned to Al Hendrix, Jimi's father, he and Jimi's step-sister Janie hired John McDermott and Eddie Kramer to remaster Hendrix's first three records, and they also produced First Rays of the New Rising Sun, made up of selections from the Cry of Love, Rainbow Bridge, and War Heroes albums and based on hand-written track listings made by Hendrix, who was working on this album before he died, though whether his finished product would have resembled this release is a matter of endless speculation.
---
Janis Joplin
Pearl
Released February 1971
Janis Joplin's second album contains classics including "Me And Bobby McGee" and "Mercedes Benz," and the inclusion of "Buried Alive In The Blues," notable not only for its premonitory name, but for the fact that it's an instrumental because Joplin was scheduled to record vocals the day after she was found dead. Like Hendrix, she epitomizes the artist who could have done so much more, though Pearl at least is a fitting endcap to a short but brilliant career as it was largely finished before her death – there was little left to guess regarding how the songs would be produced.
---
Tupak Shakur (aka Makaveli) The Don Killuminati
The 7 Day Theory
Released 11/5/96
Released just eight weeks after 2Pac's death by gunshot wounds, The 7 Day Theory is praised as a masterpiece and hailed as the epitome of exploitation, based on who you listen to. If nothing else, the album launched conspiracy theories about his death, fueled in part by the new moniker "Makaveli," which references Niccolo Machiavelli, who has somehow been credited with advancing the idea of faking your death, then returning to take retribution on your enemies. Tupak's induction into the Rock and Roll Hall of Fame this year may renew some of the debate over the album, though most point to All Eyez On Me, the first double-disc album of original material in hip hop history, as his masterstroke.
---
Elliott Smith
From a Basement on the Hill
Released 10/19/04
From a Basement on the Hill was released just two days before the one-year anniversary of Elliott Smith's death – labeled a suicide by a stab wound to the chest, though the autopsy report left open the possibility of homicide. That aside, he had been working on the album for years, his last release was four years prior, and had begun the final mixing stage with his new producer David McConnell when he died. The album was ultimately mixed and produced by Rob Schnapf, Smith's longtime producer and engineer on previous releases, including his critical and popular breakthrough, 1998's OX.
---
Jeff Buckley
Sketches For My Sweetheart The Drunk
Released 11/26/98
Coming off the success of his 1994 debut, Grace, and his career-defining reinvention of Leonard Cohen's "Hallelujah," Jeff Buckley was living up to his reputation as a perfectionist as he was in the process of scrapping an entire album's worth of recording to start all over in Memphis when he died in a tragic drowning accident in Wolf River Harbor, a channel of the Mississippi River. His mother worked with his record label (Columbia) to pull together the recorded material and release the two-disc Sketches For My Sweetheart The Drunk. The first disc includes the material that had been near completion, while the second compiles demos and home recordings to achieve the goal of expanding his catalog and sharing more of his music with his fans.
---
The Notorious B.I.G
Life After Death
Released 3/25/97
The follow up to Biggie Small's smash debut, Ready To Die, followed 2Pac's lead as he issued a two-disc epic titled Life After Death. Tragically, Biggie followed in 2Pac's footsteps in another way, succumbing to gun violence in a drive-by just six months after his West Coast rival's death. Whether a genuine result of the growing East Coast vs. West Coast hip hop battle, Biggie's murderer was never found. Released 16 days after his death (on the originally planned release date), the album hit number one on the Billboard 200, was critically praised, and certified Diamond in 2000, meaning it had sold over 10 million units.
---
Otis Redding
The Dock of the Bay
Released 2/23/68
Just months after Otis Redding's tragic death in a plane crash, The Dock Of The Bay was released, having largely been culled together by guitarist and producer Steve Cropper. Described as a collection of orphan tracks – i.e. previously recorded material that had not been released – the album came just a Redding was poised to launch his strong R&B career into the mainstream. While this and subsequent posthumous releases could have come across as exploitative, the quality of the material and Redding's performances superseded those possibilities, and Dock Of The Bay remains a favorite in his catalog and an indication of what would have been to come for an artist considered one of the best singers of all time.
---
Joy Division
Closer
Released July 1980
After 1979's critical and cultural success, Joy Division's debut, Unknown Pleasures, the band played and recorded, gaining momentum and building on the burgeoning punk movement to herald the proto-goth genre along with Siouxsie and the Banshees, Bauhaus, and the Cure. Fronted by Ian Curtis, the band gained notoriety even as Curtis' epilepsy seemed to worsen, as he was increasingly prone to seizures while performing. The band had completed its second full-length album, Closer, and was about to embark on its first US tour, when Curtis hanged himself. The album was released, reached number six in the UK, and the members of the band went on to form New Order, having previously committed to disbanding if the lineup ever changed.
---
Roy Orbison
Mystery Girl
Released 1989
As a rockabilly-infused artist in the late '50s, Roy Orbison was a signature vocalist and songwriter, scoring big hits in the early '60s and solidifying his place among rock's pioneers. As his career waned in the '70s and early '80s, his song "In Dreams" had a resurgence after David Lynch used it in Blue Velvet. Buoyed by the attention, Orbison partnered with Jeff Lynne (ELO) to begin work on Mystery Girl, which was put on the back burner when the duo joined Bob Dylan, Tom Petty, and George Harrison to form The Traveling Wilburys. The demands of the success of that album, including traveling, shows, and video shoots, apparently took its toll on Orbison, who appeared in ill health. He completed Mystery Girl, with an all-star array of contributors, but sadly, by the time the album was released, he had died of a heart attack.


John Lennon/Yoko Ono
Milk and Honey
Released 1/27/84
When John Lennon and Yoko Ono recorded Double Fantasy in 1980, they cut enough material for two albums, which they intended to complete and release later. When the unthinkable happened, and Lennon was assassinated less than a month after Double Fantasy's release, that plan was put aside. But Ono, a few years after his death, went back to release the material in the same Lennon/Ono format, though the latter release is rougher and lacks the production and later performances Lennon would certainly have added. But its roughness has charm, as does Lennon's studio banter, and this serves as a suitable final chapter to a legendary music career.
---
Michael Jackson
Xscape
5/12/14
While nothing involving Michael Jackson after his death (or indeed, in the years leading up to his death) could come without controversy, the release of the songs on Xscape give a refreshingly stripped-down (by MJ's standards) peek into Jackson's song craft, and gives an unprecedented look beyond the glitter and massive production that was Jackson's legacy – and arguably what marred some of his later releases.
Images sourced from album cover art.
---
A musician, writer, and marketer, Andre Calilhanna manages and edits the Disc Makers and BookBaby Blogs. Follow Andre on Twitter @dre_cal. Email him at andre@discmakers.com.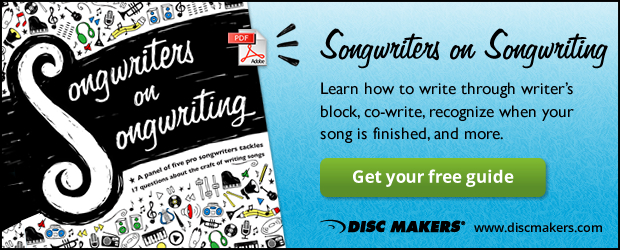 Related Posts
27 music icons and musicians who died in 2016
26 Notable Musicians Who Died in 2015
12 musicians who died in 2014
25 notable musicians who died in 2013
The song worlds of three musical greats