From playing shows to selling CDs and merch to finding time for self care, life on the road requires a balance between your personal, public, and business life. The Accidentals share some #TourLife hacks with us.
From 2012-2014, The Accidentals (Savannah "Sav" Buist, Katie Larson, and Michael Dause) recorded three original albums, were guest artists on 15 others, scored two films, and landed song placements in commercials, documentaries, and music compilations while playing over 700 live shows. THEN they graduated high school from world-renowned Interlochen Arts Academy (adding Dause, as their touring/studio drummer) and opened for musical greats such as Andrew Bird, Sixto Rodriguez (Sugar Man), Brandi Carlile, Dar Williams, Ladysmith Black Mambazo, Ben Solee, Rusted Root, The Wailers, Keller Williams, Arlo Guthrie, Joan Baez, and more.
Described as, "one of the most ground-breaking musical experiences one might just have in a lifetime" by Jonathan Frahm at Yahoo Voices, The Accidentals are just getting started – but they've amassed a LOT of experience on the road, and have shared some of their #TourLife hacks with The Disc Makers Blog.
What have you learned from being an indie band traveling on the road?
Sav: We've learned many, MANY things from being on the road… We've been touring for two years nonstop, and in that amount of time, we've learned that collaboration and fan support is critical. We could not do what we do without the people who support and care for us.
We've learned how to stay healthy amongst all of the gas station food, 22-hour drives, and insane amount of stamina required to play shows in different cities and states every night.
We've also learned how to run our own business. Whether it be managing finances, answering emails, advancing shows, scheduling interviews and more, we've been learning how to organize our hectic lives in a way that gets everything done.
Kate: We are professional trouble-shooters. In the past year, we've learned how to deal with van malfunctions, equipment failure, misplaced gear and personal items… kind of daily crisis management.
We are also continually learning how to create balance between our personal lives, our public lives, and our business lives.
How do you interact with fans after the show?
Katie: The fact that people are taking time out of their lives to stay after the show and share their stories, support, and personal connection with us is pretty incredible. We've shaken hands with 90% of our fanbase, comped tickets to people who reach out, and tried to be as kind to people as they have been to us.
Sav: We are blessed with a hardcore fanbase, and we love them as much as they love us. They have sent us gas cards in the mail, baked us cookies, crowdfunded our albums and tours, and been incredibly warm and friendly wherever we've been. There's no question about "will we" stay after the show to thank them – it's a given.
Why do you sell CDs?
Sav: We've found that people really like to walk away with something physical from every show, especially if it's signed. CDs make up a large percentage of our merchandise sales.
Katie: People still love liner notes. They want to hold a piece of paper and have an experience, so the more creative and personal you can make your CD/booklet, the more appealing it is to a public that is constantly seeking content. Disc Makers has always made the creation and distribution process of our CDs super easy and accessible.
What do you sell on your merch table?
Sav: We've tried a lot of different merchandise over the last two years to get a sense for what sells well. People tend to like signature items – things that remind them of the band in a personal way. For instance, the cat tights and bandanas I wear every night are popular items. People also like to buy collectibles like guitar picks, pins, and stickers. I designed our own brand of hot sauce because I don't have a sense of taste or smell. I can tell that story on stage and we can create a personal connection with the crowd.
Katie: We had a demand for vinyl, so in addition to CDs and USB jump drive bracelets (with all of our albums on them), we carry vinyl and download cards. We found that most people prefer CDs vs download cards, but download cards are great as a giveaway incentive for people to sign up on our newsletter, or when we do workshops/conferences. Their cost is pennies on the dollar, so they are really great giveaway. Last year we made a DVD documentary at SXSW talking about our touring experience. It's a great learning tool for young artists, which we wholeheartedly support.
Sav: We rotate seasonal apparel. In the wintertime, we carry sweatshirts, beanies, and t-shirts. In the summertime, we switch to tank tops, t-shirts, and baseball caps. Every once in a while, we carry a specialty item that supports a charity.
Katie: We also have tri-fold fliers with all of our dates and information about the band that we give away for free, and business cards. I set up an iPad with a digital newsletter sign-up, so people have quick and easy access to the newsletter.
What is your most popular selling item? Is there something you think every musician should bring to a show?
Katie: At a minimum, the most important thing you can bring to a show would be a sample of your music and a business card. The rest of your merch, you can grow as you go. It becomes its own monster soon enough.
If you could offer indie musicians one piece of advice for making it on the road and marketing themselves, what would it be?
Sav: The key to making it on the road is creating a good reputation. It doesn't cost anything to be on time, be prepared, be collaborative and respectful, to understand your audience, and to bring your "A" game to every gig, no matter how big or small.
Katie: Do your best to know where the closest Whole Foods store is.
Sav: We're still working on giving ourselves enough time to get from Point A to Point B, and getting enough exercise on the road. It's a constant struggle to stay healthy out here.
Anything else you want to share?
Sav: If people want to get in touch with us with more questions, they can always contact us atmoreaccidentals@gmail.com. Also if anyone has any other great tips, that would be awesome. We're still figuring a lot of it out and constantly growing and learning.
Katie: My favorite tour tips:
1. Buy an EZ Pass. This will save you eons of time.
2. Sign up at CLC.com for lots of cheap hotel stays.
3. Check out indieonthemove.com – lots of great resources in there.
Check out The Accidentals' website and Facebook page. Follow them on Twitter, and purchase their music on CD Baby.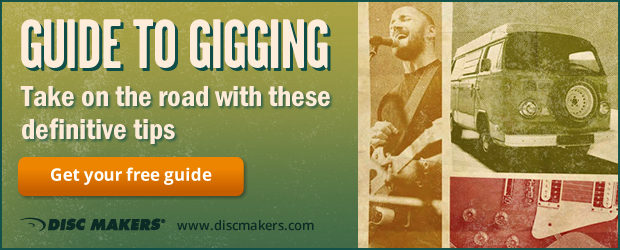 Related Posts
Being Healthy On The Road
Maintaining vocal health for singers
How to sing without straining your voice – night after night
Increase musical creativity by changing your nighttime routine
Performance tips for singers: My three day plan
Five strategies to help boost music merch sales