Could Kanye West, Meghan Trainor, Sam Smith, and Chad Kroeger have avoided their recent vocal issues? We have tips for maintaining vocal health for singers.
On November 3, 2016, 45 minutes into his Saint Pablo tour stop in Inglewood, CA, Kanye West declared the show was over due to losing his voice.
Consequence of Sound and other outlets reported that before leaving the suspended stage, West croaked out, "I can't let you have a show where I can't perform for you. I'll give everyone a refund. I'll do better next time."
The superstar performer was yet another high-profile vocalist who tried to push his voice beyond what it was capable of, likely due to the fact that he was performing the seventh consecutive arena concert in just a nine-day window.
How can you (and Kanye) learn to take the necessary care of your vocal instrument? After checking in on other stars who pushed their voices beyond their limitations, we'll learn some important vocal health tips from Dr. Derek Isetti, who specializes in treating voice disorders. Dr. Isetti lays out some strategies that can help you avoid vocal exhaustion or – even worse – require surgery on your throat. You'll see that a little common sense and care can go a long way to maintaining vocal health for singers.
It seems that vocal maladies have been continuously in the spotlight, resulting in 2015 being a banner year for the doctors and surgeons who specialize in vocal treatment or surgery for high-profile singers who literally burned out their instruments. With Sam Smith, Meghan Trainor, and Chad Kroeger (Nickelback) all having to cancel significant tour dates due to poor vocal health, it's clear that taking adequate care of one's vocal instrument continues to be a challenge.
"I've been vocally exhausted"
With those words in April 2015, Sam Smith, then 23 years old, let the world know he had pushed his voice beyond the limit of what it could handle. Smith, who rocketed to global acclaim on the strength of his multi-platinum album, In the Lonely Hours, posted to Instagram:
"I am deeply, deeply saddened to tell my Australian fans, I have to cancel my Australian tour. I have been vocally exhausted for a while now, however last night in Sydney I had a small hemorrhage on my vocal cords. The doctors have told me I need to fully rest until my vocal cords have healed, otherwise this could become a long term issue."
As it turned out, Smith needed more than rest, and soon after canceling his Australian tour dates, he flew to the US to have vocal laser surgery by Dr. Steven Zeitels at Massachusetts General Hospital. The procedure, which is seemingly becoming more and more common for A-list singers, was successful but required Smith to endure three weeks of post-op total silence, while eight weeks later, he was only able to do media interviews by email in order to reduce stress on his voice and promote full recovery.
Smith recounted "If I ever have to do it again … knock on wood I don't … I will go to a silent monk retreat, if there is such a thing." To accept his accolades at the 2015 Billboard Music Awards, Smith cannily sent in a video "speech" with him holding up handmade cue cards which shared his appreciation while giving some shout outs to other artists at the Las Vegas bash that night.
All About the Voice
Months after Smith was sidelined, 21-year old sensation Meghan Trainor joined him on the unable-to-perform list. At first, it seemed that Trainor only needed to cancel a few dates on her 28-stop M-Train tour to give her vocal instrument a chance to bounce back. In early July 2015, she had to cancel the first two shows. The singer posted the diagnosis online, stating, "I don't want anyone worrying, but I have had a hemorrhage on my vocal cords. Right now the doctors want me on complete vocal rest until they are healed so I have to postpone my first two shows."
A few days later, Billboard reported that although she was recovering, her next three dates were also cancelled on doctor's advice due to poor vocal health. After getting the green light to resume performing, the singer made the next 13 tour stops before throwing in the towel after her August 8th show. It appears she never fully regained her health and unwisely tried to stay on tour while battling bronchitis.
Life on the road is difficult for artists in top physical shape, but she reported a second vocal hemorrhage and that doctors prescribed cancelling the tour and having surgery, which she underwent in August 2105. Afterwards, she started vocal therapy to help her regain her voice and learn ways to better manage her instrument to prevent future vocal health issues.
Trainor's first move as her recovery proceeded was to get back into the studio to record the follow up to her debut release, Title, which had enjoyed four Billboard top 20 hits. This allowed her to establish a far less rigorous studio schedule as compared to life on the road. Post surgery, she had also commented that she had great difficulty sleeping while on tour and never really got used to living in the 24-hour a day bubble that is "road life" – constantly bouncing back and forth between the stage, interviews, and the tour bus. Her sophomore effort, Thank You, dropped on May 6, 2016, and happily for her legions of Megatronz, showed her voice in fine form after her surgery and her follow up vocal therapy program.
Get your voice back
Canada's Nickleback have been one of the most reliable touring acts for years, as Bloomberg News reported their 2012 world tour grossed $53 million dollars. Back out on a similarly ambitious 2015 global jaunt, lead singer Chad Kroeger's voical health failed him mid-way through the tour.
Diagnosed with a cyst that had formed on his vocal cords, Kroeger underwent surgery in the hope that by September 2015, he would make the nine-week, 32-date run that comprised the planned European leg of the tour. Alas, it was not meant to be, as Loudwire reported that the band had to cancel.
"Nickelback is forced to cancel all remaining dates for the 2015 No Fixed Address Tour due to an extended period of vocal rest ordered for lead singer Chad Kroeger. Kroeger, who was diagnosed with an intracordal cyst on his voice box in June, recently underwent surgery and must remain on vocal rest as ordered by doctors for the next six to nine months in order to fully recuperate. Ticket refunds will be available at the point of purchase."
Unfortunately, the medical problems Kroeger faced would basically require a predicted year of post-surgical vocal rest and recovery, intermixed with vocal therapy to help the multi-platinum singer regain his vocal mojo. Fifteen months after the problem surfaced, Kroeger and the band returned to the stage with a reduced itinerary of an 11-show trek through the UK.
An ounce of prevention to help overall vocal health
Benjamin Franklin's oft-quoted saying that "an ounce of prevention is worth a pound of cure" applies perfectly to maintaining vocal health for singers, especially when confronted with the demands of performing nightly over an extended time period. To learn how singers can reduce the risk of suffering a career-threatening problem, I visited with a vocal health pro: Dr. Derek Isetti. He is an Assistant Professor in the Department of Speech Language Pathology at University of the Pacific in Stockton, CA. To the lay person, speech language pathology is the study of communication disorders, whether they involve problems related to voice, speech, or language. Dr. Isetti specializes in the area of voice disorders.
In addition to his training in health sciences, Dr. Isetti studied musical theater in college and soon after embarked on a career in musicals, appearing on Broadway as well as many sold-out tours. He performed in shows such as Cabaret, Some Like It Hot, 42nd Street, and Kiss Me Kate, which gives him a first-person perspective on the demands placed on a singer who must perform eight shows a week for weeks at a time while living out of a suitcase.
What does the term "vocal exhaustion" actually refer to?
Vocal exhaustion tends to be the result of either overuse or misuse of the vocal mechanism. The fancier term is known as phonotrauma. Voice overuse can be especially problematic for performers, who are what we like to call "vocal athletes," since they are typically expected to use their voices in ways that the average person is not. It becomes a problem for people who push their voice beyond what is considered safe.
Based on your own clinical experience, what advice would you offer to singers to help them avoid suffering the same vocal health fates as Meghan Trainor and Sam Smith?
There are five things that come to mind that I would share with singers to help them maintain their vocal health and keep their voice in the best possible condition while avoiding harm.
1. Consult a doctor when needed.
First and foremost, always seek an evaluation from an otolaryngologist (Ear, Nose, and Throat doctor or ENT) if you experience vocal trouble that persists for approximately two weeks. It's essential that you have a thorough exam, since many voice disorders can require medical attention.
2. Hydrate.
Next, protect your instrument the way any other musician would protect theirs. Guitar players often place humidifiers inside their cases to keep the wood from drying out. Your vocal folds also need to be kept moist. There are two types of hydration, internal and superficial. Drinking plenty of non-caffeinated beverages and avoiding alcohol in excess is a great way to maintain internal hydration, but many theater performers also rely on personal steamers as well. Singers have a common misperception that certain beverages "soothe" the vocal folds by coating them with liquid as you swallow. Actually that couldn't be further from the truth! What you drink never touches the vocal cords themselves, or else you would start choking and coughing violently. Nonetheless, staying hydrated keeps your vocal folds moist from the inside out.
3. Vocal Cash.
I suggest thinking about your vocal output for each day as a form of money – I call it "vocal cash." I encourage singers to spend their daily allotment of vocal cash wisely. In one's financial life, there are consequences to having an overdrawn checking account, yet we often make excessive demands on our voices that cost us down the road. So let's assign a monetary value to every highly demanding vocal activity, with the goal of trying to keep such activities spaced out from one another. For example, make all vocally demanding activities in your life worth $50 (karaoke, choir rehearsal, speaking on the phone for an hour with a friend, doing a concert, etc.) Decide that you are only allowed to spend $100 per day in your vocal cash. If you try it, you'll will quickly become aware of how much you might be overtaxing your voice and taking its health for granted.
4. Proper technique.
I can't overemphasize the need for vocal training with a skilled teacher. Having natural talent is wonderful, but you'll want to learn proper singing technique to sustain a career long term.
5.Monitor your environment and behavior.
 
Use amplification when possible. If you have issues hearing your voice over other instruments, an in-the-ear monitor can help you avoid trying to sing more loudly than necessary. Be aware of irritants (smoky bars or rooms, fog machines), and be sure you get plenty of rest. Consider limiting daytime vocal use to the bare minimum to preserve your voice for concerts. Many performers also stay up late and eat meals after their shows because they are too nervous to eat beforehand. Unfortunately, eating late at night and then sleeping on a full stomach is a risk factor for reflux. The acids from your stomach can travel up and harm the delicate tissue of the vocal folds while you sleep.
As a final vocal health tip, Dr. Isetti urges singers to be aware and listen to their body, especially when your voice seems to feel or respond differently. "If you feel hoarse or have trouble speaking after a performance, it's essential you listen to the message that your body is sending you before you do any harm to your vocal instrument. Being proactive may help you avoid more serious complications down the road."
Images sourced from Shutterstock (editorial use only).
Keith Hatschek is a regular contributor to the Disc Makers Blog and directs the Music Management Program at University of the Pacific. He has also written two music industry books, How to Get a Job in the Music Industry, which just came out in its third edition, and The Golden Moment: Recording Secrets from the Pros.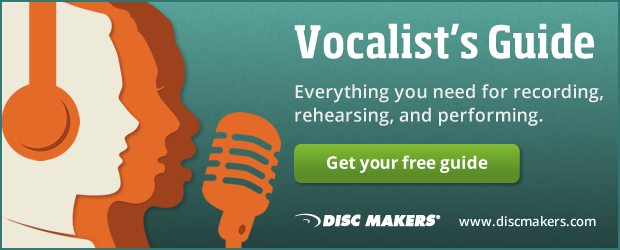 Related Posts
Vocal Health Basics – How to Properly Care for Your Voice
Performance tips for singers: My three day plan
Singing tips – don't tax your voice before a vocal performance
How to sing without straining your voice – night after night
Singing tips for vocalists in any genre