While this advice is focused on songwriters looking to land a song on a major label artist's album, knowing some of the elements that go into hit songwriting can help you excel, whatever your musical ambition.
At a recent BMI Nashville Songwriter Workshop, 50 different songwriters got to pitch one song each to a well-known publisher. At these monthly workshops, just about every song played is crafted perfectly. The songwriters have mastered the use of song structures, the lyrics are clever and well written, and the melodies work well with the chords. At the end of this particular session, the publisher took copies of five songs – that's a mere 10 percent of those that were pitched.
It's a good reminder that "perfectly crafted" is a starting point, but it isn't enough to rise above the competition and reach hit songwriting status. To do that, your songs need to go beyond the expected and push the creative envelope to differentiate themselves from the thousands of well-written songs that are all vying for a spot on a major label artist's release.
Will your songs slap them out of their trance?
A publisher once told me that when he plays songs for record label executives, he needs his songs to "slap them out of their A&R trance." Think about it: these industry pros are bombarded with songs – most of them written by published songwriters with track records. All the songs they are considering are good. Only songs with that extra something special stand out and demand attention.
The same goes if you're pitching to a publisher. There has to be a compelling reason for a publisher to choose your song over the competition – something that convinces him or her your song is unique, exceptional, and destined to become a smash hit that will elevate an artist's career.
Let's try to qualify this and say that to become a hit, a song needs to score a minimum of 100 points. Some points will be earned by the lyric, some will be awarded for the melody, and others might come from the musical backing track. What elements can you add to your songs to provide the extra points that will help you score 100 or more? The more components you include, the more points you'll rack up, and the better chance for success. Let's look at some ways to separate your songs from the pack and transform them from good to great!
Melodic elements and unexpected intervals
A memorable melody is essential, but it needs more than that to rise above the competition. There are several ways to help your melodies grab attention.
Listen to the intervals used in Kris Kristofferson's classic, "Help Me Make it Through the Night." The note choices in the first line are anything but predictable. Similarly, listen to Neil's Young's "The Needle and the Damage Done" and key in on the unexpected note and chord choices. A more contemporary example is Pink's hit "Try" (written by Busbee and Ben West), which incorporates unexpected melodic intervals that allow the artist to soar vocally, matching the intense emotion of the lyric. Stock melodies won't contribute to a listener choosing your song over the competition.
Instrumental hooks
By adding catchy instrumental melodic phrases – AKA instrumental hooks – you give a listener another reason to latch on to and connect with your song. Consider, for example, how the distinctive tenor saxophone line sampled from Balkan Beat Box's "Hermetico" provides some of the most memorable moments in Jason Derulo's smash hit "Talk Dirty." By incorporating an instantly recognizable lick, and introducing a sound that's not typically heard in hip-hop, it sets the song apart from the start. Then, the baritone sax part introduced in the verses contributes another special element.
Similarly, the catchy tenor sax line woven through Macklemore and Ryan Lewis' "Thrift Shop" was one of the more distinctive elements of that number one hit.
Which is not to say using saxophones is some magic bullet. Hit songs have included instrumental melodic hooks played on fiddle, electric and acoustic guitar, accordions, keyboards, harmonica, banjos, bass guitar, and countless other instruments. In fact, in Phillip Phillips' "Home," the melodic hook that helped propel the song to the top of the charts was a combination of instruments and vocals and another example of how memorable instrumental motifs appear in hit songwriting across multiple genres.
Rhythmic experimentation
The trend of including hip hop rhythms into contemporary country songs has been pretty successful. Country hits like Blake Shelton's "Boys Round Here," Florida Georgia Line's "Cruise," and Luke Bryan's "That's My Kinda Night" all use various hip hop elements.
But whatever the musical genre, melodies that go beyond stock, predictable rhythms differentiate themselves, so crafting melodies that give the vocalists interesting rhythms to sing can be an effective technique. This is often accomplished by incorporating syncopation. There are plenty of examples of hits that incorporate a syncopated vocal melody, including Taylor Swift's "We Are Never Getting Back Together," Katy Perry's "Teenage Dream," Miranda Lambert's "Mama's Broken Heart," Eli Young Band's "Drunk Last Night" and Lorde's "Royals."
Nonsense syllables and vocal hooks
A publisher at one of my workshops once told the songwriter audience, "When you add a 'na na na,' an 'oh oh oh,' a 'hey hey hey,' or some other sounds the audience can sing along with, you immediately increase your song's chances of being recorded.
One of the catchiest and most memorable elements of Carrie Underwood and Miranda Lambert's number one duet, "Somethin' Bad," is the "oh, oh, oh" sung in the intro and throughout the song. Similarly, Bruno Mars featured a hook sung on the syllables "oh, yeah, yeah, oh, yeah, yeah, yeah, yeah" during the intro of his GRAMMY-nominated "Locked Out of Heaven."
The use of non-lyric vocal hooks is not limited to any specific genre, and exceptional examples of these can be heard in Lady Antebellum's "Compass," Beyoncé's "Single Ladies (Put a Ring On It)," Britney Spear's "Till the World Ends," Feist's "1-2-3-4" and Keith Urban's "Long Hot Summer." While it won't be right for every song, this tool is an important one that can help sear your song into listeners' brains.
In summation, if you don't give your listeners a compelling reason to choose your song over the competition, they won't. That goes double for an A&R executive, record producer, or music publisher. Come up with ways to give your songs those extra points that can turn them from good songs to hit songs!
A staff-writer for Zomba Music since 1991, Jason Blume is one of those rare individuals to ever achieve the distinction of having songs on the Country, Pop and R & B charts – all at the same time. One of the nation's most respected songwriting teachers, Blume presents seminars internationally and developed and teaches BMI's Nashville Songwriters Workshops and "Demo Derby." He has taught his songwriting techniques as a guest lecturer at UCLA and as a member of the faculty of Los Angeles' Pierce College and Nashville's Watkins Institute. His lessons are used by Nashville Songwriters Association International's members throughout the U.S. and internationally.
This article was originally published on MusicStartsHere.org. Reprinted with permission.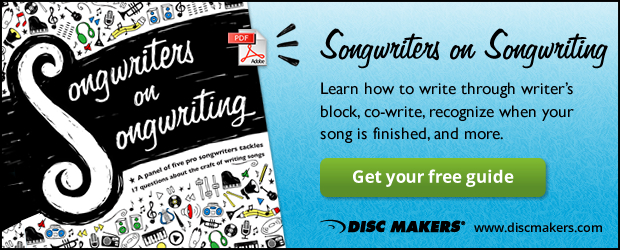 Related Posts
Five lyric pitfalls to avoid when writing Country songs – or ANY songs!
Songwriting: advice and insight on the craft of writing a song
Intensify your musical arrangements and solos with call and response
A great solo can elevate your song
Ask a songwriter: 5 questions for Kent Blazy