Touring is such a valuable learning and career opportunity for a musician, and having a genuine attitude and hard-working ethos on the road can only lead to bigger, better opportunities.
Taking your band on the road creates special opportunities to make connections you wouldn't otherwise be able to make. Having face-to-face interactions and making personal connections with industry, fans, and supporters is a valuable perk of the transient touring lifestyle, but it can directly benefit your music career if you actively work your opportunities.
Music industry connections
It's much easier to work with booking agents, venue managers, and promoters who you've met face-to-face: they know you and have a personal experience, they've seen the professionalism and show you'll bring to their venue. Assuming you've made a good impression, it gives you a leg up the next time you reach out to them to book a show or promote an event.
Beyond just venues and people associated with your shows, touring is a time to make connections with local music industry players who have the power to connect you to better opportunities. Your time on the road should be an enjoyable music making experience, but it also needs to be a time for networking and the advancement of your music career.
Book yourself for a future date
If you've just had a great show at a venue and you know you want to return, take the opportunity to book yourself again while you're there. If you've put on a great show, the promoter will be happy to do this, and it saves everyone the time of sending, following up, and answering emails.
To do this right, you need to have your schedule planned well in advance – and depending on the size and status of the club, potentially even a year in advance. Booking far enough in advance also affords you the ability to switch the date if necessary. If everything goes as planned, you'll have a hassle-free date saved at a venue you've established a relationship with. If something comes – recording dates or a gig you just can't pass up – you have ample time to cancel or reschedule the show without damaging any relationships.
Make connections with other bands
Musicians are often great music lovers and entrenched in the local scene. They can be great people to have as fans: they are great at promoting, they come out to shows, they buy merch, and they can be your allies. In fact, making connections with bands and other musicians can be a huge asset when you're on the road. Whether it's a gig swap, getting help rallying fans, or you calling in a favor when you inevitably forget a patch cable or guitar strap, these connections can come in handy.
Sharing a bill with local artists is one way to forge connections, but you can simply go to their show, show support, and make friends. Artists are usually pretty easy to make friends with, as they appreciate anyone who is coming to their shows. The key is to be genuinely interested in being friends. Too many people make the mistake of using connections and friendships solely for personal gain.
Work on building friendly relationships first, business connections second. When you feel comfortable talking to another artist about doing a show together, or doing a gig swap, be direct and professional about it. That way if it doesn't work out, there are no hard feelings, it's purely professional.
Reach out to local industry
It can seem intimidating, but it's always worth trying to meet the movers and shakers in any local scene. A simple invitation to breakfast, lunch, or coffee before or after a show can initiate a great connection. Look up local music blogs or journalists and other music industry professionals by using social media, notably Twitter. You can also reach out to student newspapers that cover the music scene.
Invite music industry to your shows
On your first couple of attempts to tour or play gigs outside your home area, you may not know which venues are appropriate or worth playing. The truth is, on your first few tries, you may not even be good enough to play the top-tier venues in a given city. However, it's in your best interest to search out the best venues you can find and target them at a later date.
One way to establish a connection with these clubs is to get a promoter or booking agent out to your show. Tracking down contacts and inviting local industry to your show can sometimes be as much work as booking the show itself, but it can be just as important. Make sure your invitations are personalized, so do your research beforehand.
Now, there are no guarantees that having someone come to see you play will land you a show. If you're not the right genre or your show simply isn't ready, the promoter should have no problem telling you and giving you advice about what to do or where else to look. If your show is truly polished, well-rehearsed, and the crowd is responding to you, nearly everyone will be able to appreciate that.
Build your fan base by remembering names
Many successful artists over the years have done one specific thing that has helped their careers immensely: remembered names and faces. There are various ways to keep names stored in your memory, but one of the easiest ways to do it is by keeping a list of everyone you meet and have a conversation with.
At the end of the night, enter the name, contact info, and details about conversations you had and anything relevant you learned about the people you met. Organize the names by cities and review the names for whatever city you're in before you get there. Follow up with them via email or social media shortly after meeting in order to keep contact.
Remembering someone's name and a few details about his or her life can make a forever fan and friend.
Don't waste your opportunity by being wasted
Touring is such a valuable learning and career opportunity – don't spend it all partying. See the sights, play great shows, connect with industry, and make your fans feel special. Having a genuine, friendly attitude and hard-working ethos on the road can only lead to bigger, better opportunities.
By Liam Duncan, featured writer for Purple Cow Productions. Purple Cow is a London-based collaboration between professional musicians, audiovisual artists & award-winning entrepreneurs, creating best in breed work.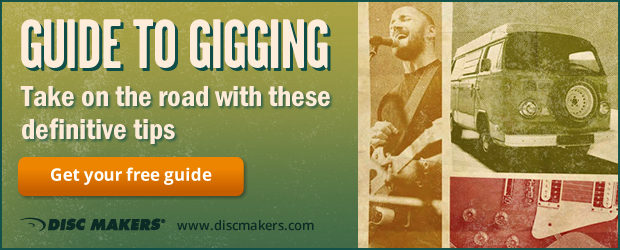 Related Posts
Develop a home base before moving to regional music venues
Have you outgrown your favorite music venue?
Expand your audience with opening act and support slots
How to find and play unconventional music venues
Got an unconventional gig? Use unconventional promotion.