In the second of our three-part series, we include a few obvious choices from the rock trio catalog, listed in the order of their formation, plus a few that stray from the mainstream. Have fun reliving memories and finding new musicians to enjoy, three at a time.
In "Thirteen rock trios that changed music" we profiled some of the more obvious contributors to the annals of rock, from Cream to Rush, Green Day to Nirvana. In this installment, we include a few more obvious choices from the trio catalog, listed in the order of their formation, plus a few that edge further from the mainstream. The criteria is loose, not all these bands remained threesomes throughout their artistic lifespans, but here are nine more musical acts that made their mark on the musical landscape. And many are still making music today.
Of course, we're still just scraping the surface. We received lots of your input the last time around, and many of the rock trios you mentioned are included here. We'll do one last entry before the month's end, so add your favorites to the comments section and maybe we'll give them a shout out in the final post. But for now, have fun reliving memories and finding new musicians to enjoy, three at a time.
---
Grand Funk Railroad
Flint, Michigan
1969-1976 / 1981-1988

When Grand Funk released 1973's We're An American Band, its seventh studio album which featured the title track-gold-selling-number-one hit (all produced by Todd Rundgren), the band had officially named Craig Frost its fourth member, adding his keyboard to its blues power rock trio formula. But from 1969-1972, Grand Funk Railroad blasted onto the scene as a trio, releasing six studio albums and one live record, all of which achieved gold or platinum sales. While Mark Farner (guitar, vocal), Don Brewer (drums), and Mel Schacher (bass) never received a lot of love from the press and critics, their appeal to the working-class music fan was hard won through the band's energetic live performance style, a rigorous touring schedule, and an aggressive manager with a creative approach to promoting the band. "I'm Your Captain" signaled the band's early popularity, propelling the album Closer To Home to multi-platinum status and helping the band sell out its 1971 Shea Stadium show in a mere 72 hours (it took the Beatles a couple of weeks to sell out in 1965).
---
Triumph
Toronto, Canada
1975-1995

With obvious comparisons to their Canadian counterparts in Rush, Triumph never was able to match Rush's popularity internationally, but the band did score multiple gold and platinum albums, numerous Juno Award nominations (with a win in 2008 for a Canadian Hall of Fame induction), and several hits, including "Magic Power," "Lay It On The Line," and "Fight The Good Fight." The trio consisted of Rik Emmett (guitar, vocal), Gil Moore (drums, vocal), and Mike Levine (bass, keyboards). Triumph climbed steadily in it's first decade, issuing practically a release a year and touring with it's self-described "blinding light show." Drummer Gil Moore contributed lead vocals on many of the band's songs, including "Fool For Your Love" and "Allied Forces" off the album of the same name, but Emmett's soaring melodic vocal and classically-tinged guitar playing was the defining sound of the band. The group split among lawsuits and acrimony before releasing a final album without Emmett in 1993 called Edge of Excess.
---
Stray Cats
Massapequa, New York
1979-1992

Though formed in Long Island and finding an immediate fan base, Brian Setzer (guitar, vocal), Lee Rocker (double bass), and Slim Jim Phantom (drums) opted to head to England to ride the wave of the Teddy Boy revival. They found success in the UK, and soon landed a record deal after connecting with producer Dave Edmunds. Stray Cats was released in England in 1981, featuring "Runaway Boys," "Rock This Town," and "Stray Cat Strut." When the follow-up album failed to garner the same success, the band headed back to the States and released Built For Speed which compiled the strongest material from the UK albums, and quickly blew up the charts, thanks in part to the band's spins on MTV. The Stray Cats led a rockabilly revival, continuing with "(She's) Sexy + 17" off their Rant N' Rave album. Conflicts and side projects derailed the band, though the trio put out three more albums before calling it quits in 1992.
---
Stevie Ray Vaughan & Double Trouble
Austin, TX
1979-1989

Stevie Ray Vaughan's music was steeped in blues, rock, and jazz, and his list of influences are as long as the list of guitarists he influenced in his short span in the limelight. Three years into its career, SRV & Double Trouble played a private audition for The Rolling Stones, which led to an appearance at the Montreux Jazz Festival, which led to David Bowie tagging Vaughan to play guitar on his Let's Dance album and some free studio time from Jackson Browne. The result was the album Texas Flood, which spawned "Pride and Joy" and introduced Vaughan's remarkable tone and virtuosity to the world. Chris "Whipper" Layton (drums) and Tommy Shannon (bass) rounded out the trio, which had expanded to a quintet after the band's second album, which sadly only recorded two more studio efforts before Vaughan's tragic death in a helicopter crash in 1989.
---
Hüsker Dü
Minneapolis, MN
1979-1987

Bob Mould (guitar, vocals), Grant Hart (drums), and Greg Norton (bass) blasted through seven albums in six years – two of them double albums – as Hüsker Dü went from basement band to major label rockers without ever being labeled sellouts. That's a pretty good feat for a post-punk trio who made its name as a hard-working, furious-paced ball of fury. Mould and Hart shared songwriting and vocal duties, which propelled the band and fueled a rivalry, all while the duo was developing a speed and alcohol dependence. In the final years, having toured non-stop for the duration of the band's life, Hart's addictions worsened while Mould cleaned up. In the end, the band capped its legacy as more influential than commercially successful, with the acclaimed Zen Arcade in 1984 and their final studio effort, 1987's Warehouse: Songs and Stories acclaimed as the band's best.
---
Meat Puppets
Phoenix, Arizona
1980-present

14 albums in, The Meat Puppets may never have had huge commercial success, but they have carved their niche among the hard rock and punk circles, enjoying a foray into the mainstream with their bonafide hit, "Backwater," aied by their opening for Nirvana on the In Utero tour. The song was from the band's 1994 release, Too High To Die, and earned Meat Puppets its first gold record. The band's original and enduring lineup is made up of brothers Curt (guitar) and Cris (bass) Kirkwood and drummer Derrick Bostrom. The Meat Puppets endured career ups and downs and drug abuse issues, including the death of Cris' wife by accidental drug overdose. The band re-emerged in the late 2000s, though, with drummer drummer Shandon Sahm and Elmo Kirkwood (Curt's son) joining the Kirkwoods in 2013.
---
Dinosaur Jr.
Amherst, Massachusetts
1987-1997 / 2005-present

J Mascis (guitar, vocals), the brainchild and principle creative driver of Dinousaur, Jr. (originally Dinosaur) recruited Lou Barlow (bass, vocals) and Emmett Patrick Murphy, or Murph (drums) to form a band that leaned on Mascis' songwriting plus lots of feedback, distortion, and guitar solos to create what the band termed "ear-bleeding country." Through its 11 albums and 30-year career, the band has seen numerous personnel changes, but the original trio has produced all the band's material since reforming in 2005.
---
The Jon Spencer Blues Explosion
New York City
1991-present

Unconventional and not the blues – at least by any standard definition – The Jon Spencer Blues Explosion features Jon Spencer (guitar, vocals), Judah Bauer (guitar), and Russell Simins (drums) as a high-energy rock/funk/punk/blues barrage of energy. The band's 11 albums have garnered critical acclaim, and to put a notch in their blues credentials, R.L. Burnside tapped them to be his backing band for his A Ass Pocket of Blues release in 1996. After a hiatus in 2007. the band issued a single in 2011 and then a full-length album in 2015, Freedom Tower: No Wave Dance Party 2015.
---
Blink-182
Poway, California
1992-present
With an original lineup that included guitarist/vocalist Tom DeLonge, bassist/vocalist Mark Hoppus, and drummer Scott Raynor, Blink-182's first releases were independent, with the fourth, Enema of the State, carrying their "blissfully ignorant" pop-punk to the mainstream and solidifying the band's commercial appeal (worldwide sales top 15 million). Written off by many as juvenile toilet humor, the band has managed to endure time and lineup changes, including the exit of long-time frontman Tom DeLonge. The current lineup of Hoppus, Travis Barker (drums since 1998), and guitarist and vocalist Matt Skiba (formerly of Alkaline Trio) just released the band's seventh album, California, earning top album placements in the US, UK, and Canada.
---
Part 1: Thirteen rock trios that changed music
Part 3: Eight more for the road: 30 rock trios across seven decades
Check out our Spotify Playlist for more from our list of influential rock trios.
Info was sourced from various outlets online, including AllMusic and Wikipedia. Images sourced from album cover art.
---
A musician, writer, and marketer, Andre Calilhanna manages and edits the Disc Makers and BookBaby Blogs. Follow Andre on Twitter @dre_cal. Email him at andre@discmakers.com.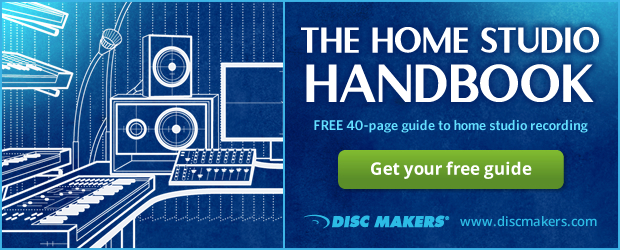 Related Posts
Thirteen rock trios that changed music
19 musicians and music icons who died in 2016 (so far)
Things I learned being a fan of David Bowie
The creative genius of Paul McCartney's bass lines
After The Beatles: Paul McCartney's bass playing, Part II
A look at Ringo Starr's enduring musical influence