If your music career spans any length of time, there will be those inevitable periods when you find yourself in a creative rut. The challenge is knowing how to work your way out and get back to the business of making your art. These tips can help.
Does every gig you play feel like a dull variation of the last time you stepped on stage? Are you playing the same tunes on repeat to the point where they bore you? Do you circle back to the same clubs and venues again and again? Do you feel like you're writing the same song over and over, with little inspiration or progress?
It can be all too easy for indie artists of any genre to fall into a creative rut when it comes to songwriting, rehearsing, and moving your music career forward. Music is not an easy business, and the hustle to push your compositions and career out of the familiar and up to the next level can sometimes be a drag for even the most resolute artist or band.
Here are a few tips to help you shake things up, break you out of a rut, and get your creativity, inspiration, and career back on track.
Bring in new collaborators
Feel like your songs are static and stale? Try bringing in a new drummer who will give everything a different feel. Or two drummers at the same time. Or a fiddle player, beatboxer, and theremin wizard. Whether they're musicians, songwriting partners, producers – whatever – fresh blood can help reinvigorate your efforts when it comes to pushing your creativity and your career.
Join another project (or three)
If you feel like your own creativity isn't going where you want it to, working on music in a completely different context can help break you out of unproductive patterns and give you fresh inspiration.
Whether it's joining the pit orchestra for a musical or singing backup for another artist, helping out with hand percussion for a recording or filling in on bass in your friend's '80s cover band, try making music in a new environment, with new goals, and see where it takes you.
Fresh projects where you work as a side person — as opposed to being the leader — might be particularly helpful in situations where you're feeling creatively stagnant. The more energy you can spend simply showing up, making good music, and helping someone else achieve his or her musical goals, without the burden and responsibility of keeping the entire train moving, the more inspiration you catch in a bottle and use to bring life to your own musical pursuits.
Ease up on the pressure
Dr. Noa Kageyama, a performance psychologist on faculty at Juilliard School of Music and creator of the Bulletproof Musician blog, says that a good way to break free from a troublesome rut is to "give ourselves permission to suck on purpose, to see how badly we can suck, and how the journey can actually lead us to discover something cool."
He cites a story from the book Effortless Mastery by musician Kenny Werner. "There was someone described in that book who gave himself thirty days to write deliberately awful songs," he says, "to make pieces that were laughably bad. But after a month, he actually had a CD's worth of really good stuff as well. Giving yourself permission to be bad can remove pressure and expectations, unexpectedly giving you room for positive results as well."
Try a new instrument
If you find that your hands keep reaching for the same tired chords on the guitar time and time again, see what happens when you replace the guitar with a ukulele or mandolin. Similarly, if the piano isn't speaking to you, find some time on a Hammond B-3 or Wurlitzer electric piano to see if something new sings out.
Try different classes of instruments, too — if you're a drummer stuck in a creative rut, see what happens when you pick up a penny flute, or if you're a singer, try your hand at the funkiest new synth you can find. Getting handy at a new instrument can open doors for you creatively — and even position you to land more gigs in fresh contexts, which can also lend a boost to your music and career.
Try a new hobby
"If you're a guitarist, try taking a photography, painting, or paper-making class," says Kageyama. "Learn something new like chess or Brazilian Jiu-Jitsu, even if it may not ever directly overlap with your music-making."
The reasoning, Kageyama says, is that learning new skills stretches us to naturally find inspiration. "The goal is for musicians to evolve and not just get to a certain point and stay there," he says. "If you cross-train and put yourself in situations where you're a beginner again, it forces you to grow and evolve."
Try drawing from a new genre
When you feel stuck in a place, bringing in some new grooves, chord voicings, or vocal approaches from a completely different genre can give you the spark you need to get moving again. If you've been listening to some Faure art songs but can't get your own vocal lines off the ground, try to weave some of the French composer's lyricism and grace into your work. If you've been listening Bleeding Through and your own music seems listless, try adding some of the metal band's rage and propulsion to your drum parts. You never know what unexpected combination of genre-jumping elements will spark an alchemy that will send your music to a new place.
Try a new identity
From Madonna to David Bowie to Michael Jackson and beyond, some of the most iconic artists of the last century have regularly reinvented themselves on-stage and in the studio. Don't hesitate to follow their example and see where it takes you. At worst, you have an interesting experiment that's led you to try new things, and you can drop it at any time. At best, you have a vibrant new creative direction that can push you forward in amazing ways.
Take a break
It may seem counter-intuitive, but putting down your instrument for a few days, weeks, or even months can ultimately be a good thing. When you pick things back up, you may well have new perspectives and ideas — and if you're feeling burned out, a rest period from your music may be just what you need to come back ready to create.
Take a trip
New places, people, and experiences can change the way you see everything, including your music and music career. If you're feeling stuck and have the flexibility to take that road trip, family visit, or backpacking adventure you've been longing for, give it a try. When you return to your music, you'll have fresh inspiration to help you kick things into gear.
Be patient
Even the most brilliant and accomplished artists hit slow periods when it comes to creativity and career. Keep calm and keep making music. Your next sonic experiment could be the one to rocket you forward in ways you never could have expected.
---
Disc Makers' regular contributor Michael Gallant's debut trio album Completely received a four-star review from DownBeat magazine and a five-star review from Critical Jazz, which stated: "This, my friends, is the future of jazz. Fresh, invigorating, progressive – there are simply not enough positive adjectives to list here." Learn more, download through iTunes, jam along with the new JamBandit app, or purchase through CD Baby. Follow Michael on Twitter at @Michael_Gallant or on Facebook.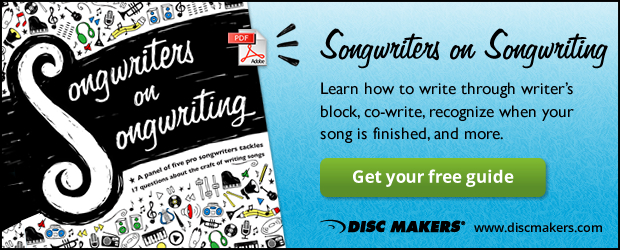 Related Posts
Songwriting and writer's block: 11 tips to help the songwriter get unstuck
Increase musical creativity by changing your nighttime routine
Burned out? Maybe it's time to pause and refill the well.
Freshen Up Your Live Show – 5 Ways To Spruce Up Your Live Music Performance
Your music will benefit when you have a beginner's mind
Things I learned being a fan of David Bowie