Part 3 of our series profiling rock trios adds a little more variety and brings our total to 30 all-time great threesomes.
In our first two installments, we looked at 22 all-time great rock trios who helped establish the legacy of the three-piece format: the bare-bone, nowhere-to-hide arrangement of musicians that has set the standard for punk rock, progressive rock, and everything in between. Of course there is a multitude left on the cutting room floor, but here are the final eight bands who made the cut to round out our look at 30 all-time great rock trios.
---
Robin Trower Band
Southend-on-Sea, Essex
1973-present
Following his five-year run as the guitarist in Procol Harum ("A Whiter Shade of Pale"), Robin Trower set out on his own to better showcase his guitar and songwriting skills, launching a power trio that included James Dewar (bass, vocal) and Reg Isidore (drums) – with Bill Lordan taking over on drums soon after the band's formation. While Trower's guitar work, which often drew comparison to Jimi Hendrix, was the focal point of the band, Dewar's soulful vocals drew comparisons to Paul Rodgers and Joe Cocker, while Larodan's drums also drew comparisons to Mitch Mitchell and the Jimi Hendrix Experience. With 21 studio albums and 10 live albums to its credit, The Robin Trower Band continues to release albums, with 2016's Where Are You Going To continuing the trio format, with Livingstone Brown in place of Dewar (who died in 2002) and Chris Taggart, who has played with Trower since 2012.
---
Concrete Blonde
Los Angeles, California
1982-1995 / 2001-2004 / 2010-2012
Centered around the distinctive and powerful voice of Johnette Napolitano, Concrete Blonde released nine studio albums in a 30-year span, including 1990's Bloodletting, which marked the band's popular apex with the out-of-nowhere hit, "Joey." That lineup featured Napolitano (bass, vocals), band co-founder James Mankey (guitar), and Paul Thompson (drums). Originally named Dream 6, I.R.S label-mate and R.E.M. frontman Michael Stipe suggested the name change to Concrete Blonde.
---
Primus
El Sobrante, CA
1984-present
The original members of Primus included Les Claypool (bass, vocals), Todd Huth (guitar), and Vince "Perm" Parker (drums), but it was Claypool, Larry "Ler" LaLonde (guitar), and Tim "Herb" Alexander (drums) who launched the band with the first official release, Suck On This through the band's breakthrough gold records, 1991's Sailing the Seas of Cheese and 1993's Pork Soda. The band's musical focus has always been Claypool's genre-defying, logic-defying, abstractionist approach to his instrument, with Alexander finding a way to propel the music and LaLonde stretching into ambient soloing. The fact that the band was able to make a name for itself in mainstream music is proof that formulaic music isn't the only thing the listening public craves. Steeped in Claypool's offbeat sense of humor, Primus has always been cheerfully odd, and has managed to carve a niche for itself in the process. Jay Lane (drums) and
Bryan "Brain" Mantia have also played drums for the band, with the latest release being 2014's Primus & the Chocolate Factory with the Fungi Ensemble, a re-imagination of 1971's Willy Wonka & the Chocolate Factory
---
Prong
New York, NY
1986-present
Guitarist/vocalist – and former CBGB soundman – Tommy Victor is the only member to endure the span of Prong's existence, which began and continues as a trio, though there have been four-piece incarnations along the way. The trio that was signed to Epic for the band's third release was the original lineup, including Mike Kirkland (bass) and Ted Parsons (drums). In 1991, Troy Gregory joined on bass for Prove You Wrong which included the single "Unconditional" and saw the band getting more attention from outlets like MTV's "Headbangers Ball." After that release, Prong's lineup changed repeatedly, but the focus on urban metal never wavered, and the band is credited with influencing notables including Nine Inch Nails and Korn.
---
Morphine
Cambridge, Massachusetts
1989-1999
Featuring Mark Sandman (bass, vocals), Dana Colley (alto & tenor sax, vocals), and Jerome Deupree (drums), Morphine took a distinctively different approach to the trio format, bypassing the standard guitar/keyboard lead instrument and relying on a laid-back, two-string bass approach coated with saxophone and fronted by Sandman's deep crooning vocal style. Dubbed as "low rock" by the band, the group was able to establish a loyal cult following but were unable to break through to the mainstream in the US. Still, in 1997, DreamWorks Records signed the band, releasing Like Swimming in 1997. Two years later, Sandman collapsed onstage, dying of a heart attack at the age of 46, and ending the band's run.
---
MxPx
Bremerton, WA
1992-present
Forming while the band was still too young to drive, Christian punk rockers MxPx has nine studio albums, four EPs, four compilation albums, a live album, and 20 singles to its credit, with a number of releases making their way to the Billboard charts. Band lore includes the fact that the group's name was originally Magnified Plaid, but poor handwriting on an early promo poster made the abbreviation M.P. look like MxPx, which then became the name of the band. Leaning less on Christian themes and more on those about growing up in skate punk culture, current members are Mike Herrera (Bass, vocal), Tom Wisniewski (guitar, vocal), and Yuri Ruley (drums), with Wisniewski joining in 1994 after original guitarist Andy Husted exited the group.
---
Placebo
London, England
1994-present
Playing up an androgynous image and boasting an international composition (Scottish/American, Swedish, English), Placebo's melodramatic alternative rock was a quick hit, finding the band opening for the like of the U2, Weezer, and the Sex Pistols after it's first release in 1996. Brian Molko (guitar, vocal) and Stefan Olsdal have endured through the band's history, with drummers Robert Schultzberg (1994-1996), Steve Hewitt (1996-2007), and Steve Forrest (2007-2015) lending their talents along the way. The band's second album, 1998's Without You I'm Nothing scored the band a hit in the US with "Pure Morning," but the group's success abroad has always eclipsed its fortunes in the US. With a big dose of glam in the mix, Placebo attracted the attention of David Bowie early on, landing an invitation to play his 50th birthday bash in NYC and collaborating with him in 1999. The band also scored screen time in Velvet Goldmine, 1998's dystopian homage to Bowie, Iggy Pop, and the glam scene of the early '70s.
---
Alkaline Trio
McHenry, Illinois
1996-present
Punk rock Alkaline Trio includes Matt Skiba (guitar, vocal), Dan Andriano (bass, vocal), and Derek Grant (drums), who have made up the band since 2003. Skiba originally formed the band with bassist Rob Doran and drummer Glenn Porter, though it was Andriano who recorded bass on the group's 1998 debut Goddamnit!. Each release seems to increase the band's popularity, with 2003's Good Mourning marking grant's recording debut with the band, and 2013's My Shame Is true continuing the critical and popular growth of the band.
---
30 all-time great rock trios
Jimi Hendrix Experience (Pt. 1)
1966-1968
London, England
Cream (Pt. 1)
1966-1969
London, England
Rush (Pt. 1)
Toronto, Canada
1968-present
ZZ Top (Pt. 1)
Houston, TX
1969-present
Grand Funk Railroad (Pt. 2)
Flint, Michigan
1969-1988
Genesis (Pt. 1)
1969-2007
Surrey, England
Emerson, Lake & Palmer (Pt. 1)
1970-1979 / 1991-1994
London, England
Robin Trower (Pt. 3)
Southend-on-Sea, Essex
1973-present
Triumph (Pt. 2)
Toronto, Canada
1975-1995
Motörhead (Pt. 1)
London, England
1975-2016
The Police (Pt. 1)
London, England
1977-1986
Hüsker Dü (Pt. 2)
1979-1987
Minneapolis, MN
Stevie Ray Vaughan & Double Trouble (Pt. 2)
1979-1989
Austin, TX
Stray Cats (Pt. 2)
1979-1992
Massapequa, New York
Meat Puppets (Pt. 2)
Phoenix, Arizona
1980-present
Concrete Blonde (Pt. 3)
Los Angeles, California
1982-1995 / 2001-2004 / 2010-2012
Primus (Pt. 3)
El Sobrante, CA
1984-present
King's X (Pt. 1)
Springfield, Missouri
1986-present
Prong (Pt. 3)
New York, NY
1986-present
Green Day (Pt. 1)
1986-present
Berkeley, California
Nirvana (Pt. 1)
Aberdeen, WA
1987-1994
Dinosaur Jr. (Pt. 2)
1987-present
Amherst, Massachusetts
Morphine (Pt. 3)
Cambridge, Massachusetts
1989-1999
The Jon Spencer Blues Explosion (Pt. 2)
New York City
1991-present
Blink-182 (Pt. 2)
1992-present
Poway, California
MxPx (Pt. 3)
Bremerton, WA
1992-present
Ben Folds Five (Pt. 1)
1993-2000 / 2011-2013
Chapel Hill, NC
Placebo (Pt. 3)
London, England
1994-present
Alkaline Trio (Pt. 3)
McHenry, Illinois
1996-present
Muse (Pt.1)
Teignmouth, Devon, England
1997-present
---
Part 1: Thirteen rock trios that changed music
Part 2: Nine (more) tantalizing rock trios
Check out our Spotify Playlist for more from our list of influential rock trios.
Info was sourced from various outlets online, including AllMusic and Wikipedia. Images sourced from album cover art.
---
A musician, writer, and marketer, Andre Calilhanna manages and edits the Disc Makers and BookBaby Blogs. Follow Andre on Twitter @dre_cal. Email him at andre@discmakers.com.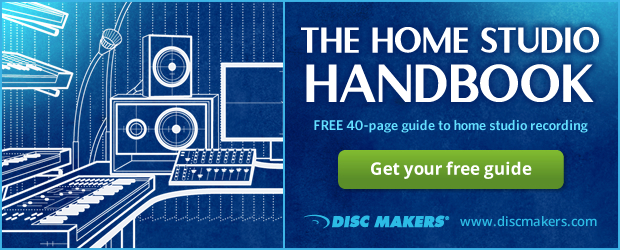 Related Posts
19 musicians and music icons who died in 2016 (so far)
Things I learned being a fan of David Bowie
The creative genius of Paul McCartney's bass lines
After The Beatles: Paul McCartney's bass playing, Part II
A look at Ringo Starr's enduring musical influence