Creative, free music promotion tactics can be just as effective as your musical creativity when it comes to success as an independent musician.
Independent music artists typically have a lot going for them, including creativity, passion, and dedication to their craft. Unfortunately, what they don't tend to have are large marketing budgets, making music promotion incredibly challenging. And without adequate promotion, there's little hope of ever turning a profit (and thereby increasing one's budget).
To avoid getting caught in this limiting cycle, artists who are trying to gain a foothold in the music business need to utilize effective methods of free music promotion, starting with the strategies outlined below.
1. Become active on social media
Having an active (and interactive) social media presence is essential to the success of any creative professional. It's the most easy free music promotion tool to utilize. Create accounts on Facebook, Twitter, Pinterest, Tumblr, etc. and spend time studying the best ways to promote yourself on each of these networks. Start building your fan base with family and friends, that way when new fans find you they already see that people are following you which legitimizes your band.  It's important to avoid repeated, obvious self-promotion; the best way to draw attention is through interaction and posting insightful, useful content. Follow the "one in seven" rule when promoting your music on social media: post only one obviously self-promotional piece per every seven posts. Don't be afraid to stand out on social media. It's a great free music promotion tool, but recognize that almost every active band is also on the social platforms.
2. Trade promotions with other creative individuals
Once you have an established social media presence, you should contact other creative professionals – artists, photographers, indie authors, musicians – and offer to trade social media promotions, i.e., they promote your music in return for you promoting their work. This is not only a great free music promotion tool, but also serves to set your foothold in the music industry. You never know who you may meet and what opportunities could be presented.
3. Make use of the "BandsInTown" app for Facebook
The BandsInTown app is a great way to "passively" promote your music on Facebook thanks to its stylish and highly visible interface, which will display all of your upcoming gig dates to anyone who visits your Facebook page. There's no reason to not take advantage of this free music promo tool.
4. Host a "virtual show" on StageIt.com
StageIt allows musicians to hold concerts from wherever they wish through the use of video conferencing technology, all at no charge to the artist. People love free entertainment, so why not give your fans a free show every now and then. Maybe even consider playing new material in order to promote an upcoming album or ep. While StageIt has yet to rival the popularity of larger music sharing platforms like SoundCloud, many independent musicians have found that it's an excellent way to connect with fans.
5. Use images to help promote your music online
If, like many musicians, you're only posting promotional text links to your songs on social media, you're missing out on a valuable opportunity. Research shows that including an eye-catching image in your social media posts significantly increases audience engagement. On Facebook alone, for example, posts with images accounted for a staggering 87% of all shared content, according to research published on eMarketer. As such, it's important to place a thematically appropriate image above song links when you post on social media – think of it like putting up a poster to get your band noticed.
6. Promote your music while donating to charity with FanDistro
FanDistro is a unique project that allows you to create a "project page" and send the link out to your fans, who can then share it with their friends. If their friends share your music and purchase products from you, they can receive free band merchandise and direct 20% of the sale toward a charity in their name, making FanDistro a promotional tool that bands and fans can feel good about using.
7. Offer incentives to your audience
The art of "incentivizing" has long been favored by conventional online marketers thanks to the ability of incentive offers to generate fast, wide-spread engagement – and this technique works just as well for budding musicians looking to get their work distributed. Try offering something for free (such as a free song download) in return for "likes" on your Facebook page, retweets of your tweets, contact info for your email list, etc.
8. Try crowdfunding
Though crowdfunding is usually associated with launching new products and charitable endeavors, it's every bit as useful for musicians looking to fund their projects (and free music promotion). In fact, multiple crowdfunding platforms, such as Patreon and PledgeMusic, specifically target those in the arts. Crowdfunding services typically allow musicians to build their own free page to highlight their planned projects, complete with an engaging video explaining the project and social links. As such, even if you don't reach your total funding goal, you will spread the word about your band if you choose to run and promote a crowdfunding campaign.
9. Join online discussion forums and become a contributing member of the community
Online discussion forums are typically ignored in favor of social media when it comes to self-promotion, but to completely neglect these platforms is short-sighted. Not only do forums allow users to include a link to their music websites in their signatures, discussion forums provide an invaluable opportunity to network with fans, other artists, and industry professionals, thereby earning recognition for your music.
As useful as these tactics are, they're truly only the tip of the iceberg when it comes to creative, unconventional ways to promote your music, both on and offline. Don't be afraid to experiment when it comes to spreading the word about your band. Creative, free music promotion can be just as effective as your musical creativity when it comes to success as an independent musician.
Looking to make money with your music? Check out what Disc Makers has to offer you and your fans!
John Morabito is a blogger, musician, and contributing author at Rivington Music, where he supplies the music blog with recording tips. When he's not helping musicians be more productive and effective through marketing, life-hacking, and more, John can usually be found jamming at the Rivington rehearsals studio or exploring his hometown of NYC.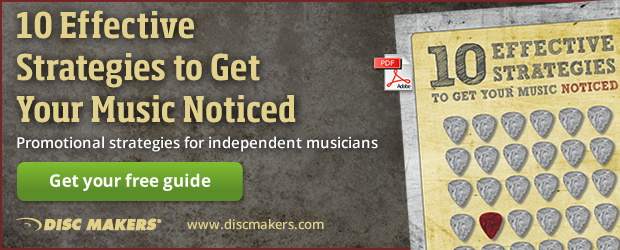 Related Posts
Find the flow in your music promotion strategies
15 music marketing mistakes indie artists make
5 music promotion lessons we learned from (our song about) Star Wars
Six music promotion mistakes to avoid
The independent musician's guide to social media marketing
Crowdfunding for musicians: tips, tactics, and trends
Got an unconventional gig? Use unconventional promotion