Whether through punk rock deconstruction or progressive rock theatrics, rock trios have a special place in the tapestry of popular music, and we pay tribute to 13 pioneering three-piece bands.
On the surface, the differences between a rock trio and quartet don't seem so major. The instrumentation is often the same, as are the arrangements – but there's a certain undeniable something about a trio that captivates in a way a quartet simply cannot. It might be that a rock trio breaks a song down to its basic elements – rhythm, melody, changes – exposing brilliant songwriting or a stylistic expression that reinforces why rock and roll music so compelling in the first place.
Then again, the trios renown for their progressive rock inclinations achieve levels of musicianship and ambition that defy simple arrangements. Others integrate complex vocal harmonies that your average six-piece ensemble wouldn't attempt. And while instrumentation varies, the core of drums, bass, guitar (or keyboards), and vocals amaze when the sum of their proverbial three parts exceed what we as listeners – and musicians – could even imagine. What's not to love?
This list of 13 rock trios is only a start. We'll post another 13 later in the month, and I want you to list your favorites: the band that inspired you to pick up the guitar or practice the piano, the one whose bassist made you take a new approach to the instrument, the drummer you emulate, the singer you most admire. I'll compile a list of 13 rock trios from your comments and profile another batch of three-piece luminaries before this is all over. But for now, here are 13 rock trios that changed the face of music.
---
Cream
London, England
1966-1969

Whether Cream fit the term "supergroup" at the time of its inception, the combination of Eric Clapton (guitar, vocal), Jack Bruce (bass, vocal), and Ginger Baker (drums) had an enormous impact in its brief existence, and can certainly be considered the first rock power trio. Issuing four studio releases and a slew of classics built on muscular blues, "I Feel Free," "Sunshine of Your Love," "White Room," "Crossroads," and "Strange Brew" are among the band's enduring songs, all showcasing the unique talents of its individual contributors. Lyricist Pete brown also deserves a mention, as does the fact that Wheels Of Fire, the band's third album that included "White Room" and "Crossroads," was the first double album to go platinum.
---
Jimi Hendrix Experience
London, England
1966-1968

Born in Seattle, WA, Jimi Hendrix got his start playing guitar in the Chitlin' Circuit, performance venues throughout the US that offered African American musicians and entertainers a place to perform during the era of racial segregation. Hendrix played with the Isley Brothers and Little Richard before being discovered in New York City by Chas Chandler of The Animals, who convinced Hendrix to head to England to record. Introducing Hendrix to Mitch Mitchell (drums) and Noel Redding (bass), the Jimi Hendrix Experience was born, and the first recording sessions produced "Hey Joe," "Purple Haze," and "The Wind Cries Mary" – which ended up on the group's debut album. Widely regarded as one of the greatest instrumentalists in the history of rock and roll, Hendrix only released three albums with his original trio, Are You Experienced, Axis: Bold As Love, and the double album Electric Ladyland. Hendrix, as influential and popular as he was, was reportedly unsure of what direction to take his music, breaking up the band and forming the Band of Gypsies before dying of barbiturate-related asphyxia in 1970.
---
Rush
Toronto, Canada
1968-present

While rarely embraced by critics (it took over 40 years for the band to make the cover of Rolling Stone), and not producing music that courted traditional radio, Rush cemented itself as a progressive rock icon with its fourth album (1976's 2112) and never let go, peaking in mainstream popularity with 1981's Moving Pictures and its follow-up, Signals in 1982. Throughout its four decade run, the band never lost its fan base, indeed the baton has been passed from generation to generation of fans, and the Rush devotees never left the band's side through whatever stylistic and arrangement changes the band embarked upon, including the growing inclusion of synthesizers as part of the band's sound. Individually, each member is regarded as one of the best at what he does – Alex Lifeson (guitar), Geddy Lee (bass, synths, vocals), and Neil Peart (drums) – and collectively, the band's body of work spans nearly 50 years and 20 studio albums, as well as a hefty number of live releases. Famously listed among the Rock and Roll Hall of Fame snubs for many years, the band was inducted in 2013, 15 years after they were eligible. The band has halted touring due to the physical toll a life of performing has taken on Peart (in particular), but the band insists there is no talk of retirement and promises more to come.
---
ZZ Top
Houston, TX
1969-present

From the Texas blooze rock of "La Grange" and "Tush" to the slicked-up, synth-injected "Sharp Dressed Man," "Gimme All Your Lovin'," and "Legs" from the band's massive Afterburner album in 1983, ZZ Top has boogied its way into rock and roll royalty through radio hits and a reputation as a titanic live band. Guitarist extraordinaire Billy Gibbons, bassist Dusty Hill, and drummer Frank Beard have formed the only lineup in the band's 45-year history, playing arena-sized sleazy blues to multiple generations of fans. While the critical and popular appeal of the band has slowed with the band's later releases, its enormous success at the height of the music video era serves as ZZ Top's enduring legacy, eclipsing its influence and popularity of the earlier days. A notorious live powerhouse steeped in blues and lyrical double entendres, ZZ Top has sold over 50 million records and was inducted to the Rock and Roll Hall of Fame in 2004.
---
Genesis
Surrey, England
1969-2007

While it's impossible NOT to include Genesis on a list of influential musical trios, there are a few factors that render the band technically ineligible. First, Genesis started as quintet, not pairing back to trio status until its ninth studio album, 1978's And Then There Were Three. In addition, the band's live show has included additional players, notably Daryl Mark Stuermer and Chester Thompson, who toured with the band from 1977-2007. So while these contingencies throw Genesis' trio status into question, the band's studio releases from 1978-1991 feature the three members associated with its superstar commercial success: Phil Collins (drums, vocal), Tony Banks (keyboards), and Mike Rutherford (bass, guitar). Indeed, Duke, Abacab, Genesis and Invisible Touch were the biggest sellers in the band's history, with each album progressively straying from the band's original prog-rock beginnings toward a much poppier sound. The group's final studio release, 1997's Collins-less Calling All Stations, was an attempt to return to a more progressive sound, though its reception was cold, at best.
---
Emerson, Lake & Palmer
London, England
1970-1979 / 1991-1994

Virtuoso keyboardist Keith Emerson started the germ of Emerson, Lake & Palmer when he met Greg Lake as his band (The Nice) played with King Crimson. When Lake left Crimson, he connected with Emerson, and Carl Palmer, only 19 years old, was recruited when drummer auditions failed to produce the result they were looking for. Taking progressive rock to the masses, ELP was one of the most successful prog-rock bands in history, bringing keyboards to the forefront and adapting numerous classical pieces to their repertoire. The band released 10 studio albums, in addition to live LPs and compilations, with Tarkus and Brain Salad Surgery ranking among the group's critical and popular highlights. In 1987, in between ELP's active periods, the Emerson, Lake & Powell album was released with a subsequent tour, which featured drummer Cozy Powell. Keith Emerson died earlier this year.
---
Motörhead
London, England
1975-2016

The constants in Motörhead's 40-year run were volume, speed, and Lemmy Kilmister. Personnel changes, changes in tastes and style, the general tendency toward change in the world… nothing affected the speed metal assault that was synonymous with Motörhead and Lemmy – until his health issues and ultimately his death in 2016. Issuing 23 studio albums and 10 live albums over its career, Motörhead influenced multiple generations of metal fans and bands, with Lemmy growing into an iconic figure in the world of metal and the band selling 15 million records worldwide. "Ace of Spades" is the most enduring song of the band's catalog, from the album of the same name released in 1980. Kilmister died in late 2015.
---
The Police
London, England
1977-1986 / 2007-2008

Formed by drummer Stewart Copeland (an American) and Gordon Sumner – nicknamed "Sting" for his penchant for wearing a black and yellow sweater that made him look like a bumblebee – The Police went on to be "the biggest band in the world" when they released 1983's Synchronicity. With guitarist Andy Summers, The Police fused elements of rock, reggae, and punk into their early sound, cranking out hits and singles like "Roxanne," "Next To You," and "Message In A Bottle" on their first two albums. With every release, the band gained fans, record sales, and worldwide notoriety, culminating the string of hit singles – "Every Breath You Take", "Wrapped Around Your Finger", "King of Pain," and "Synchronicity II" off the Synchronicity album. While the tour was a major success and the album topped the US charts for 17 weeks (ceding the "Best Album" Grammy to Michael Jackson's Thriller), internal tensions and creative energies directed to individual solo projects resulted in the dissolution of the band. The trio reunited a few times after, including a successful world tour in 2007-08, but never recorded another studio album.
---
Green Day
Berkeley, California
1986-present

If punk rock is supposed to be the anti-establishment offshoot of the "respectable" music world, Billie Joe Armstrong (guitar, vocals) Mike Dirnt (bass), and Tre Cool (drums), have managed to earn a lot of respect from fans and the establishment in the 30 years they've been making punk music. Green Day has sold more than 75 million records worldwide, won five Grammy Awards, have a Broadway stage adaptation of 2004's American Idiot (which earned them a Grammy for "Best Musical Show Album"), and two Tony Awards. How many rock bands can say that? In 2015, the band was inducted into the Rock and Roll Hall of Fame, with a new release slated for October 2016, the first since the trio released three consecutive albums in 2012, ¡Uno!, ¡Dos!, and ¡Tré!. Those albums were being released as frontman and main songwriter Armstrong checked into rehab for substance abuse. The band started playing shows again in 2015, and soon after started working on the forthcoming Revolution Radio.
---
King's X
Springfield, Missouri
1986-present

The textbook example of a band of "musicians' musicians," King's X blends three-part harmonies over thunderous metallic rhythms, incorporating lead vocal stylings reminiscent of Sly Stone and gospel in the throaty abandon of Doug Pinnick. Pinnick (bass, vocals), Ty Tabor (guitar, vocals), and Jerry Gaskill (drums, vocals) first moved from Missouri to Houston, TX to pursue a record contract for their band Sneak Preview, but when that fell through, the band persevered. Connecting with Sam Taylor of ZZ Top's production company, who suggested a name change and helped the band craft its complex, less commercial musical approach, the group progressed with lyrics that explored religious and spiritual themes. King's X has released 12 studio albums, with highlights including 1989's Gretchen Goes To Nebraska and 1994's Dogman. Despite a devoted core of fans, King's X never made it to the mainstream, and after XV's release in 2008, the band has not recorded a studio album. Gaskill suffered two heart attacks in the last decade, though the band continued playing intermittently throughout, and has announced plans to record a new album.
---
Nirvana
Aberdeen, WA
1987-1994

If there were ever one song that broke the music industry, it was Nirvana's "Smells Like Teen Spirit." The song took Nevermind, an album expected to sell 250,000 units by its label (DGC), and turned the music industry on its ear. Made up of Kurt Cobain (guitar, vocal), Krist Novoselic (bass), and Dave Grohl (drums), Nirvana became the unsuspecting "voice of a generation" and Nevermind launched the band from obscurity to international legend, practically overnight. Tragically, the combination of fame, chronic health issues, and depression led Cobain into a downward spiral that resulted in his taking his own life in April 1994. With only three studio releases prior to his death, Nirvana is still among the best-selling artists of all time with 75 million records sold – Nevermind sold 30 million units alone and "Smells Like Teen Spirit" has single's sales of 8 million, ranking them among the top sellers in each category. Decades of controversy ensued after Cobain's death, with Courtney Love (Cobain's widow) and the band members suing and countersuing over plans for releasing archived content, with numerous compilations, live recordings, and previously unreleased material being issued in the 20 years since Cobain's death.
---
Ben Folds Five
Chapel Hill, NC
1993-2000 / 2011-2013

Known for eclectic songwriting, a twisted wit, acrobatic musicianship – and no guitars! – I have a vivid recollection of the first time I heard Ben Folds Five. In my car, listening to the radio, "Underground" came on and it was one of those distinctive moments where I was drawn into the song and couldn't figure out how the band was making the sound they were making. I remember sitting, after the car was parked in the driveway, just listening. Complex and catchy, I was sucked deep into the track. When the DJ announced it was Ben Folds Five, I assumed that meant there were five members in the band, and was duly impressed. When he went on to mention this was a trio – Ben Folds (lead vocals, piano, keyboards, melodica), Robert Sledge (bass, backing vocals), and Darren Jessee (drums) – I couldn't believe it. Folds himself described the trio as "punk rock for sissies," which fits the band's sense of humor but doesn't quite nail the sentiment of how damn good these guys play together.
---
Muse
Teignmouth, Devon, England
1997-present

Matthew Bellamy (guitars, vocals), Chris Wolstenholme (bass), and Dominic Howard (drums) began playing music together when the trio was just 13 years old, cycling through band names until they settled on Muse in 1997. After releasing a couple of EPs on its own, the band signed a record deal with Maverick and seven albums and 20 millions record sales later, the band has shed its early comparisons to Radiohead and Queen and has established itself as one of the preeminent rock bands in the world. Renown both for brilliant studio recordings (with two "Best Rock Album" Grammy Awards) and as one of the great arena rock bands of the era, Muse plays the larger-than-life trio card to the absolute maximum. Drones, the band's 2015 release, was Muse's fifth consecutive number one album in the UK and the first to make it to the top of the US charts, which means the road stills lies ahead for this often operatic, progressive-rock-leaning power trio.
---
Part 2: Nine (more) tantalizing rock trios
Part 3: Eight more for the road: 30 rock trios across seven decades
Check out our Spotify Playlist for more from our list of influential rock trios.
Info was sourced from various outlets online, including AllMusic and Wikipedia. Images sourced from album cover art.
---
A musician, writer, and marketer, Andre Calilhanna manages and edits the Disc Makers and BookBaby Blogs. Follow Andre on Twitter @dre_cal. Email him at andre@discmakers.com.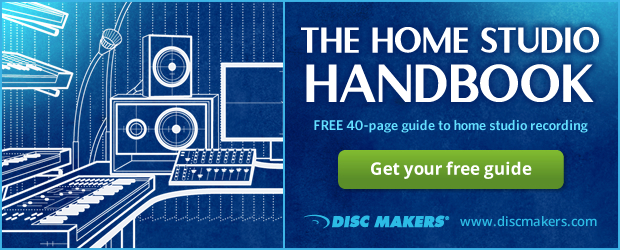 Related Posts
19 musicians and music icons who died in 2016 (so far)
Things I learned being a fan of David Bowie
The creative genius of Paul McCartney's bass lines
After The Beatles: Paul McCartney's bass playing, Part II
A look at Ringo Starr's enduring musical influence