David Bowie had a genius that set him apart, but his musical and artistic career provides a bounty of lessons we can all learn from and apply to our creation of art and music – and to our everyday lives.
Just as a word of preface: if you're familiar with the life, career, and music of David Bowie and he still does nothing for you, this brief article won't be convincing. These "lessons" are not hard and fast rules, and the main lesson from his life and work is to forge and follow your own path, and not make your "thing" just a pale imitation of someone else! Much can be learned from studying a great artist and from using his/her ethos and methodology as inspiration for creating one's own work. That's something Bowie did, repeatedly, and to great success.
Like so many others, I was shocked and stunned when David Bowie passed away in January of this year. I had the privilege of seeing his last work, the stage play Lazarus, which in retrospect served as an explanation and goodbye letter to his inner circle of fans and friends. Bowie has been a major influence on my life and music. I was lucky to have grown up in the era where he was a major pop star and thus his music, movies, and information on his activities were always readily available. But for younger music professionals out there who may not have had that exposure to him (or older folks who may not have "gotten it" the first time around), I'd like to offer a few words about why Bowie is important to me and things I believe we can all learn from his multi-faceted career and body of work.
Polymathy
A polymath is a person who possesses wide-ranging knowledge in multiple fields, and this certainly describes David Bowie. A voracious reader who never went to college, he educated himself in art, music, literature, theatre, mime, fashion, spirituality, philosophy, and technology. This informed his work and made it deeper and richer than it would have been otherwise. The depth of some of his earlier lyrics may seem pretentious now to some modern ears, but it's worth noting that in the late '60s poetic lyrics were very much in fashion.
On the album Hunky Dory alone, he quotes Nietzsche and name drops Aleister Crowley, Andy Warhol, Greta Garbo, Winston Churchill, John Lennon, and Mickey Mouse (among others). He was aware of pop culture and pop art, and he translated these influences through a musical aesthetic based on a hybrid of British pop singers Anthony Newley and Scott Walker, and American poet-rockers Lou Reed and Bob Dylan. And that's all just for that one particular record!
There were elements of Kabuki theatre, Bertolt Brecht, and mime in his live shows. (What other rock singer was a trained mime?) His interest in theatrical presentation informed the different costumes he wore and the different stage personas he adopted throughout his career: from the flashy androgynous glam of Ziggy Stardust to the minimalism of the Thin White Duke, the suited pop star of Serious Moonlight to the post-grunge drum and bass look of Earthling. Every detail of his live show, records, and videos was meticulously attended to (even if it was "planned sloppiness") and had a source in his vast sphere of knowledge, sometimes obvious to the listener, sometimes not.
The lesson: David Bowie's music derives much of its power from the knowledge and depth of imagination of its creator. Read. Listen. Experience art. Study non-musical areas that interest you. Draw and incorporate ideas from these non-musical sources. Continue learning your whole life. These things will make you a richer person and a richer content creator, be you a musician, artist, writer, or audio professional.
Innovation
David Bowie was an innovator in many areas of music composition and production. From the instrumental "blast-off" section in Space Oddity to the use of a live jazz band to replicate EDM arrangements and sounds on his last album, Blackstar, he was always stretching and reaching out for new and undiscovered territory. Bowie is universally acknowledged as the first rock songwriter to use William Burroughs' cut-up technique for creating lyrics; the most common way of using cut-up technique is to take a linear page of text, physically cut it up into words and phrases with scissors, then rearrange the words and phrases to create something new. Musically, he threw jazz chords into rock songs, hopped musical genres inside the same record, changed sounds, genres, and visual styles from record to record, and did so with a rooted authenticity, so he always came from a place of authority. It was clear, for example, with the album Young Americans that he wasn't just embracing the trappings of soul music; he had deeply studied and educated himself in the genre and was coming from a place of admiration and love.
He was among the first rock artists to embrace synthesizers, and consistently adopted and was fascinated by new technology in music and elsewhere. In the studio, he and lifelong collaborator Tony Visconti were always exploring new ways of miking different instruments, the most dramatic being the series of triggered microphones used to record the vocals for "Heroes." But not only did Bowie embrace this technology, he also endeavored to approach and use it in his own way. The Stylophone was a kids' toy that ended up on the recording of "Space Oddity." Bowie has a famous interview about synthesizers where he talks about getting the latest synths and then throwing away the manuals to find sounds on his own; the preset sounds being made in those days mostly by non-musicians. He was also very active in the early phase of the Internet, offering a dial-up ISP in the days where this was the province of only a few major companies and being the first major artist to release a download-only single.
The lesson: Stay open to new things. Learn new technology. When creating something new, throw away old ways of doing things. Follow your crazy ideas into new territory. While many of us won't ever have the major budgets that Bowie had, it's worth noting that much of his innovation didn't involve expensive gear at all (Visconti's recent breakdown of "Heroes" on the BBC show Music Moguls reveals that one of the percussion instruments was Bowie banging on an empty tape reel.)
Collaboration
Like most solo artists, David Bowie could not do what he did alone. In fact, some of the greatest contributions to the musical history of rock music occurred by the other players on albums under his name. There's too many to list but briefly:
Rick Wakeman, piano (Hunky Dory)
Mick Ronson, lead guitar (Man Who Sold The World through Aladdin Sane)
Mike Garson, piano (multiple)
Robert Fripp, lead guitar (Heroes, Scary Monsters)
Adrian Belew, lead guitar (Lodger)
Chuck Hammer, lead guitar, guitar synthesizer (Scary Monsters)
Stevie Ray Vaughn, lead guitar (Let's Dance)
Brian Eno, various instruments (Low, Lodger, Heroes)
Reeves Gabrels, lead guitar (multiple)
Gail Ann Dorsey, bass, backing vocals (multiple)
Earl Slick, lead guitar (Station to Station, multiple)
Luther Vandross, backing vocals (Young Americans)
Ricky Gardiner, lead guitar (Low)
Tony Visconti, producer, multi-instrumentalist (multiple)
John Lennon, guitar, vocals ("Fame")
Carlos Alomar, rhythm guitar (various)
Gerry Leonard, ambient guitar (Heathen, Reality, The Next Day)
Mark Plati, various (multiple)
All of Bowie's musicians shared two traits in common: he chose them for their ability to make particular sounds he wanted, and he trusted their creative input. This allowed him to let them bring their creativity to the table without much interference from him. Many of Bowie's collaborators did the best work of their careers on his records. It takes a particular kind of genius to not only get the best from yourself but to be able to bring that out in other people. But the first part of his equation was to have a player with a sound that he didn't have to micromanage; there was no learning curve, they were already there. He chose great players and he trusted them to make great music, to surprise him, and to bring something to the creative process he couldn't bring himself. This was a very artistically successful strategy, and often commercially successful for Bowie and the musicians as well.
However, Bowie was not coming to the table himself empty-handed. Many of his collaborators talk about his strong sense of vision, even if he didn't necessarily know what that vision was going to sound like in the final product. For him, that was part of the fun. But he did demo almost all (if not all) of his songs at home or by himself first before inviting in the collaboration, and would refer the players to those demos as a starting point if the musician was having trouble finding a direction.
Bowie also had some historic collaborations where he was not the center of attention. His production on Lou Reed's Transformer created Lou Reed's biggest hit "Walk on the Wild Side." He also produced Mott The Hoople's All The Young Dudes, writing their biggest hit of the same title. He worked with pal Iggy Pop, producing two of his records, mixing the last Stooges record, and playing piano on his 1977 tour. And of course, the historic collaboration with Queen resulting in the song, "Under Pressure."
For Bowie, collaboration was not an opportunity to flex his ego. Although there are a few instances of conflict in his production history, almost all of the musicians talk about what a joy he was to work with and be around. He fostered an environment of freedom and creativity that most musicians crave. And he let people do their thing, and gently encouraged them to the best of their abilities. The widespread grief at his passing and heartfelt tributes from all of the musicians who worked with him really indicates more than anything what a great guy, inspirational bandleader, and creative force David Bowie was.
The lesson: Get your ego out of the way and enjoy the creativity of your collaborators. Have a strong vision and choose to work with musicians who support that vision sonically. Give other musicians the freedom to bring their best work to the table.
Images sourced from album cover art.
Chris Huff has been a professional singer, multi-instrumentalist, songwriter, and producer for over 20 years. He has worked as a sideman with Peter Yarrow (Peter, Paul, and Mary), Echo and the Bunnymen, Chuck Hammer (David Bowie, Lou Reed), and Tom Kitt (Broadway composer of Next To Normal). Chris also wrote liner notes for David Bowie's Live And Well CD, and has two full-length albums of original music available on iTunes.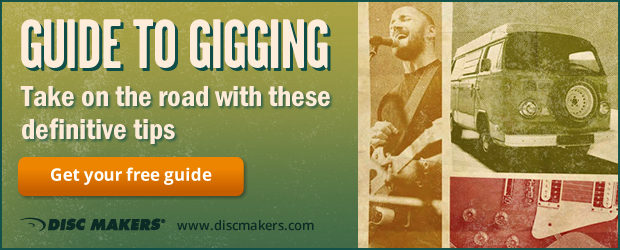 Related Posts
19 musicians and music icons who died in 2016 (so far)
The creative genius of Paul McCartney's bass lines
Prince before the Revolution
Your music will benefit when you have a beginner's mind
Guitar icons and the Gibson Flying V guitar