Excerpted from our updated Indie Artist's Guide To Gigging, this section focuses on booking strategies for acts trying to gain momentum and widen their base.
One day, perhaps you'll be touring as an indie or signed artist – getting on a bus while a tour manager handles logistics, accommodations, and meals. Our guide to gigging focuses on getting your indie band on the road, maybe for your first gig ever. Or you may be searching for a strategy to help build your band's reach by playing gigs in new towns. Or perhaps it's time to hit the road for a multi-gig tour that spans hundreds of miles.
1) Think small
Whether you've brought 75 people to a 150-seat club, 300 to a 600-seat theater, or sold 1,500 tickets for a 3,000-capacity arena, those vacant chairs can weigh on you. A concert promoter is not going to pat you on the back for bringing in enough fans to fill half a venue. Conversely, "SOLD OUT" has a certain ring to it, doesn't it?
Even if you've only sold out a coffee shop that holds 30 people, the venue will want to have you back, and word will spread that you packed the place. Maybe it sounds counterintuitive when you want to build a fan base and make money, but some well-placed sold-out shows in smaller clubs can go a long way.
2) The "A" room
Want to graduate to a premier club in your territory? Finding your way in might take a little creativity.
1. Get familiar with the venue's calendar. Look for clues. Do they have a standard number of bands on the bill every night? Is there a night where they tend to give new bands a shot?
2. Look for holes. Once you pick up on a club's booking patterns, you can find holes in their schedule where they need an act.
3. Make sure your music is a match. Once you've identified the shows where the venue is possibly looking for bands, narrow it down to the show where you music is a true fit.
4. Target that specific show in your email/phone pitch. Now you are prepared to approach the club's booker in a way that potentially helps them out. Put the show name and date in the subject line of your email and let them know you would be a good fit to round out that bill. Your chances of getting a response – and a gig – just went way up!
3) The five-pointed star strategy
Before you book the big show at the dream club out of town, consider Martin Atkins' (author or Tour Smart and Break the Band) five-pointed star strategy. Before you book your big show, book five shows in smaller cities/towns surrounding your big gig, all within manageable driving distance. Do everything you can to make fans and friends at these shows, and get email addresses everywhere you go. Maybe this process takes two or three attempts before you've got enough legitimate fans, but once you do, you're ready to book that big club and use your newfound fan base from all five points as a draw.
4) House concerts
A house concert is just what the name implies: a concert in someone's home. Typically, a house concert is an invitation-only event presented by a host, with all the proceeds going to the artist. As a general rule, house concerts are:
Intimate shows with 15-50 people sitting close to the performer
$10-20 per guest
Performed by solo artists or small groups with little to no amplification
Likely to house and feed the artist for the night
Sprinkling house concerts in between club dates can be a great way to fill out your itinerary. It does take coordination to connect with a host and organize the event, and you are relying on your host's ability to get enough people in the door to make it a success. But house concerts can be an excellent way to personally connect with fans, sell merch, and make decent money.
---
A musician, writer, and marketer, Andre Calilhanna manages and edits the Disc Makers and BookBaby Blogs. Follow Andre on Twitter @dre_cal. Email him at andre@discmakers.com.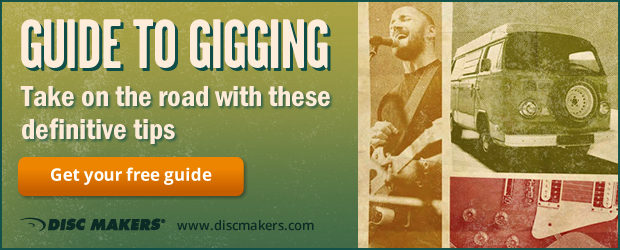 Related Posts
Disc Makers Blog: Indie Gigging and Touring Posts
Five strategies to help boost music merch sales
Develop a home base before moving to regional music venues
Have you outgrown your favorite music venue?
Are you building a music career or just filling the calendar?