If your goal is to get more gigs and play better venues, these five tips can help you make the most of your time and energy and give you a plan of attack.
A big part of getting exposure for your music, as well as building your fan base, is to get more gigs. The more shows you play, the more opportunities will arise. But getting booked for shows isn't a "one size fits all" process. It's beneficial to incorporate different methods for getting shows to your routine, as they can lead to different opportunities. As with anything, there are best practices and nuances, including the tips I've compiled for you here.
Gig swaps
If you're lucky enough to get a "yes" when contacting promoters and venues directly, you still might be part of an under-promoted night or lineup, especially if it's an out-of-town spot. But there's a better way than cold-calling venues as shots in the dark, and it's also a way to collaborate with some awesome musicians in the meantime. I'm talking about gig swapping, and you'd be amazed at where it can get you, and the fan base it will build.
A gig swap is when you bring an out-of-town band to play with you at your local venue on a night that draws the largest crowds. They play their music to your fans and expand their audience. Then, they return the favor and bring you to their town, in venues where they've already networked, and a fan base they've already built.
This kind of exchange is a win-win situation for everyone involved, including the audience, who gets to widen their music tastes and potentially find a new artist to follow.
In addition to the marketing reach it gives you, swapping gigs also establishes strong connections between you and other bands in the industry, and builds your fan base exponentially within the span of one performance. This type of networking is a great way to get more gigs and form relationships with other bands – relationships that could turn into tours together and mutual promotional support.
Analyze your Facebook artist page
Facebook has some highly effective marketing tools available for bands looking for ways to promote their music. It's more than just a social media platform – it's a highly detailed analytics tool that can tell you important information about your fan base and what they like. You can see the cities and states where most of your followers are located and compare that with similar groups in your genre. Use your Facebook fan page to find out which market most of your followers are in, and the fan base that would most likely want to follow you and hear you live.
Facebook has a section in the back end for each artist page called Insights, which can be used to look at your artist page's engagement and reach for the prior two-week period. This simple tool will help you get a bird's-eye view of where most of your followers are. From engagement to the number of fans talking about your page, you can also see more detailed metrics, such as how your band's social media marketing strategy compares with other pages for bands similar to yours.
In addition to helping your marketing strategy mature, you'll be ready to leverage these metrics to venues and promoters in the area. The strength of your pitch is how much of it you can show on paper. That same data can be used as evidence in your printed and electronic press kits.
Join Facebook Musician Groups
There are private groups on Facebook that cater specifically to musicians and are used to get shows, so be sure to take advantage of these highly useful ways of networking. In these private groups, people post show openings when they either need an opener or they can't attend a show, so many post to these groups looking for other musicians to fill empty slots.
Another great thing about these Facebook musician groups is that they are frequented by promoters and venues looking for new talent, or someone to fill in as a show opener. They tend to post these openings in musician groups at both national and local levels.
Curious where the good Facebook musician groups are? A great way to figure this out is to look for bands in your genre and location that have a significant presence on Facebook through a band page, and see what Facebook musician groups they have joined.
Get a booking agent
There are different ways of doing this. You could go the route of training somebody to cold-call venues to get gigs. The other route is reaching out to an experienced agency and try to get them to sign you on as a client.
It's important that you already have some traction before looking for an experienced booking agent. They're doing what they're doing to make a living, just like you, so it needs to be worth their time. You can get an experienced booking agent's attention by getting a following on social media and also inviting them to shows – mainly, just getting on their radar.
This is also a great way to use the data you've gathered from analytics of your Facebook fan page. Being able to show a booking agent some impressive numbers and a growing fan base will help boost the agent's excitement and willingness to work with you. First, show them you have a crowd of audience members following you, and they'll be far more interested in what you have to say afterwards.
Keep in mind that booking agents typically are the ones searching for the artists, not the other way around. It may be a good idea to consider working with middle agents, who are more focused on representing the client (event planner, promoter, venue) that is booking the gig.
Build relationships with local promoters
Offer to help promoters with promotion in order to build a relationship with them. Promoters are often willing to help local artists and will provide opening opportunities for them, if they are able to sell enough tickets for an event.
The key to building great relationships with local promoters is "always give before you ask." The point is – you are offering something before you ask for something, and this immediately puts your relationship with local promoters in a positive light. The more you offer to help, the better the relationship will be.
Billy Bones is the marketing director at Booking Agent Info, a celebrity contact database that provides the official contact info for the agents, managers, and publicists of artists and celebrities. He also writes articles about music and event marketing. You can follow him on Twitter @billybonestx.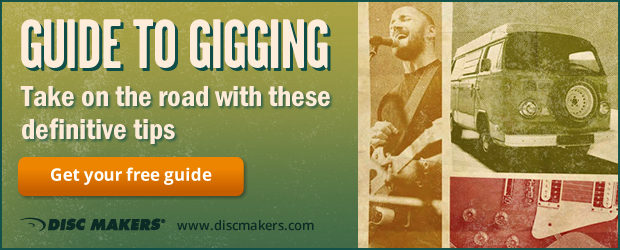 Related Posts
The indie artist's guide to gigging and touring
Expand your audience with opening act and support slots
Facebook marketing from A to Z
Press kit posts – press releases, band bios, publicity, and more
Preparing to perform live