Blue Coast Records' development of Extended Sound Environment recording has created a new niche for the audiophile market through high-res audio streams and CDs.
In today's world of tiny payments from music streaming services and many musicians needing to pursue a portfolio music career to survive, what would you say if I told you a San Francisco Bay area indie label was selling high-res audio albums for up to $60 each to a wide range of customers all around the world?
Blue Coast Records founder Cookie Marenco is routinely receiving between $25 and $60 for high resolution versions of the albums she releases every month. What's her secret? In some ways, Blue Coast is similar to most other indie labels, seeking out the most talented artists for new projects, self-financing each release, and working hard to nurture relationships with record buyers who appreciate the label's sound. But in a few important ways, Blue Coast marches to the beat of a different drummer.
Blue Coast Records' beginnings
Cookie Marenco started playing the piano at the age of four. At fourteen, she was teaching piano and later on played in bands, and in the early '80s she opened OTR Studios. During the late '80s she worked as an A&R exec and producer for Windham Hill Records, earning Grammy nominations and Gold Records for acoustic music recordings
In the '90s she was part of the pioneering Liquid Audio team that helped define the future of downloadable music. Throughout the years, she remained active working with a wide range of jazz, folk, bluegrass, and acoustic artists such as Turtle Island String Quartet, Tony Furtado, Alex DeGrassi, Mary Chapin Carpenter, Vijay Iyer, Darol Anger, Charlie Haden, Max Roach, Roy Hargrove, Bill Frisell, and Oregon.
By the early part of the new millennium, Cookie realized she wanted to be doing more than just helping artists put out their next record. She also realized that many of the artists she had known for years were missing the boat as consumers flocked to various paid and unpaid digital music distribution outlets.  
Cookie also believed that the digital recording revolution wasn't producing better recordings. New digital tools gave musicians and engineers control to create flawless recordings through the use of DAWs, plug-ins, pitch correction software, endless overdubs, comping, etc, but to Cookie's ear, this rarely resulted in a better-sounding record.
My live performance is so much better!
Cookie started from a very fundamental premise. "In all my years of making records, the music I always liked best was what I heard before the actual recording session started – the musicians would be sitting in the studio forming a circle while rehearsing the music. It hit me that this was the point when they created magical performances. So I thought, "Why not focus on capturing that moment, recording live in one take with the musicians in one room and no headphones?' We wouldn't worry about tiny mistakes, and if we needed to, we could just do another complete take. It would be the closest thing possible to a live concert – with more audio control, being in the studio.
"The concept meshed with the hundreds of times I've heard an artist say, 'My live performance is so much better!' Our recording technique would capture exactly that: live performances. It also happens to require the highest degree of musicianship."
Thus, the guiding principle of Blue Coast Records was born.
Developing the Blue Coast sound
To understand one of the defining elements of every Blue Coast release – each record's high definition "you are there" sound quality – we have to rewind to 2002, when Cookie met Jean Claude Reynaud, a French recording engineer who shared her passion for capturing high-quality sound recordings. They traded ideas about new ways they had each been imagining to capture jazz and acoustic music with a goal of giving the listener the most realistic experience possible. Over the next few years they developed their own proprietary recording technique called Extended Sound Environment (ESE).
Using two-inch analog tape; Direct Stream Digital (or DSD – see the story links for more); new microphone placement techniques; and by eliminating the use of headphones, overdubs, or digital processing; they found that playback of these ESE recordings was the closest thing to hearing the musicians performing live that they had ever experienced. They intentionally avoided any use of PCM digital recording or processing as they felt it degraded the overall sound.
Everyone involved – from the artists to the mastering engineers – agreed that the sound was stunning. Cookie recalls making the series of test recordings with Jean Claude, some of which would later be included on Blue Coast's first record. "I felt it needed to be the best quality possible, so I initially didn't rely on my own studio, instead booking time at Skywalker Sound and another high-end studio, The Site," she recalls. They brought in the finest musicians available and over the next few years, perfected the ESE techniques.
The response from the people who heard the test recordings was overwhelmingly positive. "We were confident we had something quite different when it came to sound quality than what most other labels were offering," Cookie observed. "I decided to take five of the songs from the test sessions and make a demo CD to take to some trade shows and music festivals – places where I could play it for other musicians and companies that made high-end stereo systems. I gave away about 1,000 CD demos that first year. One of them landed in the hands John Johnson of audiophile speaker manufacturer NHT. They used it for the demo material to show off their speakers at the 2005 Consumer Electronics Show and won the very competitive 'Ultimate Sound' award. Afterwards, they called and asked to purchase 2,000 copies to demonstrate their speakers! That was validation for the ESE technique and a reason to start Blue Coast Records as a traditional label."
The next phase
The next phase of the Blue Coast story started when Jean Claude sent a copy of the demo to reviewers at a few audiophile magazines. "We earned a five-star review before we had music to sell to the public. We were offered a recording contract but decided to pass on that first deal after the label estimated 700 units would probably be sold the first year. I figured I could walk door to door and sell that many, so instead I called a friend at an independent record distributor in Portland, Oregon and they agreed to put it out."
Blue Coast Records officially launched in 2007. Cookie decided to offer it as a Super Audio CD (SACD) with stereo and 5.1 surround versions of the tracks priced at $40 per CD. "At first Burnside was miffed at selling a $40 disc when Wal-Mart had just declared all CDs will be $9.98. But we had spent $150,000 creating that first disc, so we decided if no one was going to buy it anyway, we might as well make it $40 and see what happens," Cookie stated.
Her strategy aligned well with premium product pricing practices throughout modern society. The best of anything costs more than the average product. A BMW costs more than a Chevy, and as validated by the high-end audio manufacturers who loved the recordings, Cookie's finished tracks were a sonic level beyond anything else on the audiophile market.
"Our customer was the music lover buying the music for the same reason we were recording it – for the experience of being there," she explains.
Now that she had identified who made up her niche target market, she set to work serving up the music that has become the hallmark of the Blue Coast catalog, a catalog that has music lovers around the world lining up to purchase each successive release.  
The personal touch
Once a record was available, Cookie set up the Blue Coast website. "We put Blue Coast Collection on the website and used PayPal to process the sales. One thing I decided right from the start was to send a personal thank you to every single buyer. I sent it as soon as they made the purchase – not automated, but with a human touch." This personal interaction has proven to be a critical success factor in the Blue Coast story. "In many cases, they emailed us back wanting more recordings. That, in turn, led to offering downloads, which we could produce faster than creating SACDs."  
"I would ask anyone who ordered a CD how they heard about us. It turned out that the high-end audiophile manufacturers were using our music to demo their gear. Our music made their gear sound better than the MP3s on the market, which in turn sold more speakers, etc. Being that these audiophile shows and manufacturers were located all over the world, we started getting emails from many countries." This was classic word of mouth, the most influential form of advertising possible.
As things evolved, Cookie's customers wanted to know everything about how the recordings were made and what projects were in the pipeline. They also wanted advice on how to use their gear and how to listen to high-resolution records. With the newness of the high-end technology, Blue Coast created a knowledge base of how to use hundreds of pieces of gear. This led to the Blue Coast e-newsletter, which now goes out to subscribers all across the globe.
"A French audiophile forum had begun a thread devoted solely to Blue Coast Records," says Cookie. "I found it when a Google Alert set for our name turned up. I learned how to use Google translator to respond, 'Thank You.' The people on the forum were shocked that I turned up on their forum and were incredibly gracious to me. They wanted more recordings, so we began calling our favorite musicians to come up for an afternoon to record a 'live in the studio special event.'
"It dawned on me that I had all the pieces of the puzzle. I owned my own recording studio, had developed a better way to record high resolution acoustic music, had a customer base, and had hundreds of incredible artists I'd worked with over the years. With these ingredients, I set out to create and sell high-resolution recordings to our sonic and musical standards."
Growing the company
Blue Coast Records was the first to distribute DSD downloads at a time when only one device could play them. As more people in the music industry heard about their success, labels and artists began contacting Cookie, including the prestigious San Francisco Symphony.
"Since we hadn't recorded the other labels' performances, and not wanting to confuse our Blue Coast customer base, we launched a second company, DownloadsNow.net. Our hands-on customer service included teaching our audiophiles how to use DSD download in their systems. Now, in 2016 there are more than 400 devices on the market playing DSD and many of the early difficulties have been resolved."
Blue Coast's success also solved the problem of how to keep OTR Studios booked and profitable during a time when many public studios were going under. "Blue Coast has become OTR's best client. So rather than a struggling recording studio, we now have the studio booked with Blue Coast projects and increased demand with new projects."
The growth of Blue Coast Records has been organic, one customer at a time. "We have gradually built our audience to more than 25,000 unique visitors a month to our site and have had more than 60,000 customers sign up to download our music. We send out a weekly newsletter that goes to an opt-in list of 30,000 readers. We've built a community where better-sounding records really matter," Cookie states.
Now that Blue Coast has a great many foreign customers, some of whom don't speak English, she and her team tackle the language barrier by using Gmail, which has a built-in translation function. "Especially for customers from Asia, the language and its flow is so different, we've learned to communicate by keeping our messages very simple and very easy for the Google translator to handle."
Beyond record sales
While the majority of consumers will remain perfectly happy listening to MP3s on $5 ear buds, Cookie believes the audience for high-resolution music will continue to grow, and it already goes beyond selling high-res audio downloads. "We're coming up to some interesting and exciting times. We've started to partner with a Japanese Internet company to webcast a live concert performance in DSD around the world. There are also markets emerging for on demand (streaming) HD music tracks and DSD radio. The high-res format will also likely become part of live television at some point, and we hope to be involved in all of it."
As far as advice for musicians hoping to build a financially sustainable career, Cookie advises, "Don't give up and don't follow the crowd. Follow your passion and your fans will find you. For me it was finding a way to share the magic I had experienced with artists in the studio with music lovers worldwide. Blue Coast became the platform for me to share the experience."
What File Formats Do Blue Coast recordings use?
Approximate file size for a 50-minute album indicated in italics.

Quad DSD – Super Resolution Audio 11.2MHz DSF (8.00GB)
Double DSD – Super Resolution Audio 5.6MHz DSF (4.00GB)
DSD – Super Resolution Audio 2.8MHz DSF (2.00GB)
WAV – 24bit 192kHz WAV (3.25GB), 176.4kHz WAV (3.00GB) ), 96kHz WAV (1.6GB), 88.2kHz WAV (1.50GB), 48kHz WAV (830MB), or CD Quality 16bit 44.1kHz WAV (500MB)
FLAC – 24bit 192kHz FLAC (2.18GB) or 96kHz FLAC (1.20GB)
Story links
Cookie Marenco: Pioneer of high quality digital music recording (BBC)
The ABC's of DSD (The Absolute Sound)
A Music Lover's Reaction To DSD and Blue Coast Records (DSD-Guide)
What Does A Song That Costs $5 Sound Like? (NPR)
Visit the DSD-Guide for a wealth of information.
Keith Hatschek is a regular contributor to Disc Makers Echoes blog and directs the Music Management Program at University of the Pacific. He has also written two music industry books, How to Get a Job in the Music Industry, which is in its third edition, and The Golden Moment: Recording Secrets from the Pros.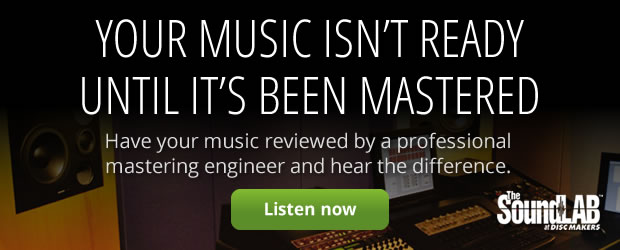 Related Posts
Music streaming 2016, Part 2: the complex revenue equation
Why a portfolio music career is right for you
Creating a great composite vocal recording
Permission marketing and the new music business
15 music marketing mistakes indie artists make