With the potential to invoke thousands of instruments and sounds at the touch of a button, sometimes using minimal instrumentation and a sparse musical arrangement provides maximum impact.
In the age of Pro Tools and GarageBand, powerful laptop computers and flexible software synthesizers, it's easy to layer your recordings with handfuls (or hundreds) of instruments and sounds. It can be amazing to add pan flute, bongos, strings, vintage synths, explosions, and nearly anything else that you can think of, with the touch of a button.
That said, when you're crafting your tracks at home or in a pro studio, it's important not to get too trigger happy. Arrangements can easily become too dense and thick if you keep adding every new sound that comes to mind. This can be true whether you're layering software instruments on your laptop or overdubbing track after track of live audio in the studio.
Whatever your genre – R&B, rock, trip-hop, folk, and anything in between – be mindful of the choices you make when it comes to how many instruments or sounds you use and how thick or sparse you make your musical arrangement. In many cases, your track will benefit from you consciously leaving space for the song to breathe and for the listener to be drawn in. The French writer Antoine de Saint Exupery said, "It seems that perfection is attained, not when there is nothing more to add, but when there is nothing more to take away." The lesson can hold just as true for song creation and recording as for anything else.
Across genres and decades, countless successful artists have used sparse musical arrangement and minimal instrumentation to great effect. Below are some of my personal favorite examples of simplicity in action, as well as advice on how to use similar strategies to elevate your own music making.
Johnny Cash, "Hurt"
Johnny Cash's cover of the Nine Inch Nails hit is melancholy, powerful, and very simply arranged. Starting with just acoustic guitar and Cash's worn, expressive vocals, piano and synth textures come in at the chorus — and that's it. Those different elements, artfully applied, are more than enough to give the song a real sense of build and drama, without getting in the way of Cash's superb vocal storytelling.
To experiment with this sort of aesthetic yourself, try writing or arranging a song in a similar way — start with vocals supported by a single, acoustic instrument and bring in just one or two other sonic elements at the chorus to give some added power and momentum. When you hit the second verse, go back to the basics: acoustic instrument and voice. Follow a similar roadmap and see what interesting things you discover with your own compositions and covers.
Black Eyed Peas, "Boom Boom Pow"
Since I first heard "Let's Get It Started" on the radio years ago, I've admired the Black Eyed Peas' ability to make dance floors explode with sparse arrangements and grooves, and "Boom Boom Pow" is a great example. While plenty of different sonic elements come and go throughout the song, the basis of the groove is an addictive, three-hit, syncopated pattern, layered with a hand-clap sound. Coupled only with Fergie's vocals, for example, that's more than enough power to get people moving every time the song comes on.
Listen to this track multiple times, paying attention each time to how different sonic elements — the kick drum, hand clap, buzzing synth sound — all evolve as the song progresses. Every element is simple, and there are rarely more than a few sounds layered on top of each other at the same time, yet the way that the sounds work together to create momentum and power, ebb and flow, is impressive.
If you want to make a track that's as danceable as "Boom Boom Pow," keep things sparse and punchy, just like the Peas do in this song. Find one or two instruments or drum tones and play with them until you find an ultra-simple, repetitive pattern that makes you want to get out of your seat. From there, build the rest of your track, again, keeping your instrumentation as minimal as possible and cutting things away to reveal that foundational groove as often as feels good.
Live, "Lightening Crashes"
This '90s juggernaut always seemed to me like an unlikely rock radio hit, given that the first two-and-a-half minutes are nothing more than bittersweet processed guitar and Ed Kowalczyk's baritone vocals. But there's something so powerful about the repeating, locked-in guitar rhythms, blended with the almost prophetic vocal line, that it just works. The opening of this song feels like a master class in getting maximum power out of minimal instrumentation and sonic clutter.
In your own songwriting and recording, try following a similar template: Start with a repeating figure on a single instrument, coupled with powerful vocal lines, and see just how long you can sustain interest and tell your story, before bringing in bass, drums, additional guitars, or other elements. You might be surprised at what you come up with.
Radiohead, "Creep"
This example is a little different, as much of the song features the full band playing, albeit with different dynamics and levels of intensity. Check out the portion from 3:20-3:30, though. In that section, all instruments play very sparsely and quietly, leaving plenty of space for Thom Yorke's vocals to shine through. Then, on the word "creep," a wave of simmering guitar distortion washes in, perfectly accenting the poignancy of that word. This is one of my favorite moments in recorded rock music.
When working on your own arrangements, try finding moments where you can create enough space in the arrangement so that a single well-placed chord, note, cymbal crash, sound effect, or other sonic element can highlight a certain lyric. As is the case with "Creep," coupling the right words with the right sound, and enough space for the impact to be heard and felt, can be powerful.
Janis Joplin, "Mercedes Benz"
Joplin's iconic performance is so full of energy, life, and character that it stands on its own; beyond the raw thumps adding basic rhythm underneath, her vocals don't need any other instruments or sonic elements to support it.
Regardless of whether you sing, play keys, or wail on guitar, try creating a tune of your own that is as ballsy, completely simple, and drastically uncluttered as "Mercedes Benz" — just you and similar rhythmic thumping, or you completely on your own. When yours is the only voice on a recording, you might be surprised by just how much emotion and meaning you can convey with only a single note or phrase.
Israel "Iz" Kamakawiwo'ole, "Somewhere Over The Rainbow"
This uplifting reinvention of the Judy Garland standard is another case study of simple arranging done right. The assured ukulele strumming provides just the right amount of rhythmic and harmonic context to make the floating and resonant vocals shine — and not a hair more. Everything fits, with no sounds competing against others for the listener's attention. The result? A track that feels dreamlike, organic, and infinitely listenable.
Whatever your instrument(s) of choice, choose a classic song that you love, whatever the genre, and work up a version that follows Kamakawiwo'ole's roadmap: sweet and simple bedrock of a single, acoustic instrument, and a straightforward, effervescent vocal line. You never know what new meaning or flavor that classic song might take when reinvented this way.
What are your favorite tracks that use simplicity and space to great effect? Tell us in the comments below.
Image via ShutterStock.com.
Disc Makers' regular contributor Michael Gallant's debut trio album Completely received a four-star review from DownBeat magazine and a five-star review from Critical Jazz, which stated: "This, my friends, is the future of jazz. Fresh, invigorating, progressive – there are simply not enough positive adjectives to list here." Learn more, download through iTunes, jam along with the new JamBandit app, or purchase through CD Baby. Follow Michael on Twitter at @Michael_Gallant or on Facebook.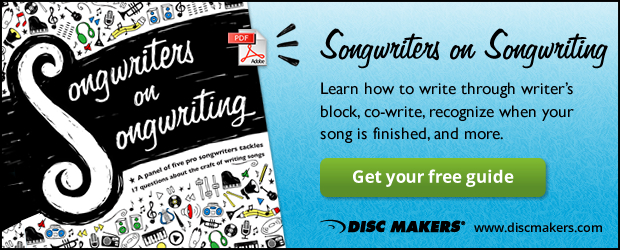 Related Posts
Don't limit your songwriting to 4/4 time
Songwriting: advice and insight on the craft of writing a song
Twelve EDM production tips for producing massive and original dance music
The creative genius of Paul McCartney's bass lines
Recording with Reverb and Echo – Tips and Lessons from Six Classic Tracks