Here are some practical tips to help you deal when stars (and germs) align to make you sick for the gig you've been looking forward to play.
Getting sick is no fun – and dealing with a sinus infection, stomach bug, or anything that makes you feel less than 100 percent when you have a big show around the corner can be a real challenge. Here are a few practical tips to help you deal when stars (and germs) align to make you unwell leading up to a gig.
Talk to a doctor
If you're feeling sick and trying to get yourself in good enough shape to deliver a great show, don't hesitate to seek advice from a qualified medical professional. If affordable access to health care is a concern, organizations like MusicCares, sponsored by the Recording Academy, are worth looking into and contacting for possible help and advice. If things feel serious and you're truly concerned, don't hesitate to get yourself to the nearest ER.
Be honest about whether you can play
Whether it's the CD release party you've been planning for six months or just an opportunity to sit in with a friend's band at the bar down the street, having to bow out of a gig last-minute can be upsetting and disappointing – but sometimes it's the right (or only) thing to do.
If you're down with disease leading up to a show, try to be brutally honest with yourself about your condition and whether you should be getting on stage, or even leaving the house. Powering through a show while suffering from a gnarly cold is one thing, but if you're in the hospital with a 104-degree fever or stuck in the bathroom due to a stomach flu, that's another thing entirely. If you're on the fence, seek advice from a qualified medical professional about whether or not you're fit to take the stage.
If you have to cancel, act quickly
If you are truly too sick to play, tell everyone who needs to know as soon as you make the decision – and that starts with your bandmates.
If you can call in a sub to fill your role, great; if the show truly cannot go on without you, make sure that someone contacts the venue or booker and cancels as gracefully as possible. If you can recommend other acts who might be able to fill your performance slot and deliver a similar type and quality of music, all the better.
Don't forget your fans and try to avoid situations in which followers of your music show up to a club, excited to see you play, and then discover that you won't in fact be performing. If you are too sick to play, after you've discussed with your musical collaborators and the booker and/or venue, let your fans know via social media, an e-blast to your mailing list, and even personal calls and emails when appropriate.
Regardless of how you're reaching out, keep the message honest and to the point, letting everyone now that, regrettably, the show has to be cancelled due to illness; if you're able, offer refunds on any tickets purchased and consider promising to reschedule a show in the area as soon as you can.
Bad as it might feel to cancel, remember that everyone gets sick sometimes. As long as you communicate about it respectfully, chances are your fans will understand and respond supportively.
Know your remedies and apply with the performance in mind
Does using a Neti pot help clear out your sinuses when you've got a bad cold and leave your voice ready to shine? Does taking the recommended dose of over-the-counter cold medicines like Advil Cold and Sinus or Sudafed make you too jittery to focus? This is all good to know beforehand, so you don't have to try a new remedy for the first time just before downbeat – and deal with potentially unexpected consequences mid-performance.
To be safe, if you're sick before a show, try to deal with it in ways that you've done before, where you know the effects on your body and ability to perform. Pre-emptive research can help with this; when you're sick and don't have a gig, try singing or playing (gently) after using whatever remedies your condition calls for. If you have a bad cold and Tylenol leaves you feeling lucid and loose when you vocalize, but Advil doesn't, for example, the choice will be clear next time you have to deal with a similar situation before taking the stage.
Finally – when it comes to medicines of any sort, again, always defer to the advice of a qualified medical professional.
Eat and drink well
This is an obvious one – but staying hydrated and well-fed can go a long way towards putting yourself in a good position to perform well, germs notwithstanding. Try to have one (or several) water bottles in easy arms reach before, during, and after the show.
Do what's right for you
People can react to illnesses, and medicines, differently – so even if your singer best friend swears by a hot concoction of ginger and honey to help with a sore throat or your drummer eats pickles to settle an upset stomach, those remedies may not be right for you. Above all, take care of yourself however will make you feel the best, stay the healthiest, and help you deliver the best show possible.
Clear your schedule before and after
If you're sick prior to a show, to whatever extent you can, give yourself as much time as possible to relax in bed before and after the gig. If that means opting out of regular pre- or post-performance hangs, promo events, or sightseeing, so be it. Again, it may be upsetting or disappointing to do so, but remember the key goal here – to put on a great show, and stay as healthy and comfortable as possible while doing so. If giving up the hang will help you get there, it's worth the sacrifice.
Don't be afraid to tell the audience – the right way
If you're sick while on stage, it can be a good thing to tell the audience. Just make sure you do so from a place of strength and that you communicate in a way that defines your listeners as allies not enemies.
A few years ago, I interviewed Dave Darwin, the One Man Sideshow, about how to own a crowd, and he offered the following advice on this very point:
"I saw [Livingston Taylor] teaching at a convention for variety entertainers and he offered a great story," Darwin recalls. "If you're a singer, at some point, you're going to be on tour and lose your voice. Taylor said that he never cancels a show, even if he can barely croak. He goes in, sings one song, and at the end, says something like, 'As you may have noticed, I have a touch of laryngitis and I'm struggling right now. If you feel like you're not getting what you paid for, please go to the box office and they'll refund your money. I'm going to stay here and do my best with what I've got.' And almost nobody has ever taken him up on that offer."
Regardless of the specific illness or symptoms, the same strategy applies and can turn your audience into encouraging allies, friends who will be impressed by your ability to perform and share your music, even though you're under the weather.
Play to your strengths
If you're sick, medicated, and feeling spacey, your upcoming gig may not be the best time to debut your challenging arrangement that blasts through ten meter changes in two minutes. Your goal on stage is to deliver a great show that touches audiences and leaves you feeling proud of your efforts, so if that means leaning heavily on your older repertoire that you've performed hundreds of times and can play in your sleep, don't hesitate to go in that direction.
Embrace the chaos
While some germ-laden gigs may call for a more cautious approach (as described above) others might be ripe for experimentation. If you're already feeling out of whack and spacey due to a fever, cold medicine, or beyond, you can always try to embrace your altered state and see what interesting ideas you come up with on the spot.
Adapt your performance to your condition
There's rarely a single right way to perform music – so use that fact to your benefit if you're sick on stage.
If you're getting over strep throat, finishing up a course of antibiotics, and have only a fraction of your normal vocal stamina and range, adjust your singing parts accordingly to keep your performance as comfortable as possible. If that means singing less overall, try to pour as much as you can in to each note that you do sing.
Similarly, if you're achy and don't have a huge amount of physical strength, pace your guitar or keyboard playing for the long haul of the gig. Embracing a sparser playing style can be an artistic choice, not just one played out of necessity. And again, you might be surprised at the new directions in which such a different approach might take you.
Do you have any advice for giving a great performance, even when you're sick? Tell us in the comments below.
Image via ShutterStock.com.
Disc Makers' regular contributor Michael Gallant's debut trio album Completely received a four-star review from DownBeat magazine and a five-star review from Critical Jazz, which stated: "This, my friends, is the future of jazz. Fresh, invigorating, progressive – there are simply not enough positive adjectives to list here." Learn more, download through iTunes, jam along with the new JamBandit app, or purchase through CD Baby. Follow Michael on Twitter at @Michael_Gallant or on Facebook.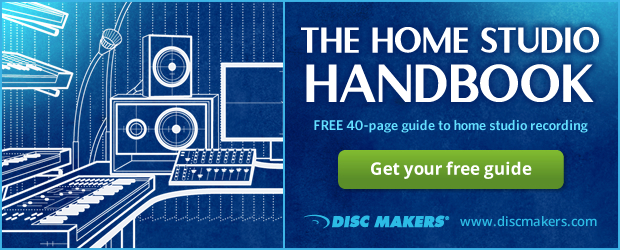 Related Posts
Musicians and Repetitive Strain Injuries (RSI) — How to Practice Hard and Stay Healthy
Owning the crowd: music performance tips from the "One Man Sideshow"
How I Bombed On Stage
Tips for Surviving and Thriving on Tour
Vocal Health Basics – How to Properly Care for Your Voice1