From deep-throated, battlefield rumbles to pure, soaring tenor lines, there are many different ways to be an effective singer with an authentic vocal style. Find the direction that works for you, your instrument, your band, and your music.
Last December, my band Aurical performed at Lincoln Center in New York City. As both the keyboardist/pianist and one of the two lead singers in the group, I had a wonderful time playing for the hundreds of people in attendance. In particular, I had never before felt so comfortable expressing myself vocally on stage — and no small part of that comfort can be attributed to the lessons I learned from researching and writing vocal-centric articles for this blog site, including "How to deliver great rock vocals," "More thoughts on delivering great rock vocals", and "How to deliver great R&B vocals in the studio and on stage."
After the show, we received a note from a friend who had attended the performance, having never seen the band live before. "I had never taken Michael for a gravelly-voiced piano-man before," he wrote, "but that is one of my favorite types of music to listen to."
I was pleased he enjoyed the show and appreciated the sentiments, but what stuck out to me most was the way he described the quality of my vocal delivery – gravelly – when, in fact, there was no gravel or growl in my singing at all that entire evening.
The grit-free quality of my singing, in and of itself, is neither good nor bad. It's just how my voice works. I've had classical training and have always sung with a clean, baritone sound. Much as I love hearing growls and screams come from singers like Eddie Vedder, that type of delivery has never come naturally to me and I've never tried to force it.
That said, Aurical is an indie band and a lot of the songs where I sing lead tend towards a dirty rock and blues vibe, so I've had to use strategies other than growls and screams to find my center as a rock singer, to figure out how to embody the songs and give them the attitude and edge that they need.
In his interview on R&B vocals, master vocal coach Alvin Fields told me how, when it comes to genre and song style, aspects like phrasing, pronunciation, use of vibrato, and tonal color can mean everything when it comes to defining a vocal as rock or pop, hip-hop or classical. In my work with Aurical, I try to phrase my words and vocal lines in ways that complement and enhance the song; I try to apply vibrato and choose colors to bring the same intensity that a scream or growl might.
The fact that our new fan was left with the impression of vocal gravel, even though there was none to speak of, smells like victory to me. To his ears, I was able to communicate the intensity and earthiness of a "gravelly-voiced piano-man" just through my delivery, phrasing, and so on, and this tells me that I'm on the right track.
As Saigon Kick frontman Matt Kramer communicated in our 2015 interview on rock vocals, from deep-throated, battlefield rumbles to pure, soaring tenor lines, there are many different ways to be an effective and powerful rock 'n' roll singer. I'm just glad to have found a direction that seems to work for me and my body, my band, and my music.
If you're searching for the right way to use your naturally-given voice to great effect in your musical genre of choice, don't forget that there are many roads to delivering powerful and authentic vocals in rock and beyond. If you need evidence, just check out the below rock singers who have all turned drastically different vocal approaches into iconic and memorable rock performances:
Dan Reynolds, Imagine Dragons

Bono, U2

Freddie Mercury, Queen

Shirley Manson, Garbage

Jared Leto, 30 Seconds to Mars

David Bowie

Steve Perry, Journey

Disc Makers' regular contributor Michael Gallant's debut trio album Completely received a four-star review from DownBeat magazine and a five-star review from Critical Jazz, which stated: "This, my friends, is the future of jazz. Fresh, invigorating, progressive – there are simply not enough positive adjectives to list here." Learn more, download through iTunes, jam along with the new JamBandit app, or purchase through CD Baby. Follow Michael on Twitter at @Michael_Gallant or on Facebook.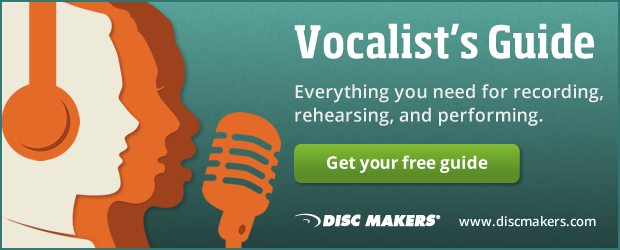 Read More
How to deliver great rock vocals — and stay healthy doing it
More thoughts on delivering great rock vocals
How to deliver great R&B vocals in the studio and on stage
Elevate your vocal performance: focus on rhythm and intention
Singing Tips – How to Sing Better Right Now