There are so many iconic guitarists who have made their mark on music history using a Gibson Flying V. Here's a look at just a few of the guitarists who have shaped – or have been shaped by – this guitar's enduring appeal.
Just to set things straight from the get-go, I did not set off to compile an exhaustive list of every guitarist who ever strapped on and played a Flying V guitar, so please don't go freaking out if I missed your fave. Well, freak out if you want to, but do it in the comments section and add a link to a pic or story if you'd like.
There are so many iconic guitarists who have made their mark on music history using a Flying V, and a host of others who have made significant use of the guitar, either on record or live. Untold numbers have dabbled with this legendary guitar model, and there are a host of non-Gibson Flying V users who deserve inclusion in the list. For a quick history of the guitar, check out my earlier post, "The history of the incomparable Gibson Flying V guitar," then enjoy and indulge – and maybe you'll discover a couple of guitarists along the way.
Lonnie Mack
The Flying V first appeared in the 1958 Gibson catalog, listing for $247.50 (same as a Les Paul Standard), and Blues-rock guitarist Lonnie Mack started using one immediately. Mack was hooked on the arrow-like design of the guitar, and his was the seventh guitar off the production line. He named the guitar "Seven" and had it specially fitted with a Bigsby vibrato tailpiece. Mack's use of the Bigsby on his album The Wham of That Memphis Man and the signature track "Wham" that gave the "whammy bar" its nickname.
Albert King
Playing a Flying V in the late '50s, Blues guitar legend Albert King played a Flying V early on, some claim it was his first guitar. He named his first (and all subsequent) V "Lucy," and one of the guitars from his collection was a birthday present from ZZ Top's Billy Gibbons, who gave King a custom-made replica V when he turned 65.
Grace Potter
Vocalist and guitarist Grace Potter burst on the scene with her band Grace Potter and the Nocturnals in 2005, to critical and commercial acclaim. The band made a name for itself through its prolific touring on the jam band and music festival circuit, and now Grace even has her own Grace Potter Signature Flying V.
Dave Davies
From The Gibson Flying V Website, comes this quote from The Kinks' Dave Davies about his acquiring a Flying V in the mid-'60s. "I used to play a Guild custom built guitar and the airline lost it on our first American tour in '64 or '65. In those days, I used to only carry one guitar around and I had to get a replacement quick. I went into a store, and they didn't have anything I liked. I saw this dusty old guitar case and I said 'What have you got in there?' he said 'Oh, that's just some silly old guitar.' He got it out and I bought it for about $60."
Kirk Hammett
From an interview with Metallica's Kirk Hammett about his signature Kirk Hammett Flying V model on Gibson.com: "Gibson noticed that on the first three or four albums, I played a Gibson Flying V. So, they approached me and asked if wanted to do a signature Kurt Hammett Flying V model based on the Flying V that I played during my first 10 years in Metallica. For me, there are only a few guitar makers that have really been able to hold my attention for long periods of time… So, if any of those guys ask me to do anything, I'm going to say 'yes,' because they've had such a profound influence on me and have helped with my own playing over the years. In other words, when Gibson comes calling, I come running."
Jimi Hendrix
Jimi Hendrix owned at least three Gibson Flying Vs. Two were right-handed – a 1969 tobacco sunburst and a 1967, originally black, that Jimi himself painted to become his so-called "Psychedelic V." The third was a left-hander, built for Jimi by Gibson in 1969 and first used live in 1970. The psychedelic paint job on the Psychedelic V was done by Hendrix, but was apparently stripped off the guitar by an Irish guitarist names Mick Cox of Eire Apparent after Hendrix had gifted him the guitar. A UK musician named Dave Brewis eventually came to own it, and in 1999 he restored the guitar to it psychedelic state. That, combined with photos of its time with Hendrix, was what Gibson's Custom Shop used for its limited-run reissue in 2006.
Zakk Wylde
From Ozzy Osbourne to Black Label Society and everything in between, Zakk Wylde might be best known for playing his signature bull's-eye Les Paul, but it would seem Wylde plays dozens (hundreds?) of different guitars, including a Flying V. Gibson has even released a Zakk Wylde Flying V Custom with a Floyd Rose tremolo.
Lenny Kravitz
From Gibson.com: "I use an assortment of Les Pauls in the studio," says Kravitz. "A Goldtop, a couple of vintage Flame tops -'58, '59 and '60s models." Kravitz also plays a variety of Gibson ES-335s, but he is most closely associated with the Gibson Flying V, and got his own Gibson Flying V signature in 2002 (a very limited edition of only 125). The Kravitz is essentially a 1967 historic reissue with a black and gold flake finish, and the pick guard and truss rod cover were gold mirror.
John Bonamassa
Here's blues mastermind Joe Bonamassa playing a Flying V in 2015.
Rudolf Schenker
Rudolf Schenker founded Scorpions in 1965, appearing on every album and at every tour. Schenker is known for playing Gibson Flying Vs – he owns over 60, including a few of his own '84 Rudolf Schenker Signatures, a custom double-neck V, and an acoustic Flying V made especially for him by custom-guitar maker Boris Dommenget. (Schenker now uses Dean V models). Schenker would have one more, were it not for his younger brother Michael who permanently "borrowed" one of his '71 Flying V Medallions…
Michael Schenker
Michael Schenker started with Scorpions before joining UFO and then starting The Michael Schenker Group. Schenker's main guitar for much of his career was a Gibson Flying V, which he typically played through a wah-wah pedal (used as a parametric equalizer to boost the midrange tone. Schenker was the inspiration for Metallica's early twin-Flying V sound (though James Hetfield's white "V" was not a Gibson).
Shania Twain
Check out this decidedly hard rockin' live version of "Man! I Feel Like A Woman!" – a four guitar assault including the dude on the riser next to the drummer playing a Flying V with a slide. He's into it. (And yes, I recognize this entry doesn't exactly fit the "guitar icon" profile, but I stumbled upon it and thought it was worth including.)
KK Downing
Forming half of Judas Priest's twin guitar attack, founding member KK Downing's trademark guitars were Gibsons, starting with an SG Junior (his first professional instrument) but eventually landing on the model he would be most closely associated with for the rest of his career: the Gibson Flying V.
Tom Petty
Though perhaps more familiar with images of Tom Petty holding a Rickenbacker or Telecaster, Petty has a connection to the Flying V, as seen in this 1977 promo shot and emblazoned in the Tom Petty and the Heartbreakers logo.

Album covers
In addition to Lonnie Mack's The Wham of That Memphis Man, the Flying V has adorned many album covers, including Lee Brovitz sporting a Flying V bass on the Blue Angel cover – which was Cyndi Lauper's first band – and the classic Tom Petty logo.
---
Other notables play Flying Vs, though not a Gibson model, including Dave Mustaine (Megadeath, Dean), James Hetfield (Metallica, ESP), Karl Sanders (Nile, Dean), Wolf Hoffman (Accept, Jackson & Framus) and way too many others to note.
But wait… there's more!
Check out Disc Makers' YouTube Flying V video playlist.
Also check out these links for more on the Flying V:
The Gibson Flying V: 20 Essential Facts
The Gibson Flying V Website
Gibson's Flying V Product page
Wikipedia
---
A musician, writer, and marketer, Andre Calilhanna manages and edits the Disc Makers and BookBaby Blogs. Follow Andre on Twitter @dre_cal. Email him at andre@discmakers.com.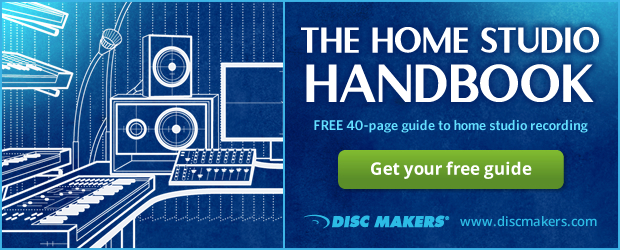 Read More
The history of the incomparable Gibson Flying V guitar
Vintage guitars for fun, profit, and a little piece of history
Guitar care: humidity extremes can damage your instrument
Guitar intonation: how to keep your guitar in tune
So this guitarist walks into a recording studio…
Recording Electric Guitar