When we wrote a song and produced a music video about the original Star Wars trilogy, we didn't realize the music promotion opportunities it held for us, and the lessons we'd learn from it.
Not so long ago, in a galaxy not too far away (Chicago, IL, to be precise), our band Beatnik Turtle wrote, recorded, and released a song called, "Star Wars (A Film Like No Other)." When we released it on March 13, 2007, we had no idea it would become one of the most popular videos at StarWars.com, be licensed by AtomFilms, wind up being played on TV, and generate a potential license deal for a movie that was in production. But this story isn't about our song, instead it's about all the lessons we learned in the process that you can use in making, marketing, and licensing your own music.
We shared a distilled version of those lessons in a guest blog called "7 Effective Strategies To Get Your Music Noticed," but this article tells the story of how we learned or exercised a number of those strategies that you can use for your own music.
Here are the top 5 lessons we learned in creating and promoting "Star Wars (A Film Like No Other)."
1. Draw inspiration from everywhere
"Star Wars (A Film Like No Other)" only exists because we challenged ourselves to write a song for each day of 2007. To pull off the challenge of writing 365 original songs, we quickly learned to take inspiration from everything around us. This included Star Wars. Specifically how we loved the original trilogy and couldn't stand the prequels. (What was Lucas thinking?) This also gave us the opportunity to use what we call the Piggybacking Strategy in the 7 Effective Strategies article. Essentially, we could leverage the popularity of a topic — like Star Wars — in order to market our own music.
2. Target your marketing
Once we released the song on March 13, 2007 at TheSongOfTheDay.com, we started thinking about how to promote it. Clearly, the target audience was Star Wars fanatics. Within minutes of doing some basic keyword web searching, our research quickly pointed us to StarWars.com as a key hangout. We also were able to target a niche which made our marketing simpler as we narrowed the focus based on the identity of the fans, and where they hang out.
3. Take advantage of new tools, platforms, and media when they come out to get a "first mover" advantage
Always keep an eye out for new things that come out – whether it's a new communication tool (Instagram, Periscope, etc.) or media. In our case, StarWars.com had just released a web-based video mashup tool and encouraged fans to make videos with it. Sensing a great opportunity to guerilla market our song directly to those people who were likely to enjoy and buy our Star Wars song, we used their tool to create a collage video and posted it to their site.
Since we were one of the earliest posters and since we ended up creating a music video, it stood out and generated a ton of plays. Soon the video was one of the top viewed and it stayed popular because it was one of the first videos visitors could see. We were also leveraging The Standing-Out Strategy: if you can put music where it's not normally found, it has an easier time getting attention. If we had posted this video to a music video site, it would have faced greater competition to get voted to the top, and would be difficult to get noticed because it would have been a music video on a page with many other music videos.
4. You never know where a song or video can go once released
Thanks to the amount of views the song and video generated, we ended up getting contacted by AtomFilms – which was a broadband entertainment network offering original shorts, animations, and more. We let them license it and they featured it at their site. This let us use The Agent Strategy, where we were letting someone else promote the music, providing more credibility than if we promoted it ourselves. Even better, they created a Star Wars independent short film contest, and our song and video ended up being voted as a finalist by viewers. Because of this, our song was featured on SpikeTV and aired in between a Star Wars marathon.
5. Not all licensing deals are good for the artist and it's OK to say no
And, if the above wasn't cool enough, from there, we were contacted by a film studio that wanted to license the song for a documentary they were making about George Lucas. Unfortunately, while it would have been great to add another film to our band's resume, we couldn't come to an agreement about the contract. They wanted rights to sell the song independently "in perpetuity" – for instance on a CD soundtrack or digitally. This would have created competition for our own music, so we declined to license it to them.
So, our little song, written in a single afternoon and recorded within a few days for TheSongOfTheDay.com ended up on quite a journey. It certainly wasn't anything we planned, but it was the direct result of thinking through how to use free marketing techniques to promote it to the key demographic that would enjoy the song as well as taking advantage of the opportunities that popped up when they happened. Creating these small opportunities for your music doesn't need to take a lot of time, and it's worth considering all of the places you can promote your music to see where it can boldly go.
Image by Stefano Buttafoco via Shutterstock.com.
Billboard Magazine called Randy Chertkow and Jason Feehan "the ideal mentors for aspiring indie musicians who want to navigate an ever-changing music industry." Together, they're musicians who are working on their 21st album, authors of The Indie Band Survival Guide: The Complete Manual For The Do-It-Yourself Musician, 2nd Edition (Macmillan), creators of the 15-hour online course, Making Money With Music (CreativeLive), and regular contributors to Electronic Musician Magazine, including the free weekly web column, The DIY Advisor. They also teach and consult about music business.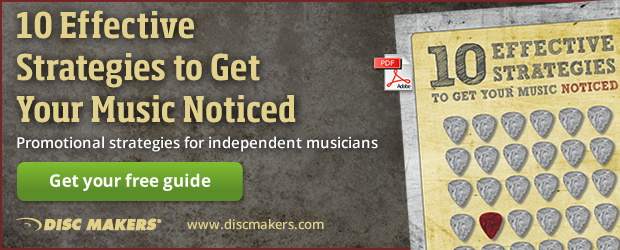 Read More
7 effective strategies to get your music noticed
Finding and nurturing your musical niche
Satisfaction and success – finding your musical niche
Eight music video ideas to help grow your YouTube channel
Prepare yourself and your music for music licensing