There are measurable differences between the different levels of music libraries, but finding the library for you depends on your experience and your business model.
Everyone wants to know how to make a little extra cash with their music, and music licensing is an appealing option for many independent musicians. Do a little research and you'll discover there are a host of music publishers and a wealth of music libraries. These music libraries are pretty appealing, as getting connected with them doesn't require you to leave the comfort of your home.
A music library is a company – or middle man – that allows music creators (musician/artist) and users to shake hands and make a deal. Just like manufacturers send goods to Walmart to connect with their end users (purchasers), music creators will send their music to music libraries to connect with whoever is looking to license music.
A typical scenario might be a songwriter with music he wants to license will do an online search and then affiliate himself with the top few music libraries that return in the results. You would assume everything on the first page is the cream of the crop, but it might be they're just really good at marketing.
You'd also think that the more libraries you affiliate yourself with, the more money you stand to make. This sounds great in theory, but the approach could have some serious negative consequences – some that could hurt your future music career. Allow me to lay out the pros and cons.
The ABCs of music libraries
There are three types of libraries: A, B, and C tier libraries, very much like A, B, and C teams in middle school sports.
"A" class libraries are difficult to get into, but are worth it. Quality control in A libraries is top-notch, and the payouts can be pretty substantial. Some operate on a non-exclusive agreement, where the composer can shop his or her music freely with multiple publishers/libraries. Others are sticklers for exclusivity, as they want the ability to push tracks others don't have access to.
Splits range from 0/100 to 50/50 (composer/library). I'm sure there are some music libraries that take a bigger cut than 50%, but most don't. And as you would expect, these libraries are known for paying out the most, as well. I've seen licenses range from $800 to $30,000 before royalties, and simple syncs for $2,000 and up (with no royalties).
Syncs are nice, but royalties are even better, as royalties allow you to collect residual income for the life of the project's air time. As a producer and or songwriter, you're entitled to the writer's portion of the royalties, as well as the publisher's portion. Depending on which library you do business with, they may claim a share of your publishing portion of the royalties.
What this means is, if you get music placed on a TV show, every time the show airs and your music is being played, you collect royalties on the broadcast. Royalty rates can be found on your performing rights organization's website. They will tell you how much is paid (percent wise) based where your song is played, how long it's played, etc.
"A" class libraries are also known for directly contacting their vendors (i.e. music creators) when music is needed for projects. The deadlines, however, can be pretty short. Being given a deadline of 2-4 hours isn't unheard of.
Your low tier, or "C" class library has much different standards. They'll accept just about anyone who can operate a DAW and create a decent loop. A lot of the time these libraries offer non-exclusive agreements to their music suppliers (or vendor), split royalties 50/50, 60/40, and 70/30 (composer/library). Some do away with royalties altogether and operate strictly on a royalty-free basis. Royalty free is actually becoming the norm with these types of libraries.
Payouts are pretty low: $10 to $200 per sync, depending on the particular library.
These libraries are often looked down upon by many folks in the music industry, and for that reason are sometimes blackballed by music supervisors and top level libraries. This eliminates the need to compete for prices and offers the feeling of exclusivity to the film director or end user. When I was negotiating with NBC a few years ago, one of the first questions that was asked was, "Are you with any libraries?"
Long story short, I had to remove my music from all of the low-tier libraries, as well as some upper-level libraries, just to be considered. Removing my music from all of these libraries was close to a six-month process.
"B" class libraries fall right in between A and C, as you would expect. Most are respectable, offer decent pay/splits, and operate on both exclusive and non-exclusive agreements. What I like most about "B" class libraries is they're either serving a niche market or on their way to becoming an "A" class library. This allows your average music creator who is willing to pay attention to detail and really work on his/her mix to become a part of the team.
These are also libraries where you can push more unique or original sounding music, as the staff has the ability to seek opportunities and get the music heard, much like an "A" class library, but without the competition.
Generally, in the licensing world, a lot of film and television producers are looking for a certain style of music. This does not mean they all use the exact same music, of course, but music that sounds similar to what's currently popular is typically in high demand – much like the record industry operates when looking for hit songs.
But you can find A and B libraries who will take a risk on unique-sounding music and be able to get it front of potential end-users. This will rarely happen with a "C" class library, as most of their exposure relies on metadata and keyword search inquiries.
Now, while there are quality differences between these different music libraries, I'm not saying one class of library is better than the other. It all comes down to your business model. For some, $500 a sync is a waste of time. Heck, $10,000 is a waste for some professionals I've come across. And $15 per sync can be seen as an absolute slap in the face, but quickly looks pretty good when you're someone who was gets 11,000-plus syncs per year.
Here's a music library case study I conducted a few years ago. It outlines my criteria, struggles, and success. I hope you find it helpful.
---
This post originally appeared on Greg Savage's DIY Music Biz Blog. Greg Savage is an entrepreneur from California who makes a living producing music and sound designing for various companies without the use of a record label or manager. He started DIY Music Biz because he wanted to create a reliable resource for musicians, producers, composers, and artists that would be useful regardless of their success or skill level. Reposted with permission.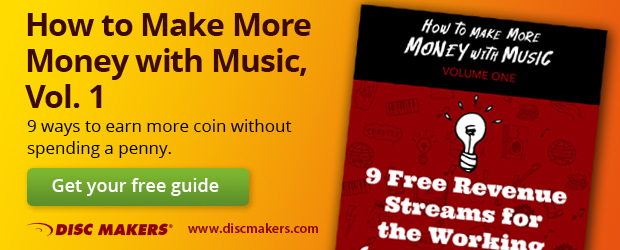 Read More
Music for video games: advice from a top music publisher
Music publishing: music industry insights
9 things NOT to do with your next song demo
Music metadata: Gracenote and its expanding data empire
Making Money With Music Licensing – Part I: Copyrights and Revenue