A personal exploration into this writer's lack of enthusiasm for performing live. It's been a part of my life for over 30 years – what's holding me back now?

I've been in a performing band ever since I was in the tenth grade. If you count Black Death, the fictional band my friend Ray and I made up when I was in fourth grade, then my fascination with music performance goes back even farther. And I jammed with the older kids when I was a freshman in high school, playing Rush songs, or album sides – which are sometimes the same thing – with total abandon.
Since the tenth grade, through college and beyond, I've played hundreds of live shows. My projects were predominantly original – that is to say, we mostly wrote our own material.
I was always a drummer, and most often a singer (if not the only singer) as well, and have the confidence to pull that off in most any situation. Though, at the moment, my drums are in storage and my voice is not primed for hours of performances due to a self-induced lack of performance opportunities.
So it's been the past three or four years that I've semi-seriously taken on the acoustic guitar, trying to craft an acoustic duo with Jack, my long-time friend and collaborator. We've been in numerous bands since 1991, from bombastic and heavy to rock n' roll with a little more nuance – but again, almost exclusively original. Our cover material was always a heavily filtered experience. We'd take a song and turn it into ours, to the point that it might take you a minute or so to recognize it as someone else's.
Jack is an exceptional guitarist. I am not. I picked up the guitar once I didn't have a place to set up my drums in the house, and after having kids, the opportunities for full-on rehearsals and practicing the drums have largely gone by the wayside.
So here we are, an acoustic duo with nearly 80 songs we can play, all competently. Yet I can't bring myself to believe we're good enough to perform live.
Has getting older made me more risk-averse? Do I have a clearer understanding of how far I still have to go at this instrument and feel unworthy of performing live? Has being a father to two children made me want to curb my late-night lifestyle? Is the idea of playing predominantly cover sets just not that thrilling to me?
There is something preventing me from doing this, and I can't figure out what. It's not something I ever experienced before.
I was out with my wife the other night at a restaurant in our little town on the outskirts of Philadelphia, and there was a duo playing cover songs. They were in the bar area, which I couldn't see from the dining area, but we could hear them clearly. They were OK, a female singer and a guitarist, interpreting a lot of male-fronted modern rock songs.
They started a song, I didn't recognize it, but from the outset I could tell something was wrong. She started singing, it wasn't fitting the chord progression, the guitarist began shifting chords, it was a total train wreck. They stopped. They just completely stopped. Then, without a word of explanation, they started the next song and moved on.
I thought, "Holy Hell, that was a complete disaster." I believe one mark of a good act is an ability to land on its feet if and when such a calamity befalls, it certainly has happened to me with varying results. I thought they handled it poorly. First off, that song should never have been in the set. Beyond that, just abandoning it… seemed very amateur to me.
So what's the takeaway? I know we would have handled that better. We would have sounded good in that setting. We've been at this for so long. We can be impressive when we play to our strengths. So why aren't we? What's holding me back?
---
A musician, writer, and marketer, Andre Calilhanna manages and edits the Disc Makers and BookBaby Blogs. Follow Andre on Twitter @dre_cal. Email him at andre@discmakers.com.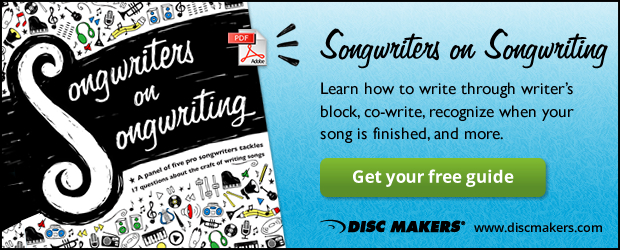 Read More
Who Influences Your Music Most?
Making magic when things go wrong on stage
How I Bombed On Stage
Why can't every day be a music festival?
A look at Ringo Starr's enduring musical influence