Adele breaks one-week sales record and is still climbing

Whatever you think of Adele's decision to follow the likes of Taylor Swift and Thom Yorke and sidestep streaming services like Apple Music and Spotify, she's proven again that she has the star power and "four quadrant" appeal to change the trajectory of album sales for the industry this year. Already at 2.8 million album sales, the projections are for 25, her latest release, to reach 3 million by the end of the day on Thurs, Nov. 26th (the end of the reporting week). According to Billboard: "25 has already surpassed the single-week album sales record (since Nielsen began tracking sales in 1991), previously held by *NSYNC's No Strings Attached, when it debuted with 2,416,000 in the week ending March 26, 2000."
25 should debut at number 1 on the Top 200 chart, and expectations are that 21 might sneak back into the top 10 as Adele-mania roars on.
Adele made headlines before the album's release by announcing that 25 would not be available on streaming services. While that's still true, the entire 25 song list has been added to Pandora's playlists, though the nature of that service means listeners can't stream the album, but can create stations that might feature Adele tracks, and everything on 25 is potentially available.
Willie Nelson scores Gershwin Prize for Popular Song
On November 18, Willie Nelson received the Gershwin Prize for Popular Song in a ceremony at the Library of Congress. According to the BMI website, "He is the first country songwriter to receive this prestigious honor, which recognizes 'living musical artists whose lifetime contributions in the field of popular song exemplify the standard of excellence associated with George and Ira Gershwin, by promoting the genre of song as a vehicle of cultural understanding; entertaining and informing audiences; and inspiring new generations.'"
Nelson, who is 82, performed, as did Rosanne Cash, Jamey Johnson, Alison Krauss, Raul Malo (the Mavericks), Neil Young and Promise of the Real (featuring Nelson's son, Lukas), Edie Brickell, Leon Bridges, Ana Gabriel, Paul Simon (the first Gershwin Award recipient in 2007), and Buckwheat Zydeco.
The concert will air on PBS stations nationwide at 9 p.m. ET on Friday, Jan. 15, 2016. For more information about the Gershwin Prize, visit the Library of Congress website.
Shrapnel Records catalog now owned by The Orchard
Shrapnel Records, founded in 1980 by producer Mike Varney, celebrated metal guitar virtuosity, signing and releasing albums by artists that include Paul Gilbert, Vinnie Moore, Tony MacAlpine, Richie Kotzen, Yngwie Malmsteen, Jason Becker, and Marty Friedman.
The Sony-owned distribution firm The Orchard has acquired the catalog, according to Music Business Worldwide, and "will now oversee digital and physical distribution for the label, making Shrapnel's 3,000-song catalog available for streaming for the first time, including releases by Chris Duarte (Lucky 13), Paul Gilbert (Stone Pushing Uphill Man), and Indigenous (Time Is Coming)."
Varney is quoted saying "'Although the Shrapnel Label Group will continue making new records, the expanded distribution and accompanying administration of the back catalog was something we felt could be best served by a larger company. As a pioneer in digital distribution with a tremendous track record of more than fifteen years, The Orchard was in a stronger position to effectively realize this for our catalog.'"
The 16th Annual Latin Grammy Awards
The Latin Grammys were held on Thursday, November 19th. See pictures and watch videos at the Latin Grammy website.
---
A musician, writer, and marketer, Andre Calilhanna manages and edits the Disc Makers and BookBaby Blogs. Follow Andre on Twitter @dre_cal. Email him at andre@discmakers.com.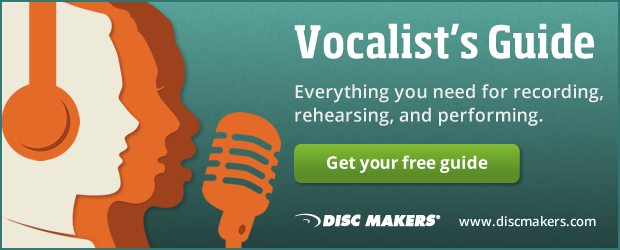 Read More
A guide to Apple Music for the independent musician
Music streaming: friend or foe to the independent musician?
Music publishing and how Michael Jackson came to own The Beatles' songs
Music news: Happy Birthday's disputed rights, vinyl vs. streaming, and the last CD-R for Taiyo Yuden
9 groovy facts about vinyl records