While you may find success placing music in smaller-scale video games, this music publisher says you need a long-term plan and a big-time work ethic to land music in the big-league titles.

Recently, we published an interview with Tom Salta, star video game composer of Halo fame, about licensing your original music to video games far and wide. Among Salta's top tips was to find an ally in the business – a publisher, most likely – to help you break ground and get your music placed where it needs to be.
We took Tom's advice and connected with Jake Versluis, Director of A&R Creative for Position Music. Versluis has spent years signing musical talent and interfacing with every major game company; here are some tips from the man on how to maximize your own chances of video game placements.
How would you describe what you do?
I handle A&R for the company and sign lots of bands and composers. I pitch our catalog specifically to video game companies and the music supervisors at each company who are the key decision makers.
How important is it for artists to work with a company like yours?
In this day and age – and from both my perspective and an artist's perspective – aligning yourself with a company that has good contacts, and that can put you into the conversation, will wildly benefit a talented artist. I've seen an evolution from when games like Rock Band and Guitar Hero were open to accepting lots of different submissions to a different situation today. Let's say there are one or two music supervisors at each of these huge gaming companies – EA, Ubisoft, Sony, and Activision. That means there are only maybe eight to ten people in the gaming industry who represent eighty to ninety-percent of the decisions about what music to use and where. Getting access to those people and having them consider your work is difficult, so having an established publishing company can be a big help.
How are placements in games different from TV and film?
With television and movies, there's a lot more activity. You have weekly episodes, for example. With big games, at best, you can have a game a year in a certain series. Hockey, basketball, and football games, at best, release one edition annually and, for some, it's every five years, so the competition goes up exponentially. The FIFA soccer game series is probably the biggest sports game in the world and there are only so many slots in it for music. Not only that, but the genres that the game-makers are looking for are mostly very specific.
What are those genres?
For major games, someone who does pop, hip-hop, electronic music, or rock has the best chance, as opposed to singer-songwriters. Guitar Hero is going to re-launch, though, and that will open opportunities for guitar-based music.
So knowing the market is important.
Just like in the TV world, if you don't know what game-makers need, then any music supervisor you approach is going to feel like you're wasting his or her time. If you're sending singer-songwriter songs for Call of Duty, you're going to accomplish nothing. There's also opportunity cost on your end, because you could be putting that same effort into pitching your music in the right direction.
What sorts of games should bands and artists shoot for?
The types of games you're going to want to submit to are Grand Theft Auto or The Crew. If you're in a game where you're driving a car, you'll have maybe fifteen radio stations that you could tune in to, and video game publishers will need to fill in those stations with songs. Research the kind of games that have artist songs as opposed to composed soundtracks – FIFA, as I said before, as well as NBA2K 16 are some others that come to mind.
How much competition is there for video game placements?
Record labels and publishers have been lowering their costs to license music for both their up-and-coming and established artists, so it's becoming harder and more competitive as time goes on.
How do you get your music to the right people to get it placed in video games?
If the goal is getting your music to the decision makers, it comes down to one main thing that artists can do for themselves – move to Los Angeles. I'm not kidding. You need to meet the right people and you don't meet them unless you've got a multi-year plan. You need to see these people at bars, parties, and conferences to build good relationships.
What if you can't do that?
The next best thing is to be aligned with some sort of publishing company that can represent you. Let's say that you're a great producer working with a great singer and the music is just awesome. If the music could speak for itself, it would be in the new FIFA, no problem. But if you're some dude in Minneapolis, you might have no access and not even know where to start. That's where you enlist a music publisher, pitching person, or company to help you along the way.
Alternately, if you're starting to make some progress in the blog world and getting some heat, step it up and hopefully you'll get approached by record labels, which can be a game changer. If you're fortunate enough to be in that situation, then, by default, those conversations will include outreach to all of the major game companies.
If you're going to approach game companies directly, what would you advise?
I'd recommend identifying five different games like Just Dance and Rock Band that would potentially have music supervisors working for them. The next step is to research on Wikipedia, or wherever, who distributes those games and who the publishers are. Then look on Twitter and LinkedIn to find out who the music supervisors, audio leads, or other decision makers are. Chances are that, as an indie artist, you won't have a connection within these companies, but if you know anybody in L.A. or the video game business, try to network your way to an introduction. It's much more effective than blindly submitting.
How hard is it to make contact with the right music supervisors?
I know the music supervisors well and I don't even get half of my calls answered. I can't imagine what it would be like for up-and-coming artists without name recognition. Music supervisors are getting hit up all day long, so just know the level of competition you're getting yourself into and be prepared to be persistent and focus on the long game.
Do smaller-scale mobile and more eclectic games offer different opportunities?
They might be more accessible, but I haven't put much time into that world. We go after bigger budget games because working within the mobile community could mean putting in more work for about one tenth of the money – and there's only one person in my department. That said, we do have people emailing us fairly often who develop new games and don't think about music until the end, once they've already spent their entire budget. That's entirely the wrong approach, because choosing and obtaining the right music is a really important part of building a successful game.
But that last-minute need for music could be an opportunity for artists trying to get a foot in the door.
For artists just starting and seeking credits, hooking up with smaller new developers at conferences like GDC [Game Developers Conference] can be really good. If your music doesn't fit in one of the genres I described earlier, smaller games and studios can also be a good option. If you're putting out huge games like Destiny and Call of Duty, so much money goes into it that studios are not willing to take a risk on more eclectic musical choices. Smaller mobile games are different – the studios can take risks – so there's a wider variety of music used in those types of productions.
If you want to hook up with a good publisher to help push your music, what would you advise?
Assuming that artists have the types of music that publishers normally look for – pop, hip-hop, rock, EDM – then identify publishers who work with games and how to get access to them. A personal introduction from someone is a great way to go, and attending film and TV conferences is an option as well. If you don't live in Los Angeles and don't know anybody, start researching major video game conferences like E3, GDC, and GamesCon in Germany. Find the closest and most feasible game conference and go in there, know who you want to meet and what panels those people are speaking on, and introduce yourself. If you can find out that they're going to a party in a hotel lobby, find out what time that event is and try to get an invite.
Sounds like a work-intensive process. Is it worth it?
This is where artists get lost because it is work. It's not just pressing send with an MP3 attached. Questions of work ethic are where you lose 50 to 80 percent of artists who may have great music, but aren't willing to put in the time and have the patience that they need – while at the same time, continuing to learn their craft and do their homework. You have to look at all of this as a long-term plan, a two-year commitment, for example, and see what comes of it.
Gaming is such an insulated, small industry – even I got frustrated when I was trying to make inroads into placing music in games. I went to conferences and met with lots of people and didn't have much success initially. It took me about three years. If you don't have that commitment, you're going to throw in the towel and there will be someone else willing to work harder and longer.
Follow Jake Versluis on Twitter @RawkerV.
Disc Makers' regular contributor Michael Gallant's debut trio album Completely received a four-star review from DownBeat magazine and a five-star review from Critical Jazz, which stated: "This, my friends, is the future of jazz. Fresh, invigorating, progressive – there are simply not enough positive adjectives to list here." Learn more, download through iTunes, jam along with the new JamBandit app, or purchase through CD Baby. Follow Michael on Twitter at @Michael_Gallant or on Facebook.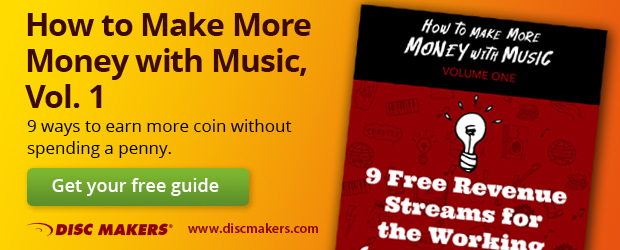 Read More
Placing your music in video games: advice from Halo composer Tom Salta
The wide world of licensed music in video games
Music publishing: music industry insights
How to find, land, and work a music publishing deal
Music publishing and how Michael Jackson came to own The Beatles' songs