Want to know how to write a country song? This Nashville songwriting teacher lists five pitfalls to avoid when writing songs for any genre.
In the 18 years I've been teaching BMI's Nashville Songwriters' Workshop, I've listened to 40-50 songs 10 times a year or more. if you do the math, that means I've reviewed more than 8,000 songs in the past two decades – and that doesn't include the songs I critiqued in the song camps, master classes, and workshops I've taught all over the world.
I've watched a handful of students learn how to write a country song, grow into exceptional songwriters, establish relationships with music publishers, and land staff-writing deals – some even have credits on number one singles. But most of the songs I've heard were just "good," and that isn't good enough to compete with the work being produced by the top hit makers.
Artists who write for themselves need to write exceptional songs that define and support their artistic identity, while having an emotional impact on the listeners. Those of us who write songs for artists other than ourselves need to come up with material that compels artists, producers, publishers, and A&R executives to choose our songs over all the others being submitted for a project – including those written or co-written by the artist, the producer, or someone else on the "inside."
One of the most important jobs I have as a teacher is to identify and share the common elements I observe in successful songs while steering students clear from the pitfalls in songs that fall short. Here are some of the biggest lyric pitfalls I consistently notice.
1. Writing for an audience of one
Many songwriters write as a means of introspection and catharsis. They bleed onto the paper, communicating their angst on the wings of intensely personal lyrics.
Some of these songwriters rely on abstract poetry and imagery, effectively shrouding the meaning of their lyrics to the point that they exclude listeners from understanding or empathizing. They are writing for an audience of one.
The goal of effective songwriting is communication – and that requires bringing your audience into the equation. If you want your songs to affect me, don't write about your life – write about mine. Some of the most successful writers are those who write about their lives in a manner that makes listeners wonder, "How did she get inside my heart and know exactly how I feel?"
Few artists record songs with non-linear, non-literal lyrics. This approach might work for Coldplay, Train, or other artists writing songs for their own bands or projects – as long as they're attaching them to amazing melodies. But it is a rare songwriter who can evoke emotion by writing in this style.
If your goal is to share your music with the world, write in a style that speaks to your audience and clearly communicates the message you intended.
2. Telling, not showing
One of the least effective ways to evoke emotion is to write lyrics that state how you feel. Reporting that you are "sad and lonely" might clearly convey how you feel, but typically fails to arouse emotion in the listener.
One of the most effective ways to evoke emotion is to invite listeners into your world by allowing them to "watch" a story unfolding. Compare the two lyrics below and note which one makes you feel something.
Lyric 1
I'm sad and lonely without you
I never knew a heart could hold so much pain
All I have is hurt and regret
I'd give anything if only you would love me again
I wish I could go back in time
To when our love was new
Cause I miss you more than words can say
And I hope you feel it, too
Lyric 2
Last night I woke up from a dream at 2 a.m.
Watched the cold, gray shadows cross this empty bed
A sliver of moon shone softly through the curtains
To the tear-stained pillow where you used to lay your head
I stumbled to the closet – pulled on your Titans T-shirt
And breathed a memory of summer in the scent of your hair
Then I fell to my knees and said, "God if you're listening,
Answer this heartbroken lover's prayer"
Lyric 2 never stated how the writer feels; it never said, "I'm lonely, I'm sad, I miss you, I'm hurting." Instead of reporting the songwriter's feelings, action, images, and detail were used to "show" the scene, as if it were a video. You were able to surmise the writer's feelings from the actions that unfolded in the lyric, and more importantly, you felt the emotions the writer strove to evoke.
Incorporating action, imagery, and detail in your verse lyrics is virtually mandatory for success in the current country music market; it forms the foundation of today's Music Row hits. But a look at some of the best lyrics in songs by artists such as Katy Perry, TobyMac, Kanye West, Guy Clark, Lana Del Rey, Taylor Swift, and others will reveal that this technique is used in some of the most successful songs in a wide variety of genres.
An easy acronym to remind you to use this tool is, AID:
A (action/verbs)
I (images/nouns)
D (detail/adjectives)
Note that most often, the function of the chorus is to present a summation of the concept, and to hammer home the title. The "story" is most often told in the verses. Not every song will necessarily tell a story, but this is a crucial tool to master and have in your toolbox regardless of the style in which you write.
3. Failure to support the song's title
Ideally, the title is the heart of a song – the focus – and every line of lyric will contribute to leading your listener to the title. When we hear the title, it should be satisfying because it is the organic result of the lines that preceded it. Verse lyrics that neither support nor logically lead listeners to the title tend to leave listeners unsatisfied.
You can avoid this pitfall by being certain to include phrases and imagery that have a clear connection to the title. Notice that in the example below, the first lyric fails to support or lead to the title, "War Of Hearts." The second example benefits from phrases that relate to – and direct the listener to – the title.
Lyric 1
Please don't say it's over
Cause it's tearing me apart
Once you were my angel
Now we're in a WAR OF HEARTS
Lyric 2
Accusations rain like bullets
And they're tearing us apart
Let's surrender our weapons
In this WAR OF HEARTS
The first example fails to include any words or phrases related to "war." The second example incorporates the words bullets, surrender, and weapons to lead to and support the title.
It can help to create a lyric palette – a list of words and phrases that relate to the title – that you can choose from and incorporate into your lyric. For the title "War of Hearts," a lyric palette might include words and phrases that relate to war, such as battle, wounds, land mines, casualty, fallen soldiers, assault, white flag, battleground, peace, guns, bombs, attack, combat, and fight. If a lyric is written prior to deciding on a title you can go back during the rewriting process and add supporting words and phrases.
By using this tool you can effectively set up your title and add to its emotional impact. But careful not to overuse it or the result can seem contrived.
4. A redundant second verse
Imagine reading a terrific first chapter of a book, then eagerly turning to chapter two, only to find that the second chapter has essentially restated the information you'd already learned in chapter one. You'd be disappointed, and if this pattern continued, you'd stop reading the book. To hold your listeners' interest, your songs need to develop and progress.
Many developing songwriters fail to bring new information into their second verses. An easy way to find your second verse is to answer: "Then what happened?" or "What else happened?"
By answering one of these questions, you will be ensuring your second-verse lyric advances the narrative and does not repeat the information already expressed.
5. Settling for "pretty good"
One of the biggest songwriting pitfalls I observe is the failure to use fresh, original images, or find new ways to express a messages. It's easy to settle for a "pretty good," serviceable line of lyric – but predictable, unexceptional lyrics won't rise above the competition.
Leonard Cohen purportedly filled a notebook with 80 verses before choosing the strongest for his modern-day classic "Hallelujah." I'm not suggesting that every writer writes eighty verses for each song. But it's self-defeating to believe that the very first thing that pops into your mind, or comes out of your pen, is such sheer perfection that not even one word could possibly be improved.
The solution: rewriting. My entire career is based on having rewritten (and re-demoed) the same song seven times, at the request of an excellent publisher who refused to allow me to settle for less than my best work. That seventh rewrite led to my first chart single – which subsequently led to signing a staff-writing deal, and every milestone in my career. What if I had decided I'd had enough after the third rewrite? What if after the fifth or sixth I had said, "I like it the way it is. What does this jerk know anyway?"
When you've completed a draft of a lyric, look it over, one line at a time. Put a check mark next to the lines you are truly proud of, lyrics you know are better than "good," lines that would make another songwriter say, "I wish I'd written that." Then circle the lines that are predictable, mundane, "okay" lines – lines that anyone could have written or that you've heard before. Revisit each of those lines and explore new ways to convey those ideas until you land on "Wow!"
One amazing song will take you much farther than fifty well-crafted, "pretty good" ones.
Remember … if you don't give publishers, artists, producers, record labels, and listeners compelling reasons to choose your songs over the competition – they won't.
Successful lyric writing is not just about getting lucky. Luck is great, and I hope you find it, but it's amazing how much luckier we get when we write lyrics that are truly exceptional – lyrics that rise above the pack. These tools may not necessarily come easily for you, but that doesn't mean you can't acquire them with practice.
A staff-writer for Zomba Music since 1991, Jason Blume is one of those rare individuals to ever achieve the distinction of having songs on the Country, Pop and R & B charts – all at the same time. One of the nation's most respected songwriting teachers, Blume presents seminars internationally and developed and teaches BMI's Nashville Songwriters Workshops and "Demo Derby." He has taught his songwriting techniques as a guest lecturer at UCLA and as a member of the faculty of Los Angeles' Pierce College and Nashville's Watkins Institute. His lessons are used by Nashville Songwriters Association International's members throughout the U.S. and internationally.
This article was originally published on MusicStartsHere.org. Reprinted with permission.
Ready to make your own country CD? Let Disc Makers show you how.
Image via ShutterStock.com.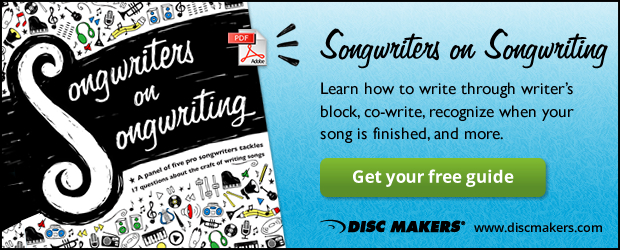 Read More
Ask a songwriter: 5 questions for Kent Blazy
Ask a songwriter: 5 questions for Byron Hill
Ask a songwriter: 5 questions for Five For Fighting's John Ondrasik
Ask a songwriter: 5 questions for Rachael Sage
Songwriting: advice and insight on the craft of writing a song