Fashioning a career in music takes – as this author puts it – the skills of a guerrilla jungle warrior. Here are three pieces of advice to help you succeed as a solo cover musician, or in any niche where you hope to make money playing music.
"Never turn down free food." This is the axiom I tell my guitar students. It's my own bit of wisdom I've gleaned from 20 years of playing music professionally in venues from Carnegie Hall and CBGB's to the local watering hole in your favorite South Jersey beach town. It's not exactly advice to be taken literally, but making music for a living as a solo cover musician (or any type of musician) requires the skills of a guerrilla jungle warrior: cunning, stamina, a tolerance for having monkey dung thrown at you when you're not looking, and above all, a desperate hunger for survival. Hence the free food: get it while it's hot!
It's a cliché to say that show business is tough, but the reality is that it's worse than that. It eats good people alive. Here are three survival skills I'd like to pass along that have helped me get through 15 years playing solo acoustic cover songs in bars, restaurants, private parties, corporate events, and pig roasts in cemeteries.
1. Have at least two sources of income
When I was young and considering entering this business, I was always told, "You need to study something else in college – you need a fallback plan if you don't 'make it'." We'll talk another time about the idea of "making it," but my problem is with the word "fallback." You don't need a fallback; you don't need to plan for failure! Houses aren't built without foundations and crossbeams. You need support to plan for success, and one really necessary support item is money.
You need to eat, you need to pay your rent, you need gas for your car, and maybe – like me – you have a little mouth to feed. It's pretty impossible to focus on moving mountains and becoming the next Taylor Swift when you're starving. That approach works for some, but I've also known people who lived in their cars for a very long time and quit, because for talented, intelligent, beautiful geniuses like us (right?), that way of life sucks. So don't look for a fallback. Look for alternative income that will support you in achieving your dream.
My mother always said I'd make a great lawyer, but I still have no imminent plans to go to law school. I have seen people's "B" jobs devour them, and frankly, I'd rather take my chances with the cruel mistress of showbiz. I have, however, taught guitar lessons, developed my own online guitar lessons program for beginners, worked as a sideman, an engineer, a producer, and even a freelance writer(!). My bread-and-butter music gigs involve playing "Wagon Wheel" in more restaurants than one man should ever frequent in a single lifetime. It is possible to broaden the definition of what you do and still maintain your integrity, even if you are not a "Wagon Wheel" tramp like me.
I don't work a 9 to 5, I get plenty of time with my kid, I live in a house, and I'm working on my 3rd album of original music. My freelance writing gigs I can do at night while my kid is sleeping. Not too shabby. Justin Tranter of Semi-Precious Weapons initially financed his band with his jewelry business, and his band opened for Lady Gaga on the Monster Ball tour and now he writes songs for Warner-Chappell. That's one form of the new music business model: find something you love to do that also makes money and use it to support your music career. I love playing other people's songs. I'd do it at home by myself for fun and now someone pays me to do it. In my mind, that's success.
2. Seek out like-minded supportive people
It was never my life's goal to make music in restaurants as a solo cover musician playing by myself to nobody. What surprises me most is how much money people will pay me to do that as long as I sing "Wagon Wheel." But no matter how much money one is being paid, the psychic toll of this kind of life can be brutal. People need people. And – another shocker – musicians are also people (people who need people). Who knew? Often these people can be other musicians who will follow you through the journey. For every Kurt Cobain there is a Krist Novoselic, who sat there playing bass along with his friend's crappy first attempts at writing songs. Why? Because he believed in him. That kind of support moves mountains. It's hard to find and precious when found.
I never met my Lennon (or my McCartney, depending on which day of the week you catch me). I've played in many bands with some great players and some excellent people, but I never had the kismet experience of a magic band that clicked so hard on the first day that we all devoted our lives to it and sailed off into the history books. Honestly, I've never even met a bass player I really liked. Kidding – I love you all (you bottom-ended flatwound love bugs). But, for whatever reason, the kind of synergy that comes with a great all-for-one, one-for-all band has never been part of my story, so I've had to seek out a support network. I have songwriter friends all over the world, many still toiling away in this hostile climate of the 21st Century. And we still have each other.
I also have a good number of people I can text, message, email, or send up flares to when I am sad, lonely, playing to an empty room, mired in self-pity, or resentful at the couple who made me play "Simple Man" and "Turn The Page" and then dropped a handful of pocket change into the tip jar. You need a shoulder to cry on, lean on, throw tantrums at, and discharge all this junk at so you can focus on being a great musician and doing a great show, even if it's in a restaurant to nobody. Because you never know, that one couple in the restaurant requesting all those Led Zeppelin songs just might own a restaurant and invite you to come play there. That true story just happened to me yesterday!
3. Be good at the music thing
Often I see people swallow uncomfortably when they see me carry my gear into a room. Sometimes they get up and move far from the "stage" before I've even started. Maybe I should take off the clown suit? Some nights I think maybe I should put on the clown suit.
Clown suit or not, the reason they move away is the brutal truth: most musicians in these non-musical venues (like restaurants or bars without stages) aren't very good. Maybe most musicians in general aren't very good. There certainly are a lot of us these days. Occasionally I'll walk in and someone will say "Hooray!! There's live music!" Usually it's a kid or a drunk woman who's excited, and that's great. More often, I see people with a glazed look, blindsided, as if they just got a big, loud, rock 'n' roll present they didn't ask for (even though I am truly not that loud).
You can win these people over if you are good at singing and/or playing. Then they are relieved. Even if you are a musical primitive and you only know three chords and can't really sing in any traditional sense, be damn good at those three chords and your Lou Reed thing. The crowd who doesn't know you really wants you to be good. Truly. It's just that they have been disappointed before, so please, don't break their hearts again. Practice your singing, practice your playing, do whatever it is that you do very, very well.
Seek out coaches like Tom Jackson who can help you understand the language of communication that audiences understand (his methods work even when you are playing in the corner of a restaurant where nobody can see you!). The more musical moments you are able to create in these settings for the crowd that doesn't know you, the more successful you will be in entertaining your audience. And the rougher and tougher your musical skills, the broader your definition of what you are and can do will be; it could open up previously unseen worlds to you like film/TV scoring, playing with a pit orchestra, or even the highly lucrative field of jazz. All jokes aside, you may not make much money in jazz, but the ability to play it will give you a higher level of musical depth. So practice, practice, practice – Carnegie Hall awaits! Or maybe Applebee's. A gig is a gig, right?
Image by DFP Photographic via Shutterstock.com.
Chris Huff has been a professional singer, multi-instrumentalist, songwriter, and producer for over 20 years. He has worked as a sideman with Peter Yarrow (Peter, Paul, and Mary), Echo and the Bunnymen, Chuck Hammer (David Bowie, Lou Reed), and Tom Kitt (Broadway composer of Next To Normal). Chris also wrote liner notes for David Bowie's Live And Well CD, and has two full-length albums of original music available on iTunes.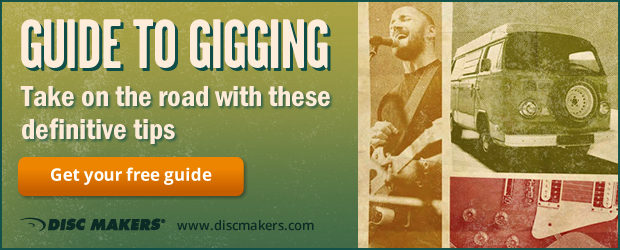 Read More
Anatomy of a Cover Song – Four takes on "Big Yellow Taxi"
Is it time to take the plunge or hang up the axe?
The initial mistakes (almost) every young musician makes
Why a portfolio music career is right for you
A portfolio music career in action