Think your music is ready for games, TV, and film? Here's advice on how to pitch your music for video games and how to optimize your chances of getting placed.

In the past month, we've published advice on placing your music in video games from top game composer Tom Salta and veteran music publisher Jake Versluis. Both experts advise hooking up with a quality music publisher if you can – or making a strong pitch directly to game-makers if you can't – but how do you approach either sort of party and get taken seriously? Here are some further thoughts from Versluis on how to pitch your music for video games and how to optimize your chances of getting placed.
How should you prepare your tracks before you pitch?
First off, let's assume that the song itself is great. Send in a produced version, a top-quality, finished track, not a demo. Tag the song with metadata – artist name, your contact information, who owns the master and publishing. Should this song get on music supervisors' radars, they're not going to want to bounce three or four emails back and forth to track down that information. They'll be more likely to jump in if everything that they need to know is right there in the metadata. Make it as easy for the music supervisor as possible.
How should you transmit your music?
Don't include MP3s as attachments and don't use DropBox or WeTransfer. Box.com is a great option. It allows both streaming and downloads and the links don't expire.
What should you write in your email?
In your email, you should link to a maximum of three songs that are all tagged properly and include instrumental versions of each song. Keep the email itself fairly short – "Hey, I know you're slammed, but I'm a big fan of XYZ game and know that you have a new one coming out in six months. I would love for you to take this new song into consideration. I think it would be perfect for the game." Keep it brief and be respectful of their time.
What about following up?
There's no need to check in more than once every three or four weeks. Sometimes when people submit, I don't actually get around to checking out their material for a month or more. If there are four emails following up before I even get a chance to check it out, it makes me want to pull my hair out.
Is there anything you can advise to make your pitch stand out from the hundreds of others that probably come in every day?
Be creative. Maybe a month later, order the person you're pitching a cupcake by mail or something, just as a reminder and a way to say thank you for checking out the music, even if you haven't heard anything back from them. The $15 to send something interesting is worth it. It may seem like a small gesture, but it separates you from everyone else.
Any final advice?
Before you send anything, put yourself in the shoes of the music supervisor you're reaching out to. Consider what that person is going through and what he or she needs to get the job done and make the boss proud – not how lazy you as an artist can be and how quickly you can move on to the next thing on your to-do list. This business moves so quickly, and music supervisors are in such high demand, that you need to think everything through in advance. You usually only get one chance and you have to make it work. So make it easy for music supervisors to choose you and your music.
Follow Jake Versluis on Twitter @RawkerV.
Disc Makers' regular contributor Michael Gallant's debut trio album Completely received a four-star review from DownBeat magazine and a five-star review from Critical Jazz, which stated: "This, my friends, is the future of jazz. Fresh, invigorating, progressive – there are simply not enough positive adjectives to list here." Learn more, download through iTunes, jam along with the new JamBandit app, or purchase through CD Baby. Follow Michael on Twitter at @Michael_Gallant or on Facebook.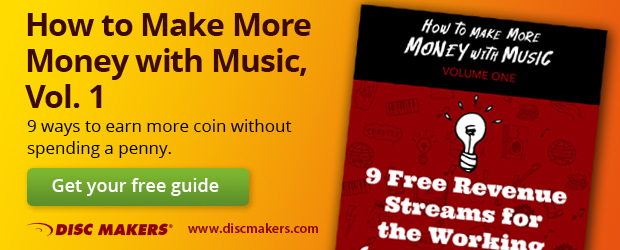 Read More
Placing your music in video games: advice from Halo composer Tom Salta
The wide world of licensed music in video games
Music for video games: advice from a top music publisher
Virtual instruments – the secret ingredient of film, TV, and video game music
Music metadata: Gracenote and its expanding data empire