Music festivals offer a chance to escape, indulge, and enjoy the community that music brings. Why not live every day with the same openness and honesty?

Music festival life. I can almost smell it, touch it, feel it.
But first… there's the packing.
As a performing musician and a music lover, I've attended countless music festivals and I've met and made lifelong friends along the way. Here in western New York, we have some amazing music festivals, featuring many styles of music and a variety of settings and venues. Personal favorites of mine include The Great Blue Heron Music Festival (which I wrote a song about), The Finger Lakes Grassroots Festival, and the others listed below. The music festival circuit is a close-knit and very loyal scene. People grow up here, and eventually I guess we'll all grow old here. Every year I see so many of the same interesting faces and personalities, and it's like we were never apart.
On any given day, I like to sleep in the back of my van, wake up, get coffee, and either start playing music or listening to it. That's why we're here right? To sample the musical hors d'oeuvres, if you will. I have stayed in tents, pop-ups, campers, in the woods, out of the woods… all equally great, depending what you want out of your experience. But personally, I drive in and want music.
No… I want inspiration.
And isn't that what it's all about… inspiration? Show me something, man. Make me imagine. Take me away for awhile. Make these three days feel like three years. I want to experience these moments of musical perfection and put them out into the universe and change the way the real world is.
And the food – sensual. All of the varieties here to take part in and share. I can smell it, taste it in the air. Somehow it mixes with all the music notes floating around, enveloping me.
Let's take a walk. So many beautiful people. Some with dreads, some bald, some laughing, some crying for some reason. It's a world of extremes, but without fear and shame. It's a collective experience and one of solitude as well. I'm happy and I forgive you and everything else out there that ever happened to me.
There are three or four bands on my must-see list at any festival. Making the list beforehand is a part of the fun. The anticipation makes the dream even better, which leads to some bittersweetness as I sit here writing this.
Why can't every day be a music festival? We usually use it as an escape from our normal lives. But is that abuse of the privilege? Does it make "normal life" even harder once we return to it? And when the festival is over, why the sadness like it's the last day of summer camp?
What I've been trying to do lately is keep a well-balanced, festival-like attitude and outlook all year round. To treat people with an openness and honesty and compassion and sincerity… the same attitude and outlook I have towards them while I'm walking through the music festival on its trails and through the woods. And any sadness fades away and simply becomes JOY.



Here is a list of some of the great festivals in my area of the country (in no particular order). What are your favorites?
1. The Great Blue Heron Music Festival (Sherman, NY)
2. Finger Lakes Grassroots Festival of Music and Dance (Trumansburg, NY)
3. Mountain Jam Festival (Hunter, NY)
4. The Peach Music Festival (Scranton, PA)
5. The Gathering at Chaffee's (Girard, PA)
6. Buffalove Music Festival (Warsaw, NY)
7. Nightlights at the Heron Music Festival (Sherman, NY)
8. Gathering of the Vibes (Bridgeport, CT)
9. Summer Camp (Chicago, IL)
10. Kent Folk Festival (Kent, OH Kent Folk Festival
11. The Werk Out Music Festival (Thornville, OH)
12. All Good Music Festival (Summit Point, W. VA)
13. Hookahville (Pataskala, OH)
14. Sterling Stage Folk Fest (Sterling, NY)
15. Camp Creek (Pattersonville, NY)
Kev Rowe is a professional musician whose played over 1,000 gigs either as a solo singer/songwriter or with his band, Big Leg Emma. He's released six solo albums all available on Pandora, Spotify, and iTunes. Learn more at kevrowe.com and join his 37,000 Facebook followers at facebook.com/kevrowemusic.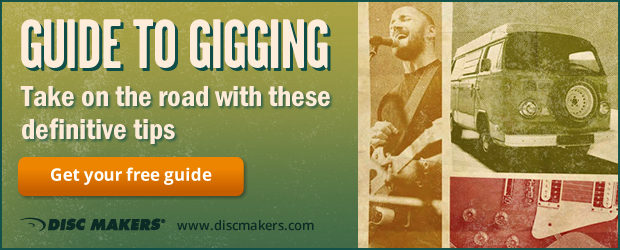 Read More
How to Land a Music Festival Gig
Indie artists Sad Robot discuss marketing and music branding
Simple travel tips for musicians (and everyone else)
Crossing the border to the Great White North: a musician's guide
Touring Tips For International Music Gigs