Excerpted from Unlocking Creativity: A Producer's Guide to Making Music and Art, record producer Michael Beinhorn (Soundgarden, Red Hot Chili Peppers) helps define a producer's role and outlines the production process in this post.

What is a record producer? Even though the job title seems to carry a lot of weight and has an almost heroic, mythical resonance to it, most people don't really know what a record producer does. In fact, most artists and record company executives don't even understand what record producers do, although many of them believe that simply having a specific producer's name on their recording will guarantee them success, even if the producer in question winds up contributing next to nothing.
On the surface, record production is comparable to a wide variety of jobs – from office manager to school teacher to film director to lion tamer (and, perhaps, clinical psychologist). Beneath the surface, a record producer is often an objective outsider, an independent consultant, a music fan, a song co-writer, an arranger, a recording technician, a computer programmer, an artist development specialist, a support system, a psychologist, and a catalyst. But at its core, record production is mainly about being a conduit that helps the entire creative process flow most efficiently while maximizing the creativity of all the participants on the project.
To be clear, a record producer's primary directive is to help the artist excel.
The producer does this by illuminating the artist's creative path, demonstrating various ways the artist can reach the highest level of expressive ability, and often motivating or pushing the artist to reach this summit. Working with a record producer is ideally not only an enlightening experience for an artist but also character building and life changing. After working with a talented producer, the artist may never view his work the same way as before. He should feel as though he's leaving the project as a different person from when it began, with a brand-new perspective and skill set.
Each record producer has his own approach and methodology – there is no right, wrong, or even generally accepted way to produce a record. This is also what creates so much confusion regarding the producer's actual function. Some record producers are very hands-on, involving themselves in every aspect of a production, from the recording budget to song arrangements to songwriting to working with the artist on her performance and the nuts and bolts of the recording itself. The scope of this producer's work is anything in the creative process that, by his estimation, requires assistance.
Some producers are mainly involved in the technical side of a recording and are either minimally involved in the musical or creative side, or not at all. Some producers co-write the music for a recording with the artist (and often perform on these recordings) but don't get very involved in how the actual recordings are made. In some cases, these producers are also songwriters who are eager to acquire a larger equity share of a recording by writing songs for their artists, and then producing them. Some producers do multiple projects simultaneously; they hire engineers to run their sessions for them and check in periodically but generally don't go to the studio to do hands-on work with the artists while the recording is underway.
The bottom line is that record production is like any other form of work. It's time-consuming and requires dedication, skill, and a lot of effort.
The production process before recording
Although some of the most important decisions on a recording project are made during its earliest days, this part of the process is often the least addressed, possibly because it's not very glamorous and involves a lot of intense work. (The first few chapters of my book address the ways I approach various stages of pre-production of a project before the actual recording starts.) I tend to deal with the process in stages, because a methodical approach often encourages creative ideas to develop organically, instead of feeling forced.
Stage 1: Introduction/interview. This stage entails meeting the artist, preferably via email, and then meeting in person or over Skype, FaceTime, etc. This helps set the tone for how the artist and I will work together.
Stage 2: Flyover of artist's work. I listen to the artist's demos and previous recordings, watch his videos, assess his work, and get inside it. During this stage, I generally get a feel for who the artist really is as opposed to who he claims to be and what the artist is actually doing as opposed to what the artist imagines doing or wants to do. Combined with Stage 1, this stage helps me determine whether working with this artist will be a good fit.
Stage 3: Creative visualization. Assuming that the artist is an ideal candidate and there is a good rapport between us, specific groundwork is laid for the creative collaborative process to commence. During this stage, I complete my conceptual overview of who the artist is (as an individual), what the artist is (as a creative entity – whether she is a dedicated artist, an inspired dilettante, a skilled artisan, an unskilled enthusiast, or an exotic blend of these elements), and what the sum total of the recording may look like at completion. At this point, I start to develop a mental picture of the artist's future work (as it may be affected by our collaboration) and to envision the best ways to actualize and enhance the artist's maximum capabilities.
This visualization creates an understanding regarding how to move forward and will guide nearly every decision I make with regard to the artist and his project.
Stage 4: Preliminary pre-production. The artist and I commence our creative collaboration. Gradually, as this process deepens, I gain the artist's trust, an even deeper insight into the artist (musically and otherwise), and the artist's songs come more clearly into focus.
I refer to this stage as preliminary pre-production, and the technical aspect of it covers everything from examining and fixing song structures and song arrangements to band orchestrations, addressing performance issues, and so on. This stage could conceivably last for a couple of months and requires regular interactions between the artist and myself. Most of the interaction is via email, Skype, or FaceTime, with one or two physical meetings per week (each of which might ideally last two to four hours). All of this will vary in accordance with the artist's needs, my recommendations, and other factors, such as how far away the artist lives from me.
There is also an interpersonal component to this stage. Working more closely with the artist, I now begin to experience him. All along, I've been intuitively "reading" the artist through his music. Now, being in closer proximity with him, I start "reading" him and begin connecting the creator to his creations. This also helps me develop an awareness of the artist's unique way of communicating ideas and feelings. I start to pick up on the artist's sensitivities and am mindful of them when communicating any ideas, critiques, or thoughts to the artist.
Among other things, I feel that my job is to create a safe environment for the artist, within which he feels comfortable and is aware that any concerns he has (creative or otherwise) will be heard and addressed. It's important that I'm always conscious of this if I'm going to win the artist's trust, help build his confidence, and provide him with the proper tools to navigate his creative journey. In doing this, I wind up developing an empathetic rapport with the artist, which helps me get an instinctive sense of what he truly requires.
Stage 5: Pre-production. Once the artist's music is arranged and roughly orchestrated, other musicians can be brought into the creative collaboration process.
This is the pre-production phase of the project. Pre-production ideally lasts for two to three weeks (although, it can last even longer) and involves daily rehearsals. I'm present with the band throughout the process, with the possible exception of when specific band members need to rehearse together and focus on aspects of their performance.
At this point, all the musicians should know the music they will be recording intimately. They will already have been playing the songs together or heard the songs in demo form and learned them. They are prepared to work on aspects of performance as well as developing their parts further.
At this stage, I often record band performances while in rehearsal just to get a point of reference (or, on the odd chance that someone plays something great and subsequently, forgets it). I generally use a smartphone or a handheld digital recorder with built-in microphones. Taking these performance recordings out of rehearsal, I can listen forensically, make changes where applicable, and then go back in with band to implement them.
Stage 6: The next vista awaits. The pre-production stage is completed. All of the songs we have been tirelessly working on are now ready to be recorded with, in some cases, new arrangements and a fresh approach to performing them. The songs have strong foundations and (with noteworthy exceptions, such as parts that can be composed later in the recording – percussion, keyboards, background vocals, additional guitar overdubs, strings, and brass) all the vocal and instrument parts have been written. We are now ready to transition into the recording studio, meet other members of the creative team (such as the engineering and technical contingent), and begin the next phase of the process.
Unlocking Creativity: A Producer's Guide to Making Music and Art (Hal Leonard Books), is written by record producer and Grammy Award nominee Michael Beinhorn (Herbie Hancock, the Red Hot Chili Peppers, Soul Asylum, Hole, Soundgarden, Ozzy Osbourne, Courtney Love, Marilyn Manson, Social Distortion, Korn, and Mew). This unique book reveals how to deal with interpersonal issues record producers face when they work with artists one-on-one or in small groups, which can make the difference in a good recording or a great one.
Get 20% off! Visit unlockingcreativity.halleonardbooks.com and enter the discount code AP2 at checkout to receive 20% off the list price and free domestic shipping (least expensive method)!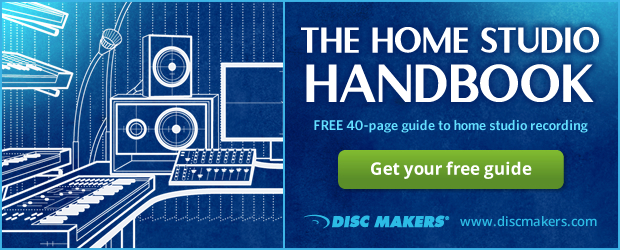 Read More
Psychology and the music producer
Behind the glass with Daniel Lanois
Songwriter's block: where does it come from?
Pre-production and your studio recording
Pre-production tips for recording drums