Being flexible and shaping your rig and performance style to fit the venue and circumstances can make a challenging live music performance work.

Last week, Echoes published "Gigging without electricity – how we made it through the show in the park," an article about my unexpectedly unplugged and unamplified live music performance at an outdoor festival. The entire band had to make adjustments to accommodate the requirements of the gig – and drummer Rob Mitzner, in particular, relied on a setup he's customized just for such circumstances.
Modified drum set
"It's a hybrid drum set and percussion rig, or my 'cajon rig,'" Mitzner says. "I developed it for singer-songwriter or pop-rock situations where a more acoustic vibe is appropriate. It also has the added benefit of fitting into a large suitcase and a backpack cymbal bag."
Starting at the bottom of the setup, Mitzner's LP Aspire Cajon functions as both a bass drum and drum throne. "I attach a double-bass pedal and reverse the direction of the chain, so I can step on a forward-facing pedal with my right foot — as I would on a drum kit — and the beater of the other pedal strikes the cajon as I sit on it," he says. "Using the cajon in this way allows me to create a slightly thinner sound than a real bass drum would, but with more attack. It works especially well when you throw a mic on it and put it through a PA, but it also cuts through in an unamplified setting."
The rest of Mitzner's kit is relatively standard: a 13″ x 5″ Omar Hakim Signature Series Pearl snare drum on a lightweight stand, a thirteen-inch inch Zildjian K crash cymbal that he uses for both crash and ride purposes, a hi-hat stand with a tambourine mounted on it, and a variety of shakers and small hand percussion.
"I often opt to bring the cajon rig, not just because it's lighter and more transportable," says Mitzner, "but as a result of a musical choice.
"Rather than creating a watered-down, 'drum set lite' sound, this rig has its own unique qualities for all types of situations. It has much less low end, so if there is no bass player or the bass is quiet, it supports that aesthetic — a full-blown rhythm section would sound strange in some of the musical situations I use this kit in."
Other modifications
As the keyboardist and vocalist, I also had to adapt to the situation of no electricity by adopting more of a classical vocal technique, to make sure that my singing projected, and adjusting how heavily I played my keyboard to account for the instrument's light touch. I always try to stay flexible when it comes to recording and live music performances — and flexibility was particularly important in this instance.
Creative interpretation
We were told we could have no amplification and no generators, but we amplified both the keyboard and bass and the performance went off great. Where do you draw the line? While it can always be risky going against the letter of a regulation, we focused on the intention behind the rule.
When we were told "no amplification," we suspected the organizers did not want a thumping, block-shaking bass that would disturb nearby schools, residences, and hospitals. No problem. Given that our entire performance could not exceed the volume of our band's unmiked and unamplified vocals, the chances of this becoming a problem were slim.
While the equipment we sourced specifically for this gig — the Yamaha NP-31 battery-powered keyboard and Yamaha THR10 battery-powered guitar and bass amp — are not our standard fare, they were tools we needed to get the job done, and they both performed reliably. At times, prepping for this gig was a logistical nightmare with constantly changing rules. But when we got there, set up all of our gear, and started performing, it felt like home and we had a blast. Being flexible and shaping our rig to fit the venue and circumstances made the performance work.
Image via ShutterStock.com.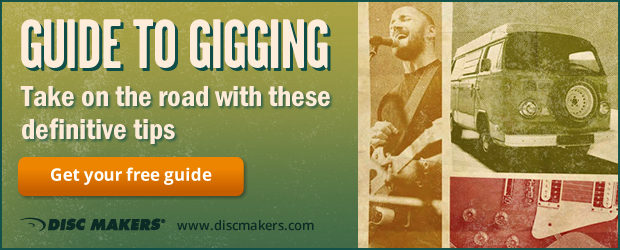 Read More
Gigging without electricity – how we made it through the show in the park
How to find and play unconventional music venues
Got an unconventional gig? Use unconventional promotion.
How to deliver great R&B vocals in the studio and on stage
Improve Your Live Music Show – Get Visually Creative!