Transitioning a full band with keyboards and vocals to gigging without electricity sounds like it could be a nightmare – but a little creativity and planning made it work for us.

Earlier this year, Echoes published two articles on gigging in unconventional venues: "How to find and play unconventional music venues," and "Got an unconventional gig? Use unconventional promotion." Last month, I had the opportunity to play just such a show as part of an outdoor festival, performing in a city park with my band Aurical.
Originally, I had thought that, even though the gig was outdoors, we would have no problem plugging in amps and instruments. Many parks have outlets tucked away inside lamp posts and maintenance buildings, accessible for public events like this festival. And since the event was a Sunday afternoon in a bustling urban area, a modest amount of amplified noise didn't seem like it would be a problem.
As we moved closer to the festival date, though, we discovered that the city would not in fact turn on the juice for our event. Furthermore, not more than two weeks prior to the festival, we found out that we would not have a generator, either.
Our band normally performs with two amplified vocalists, acoustic guitar (plugged in and amped), electric bass, keyboards, melodica, and drums – so adjustments had be made.
We made it through the gig – read on to learn how we dealt with the lack of electricity, lack of amplification, and other challenges the day would bring, instrument by instrument. Hopefully these tips will help you navigate your own unconventional (and unpowered) performances.
Vocals
Since Aurical is a vocal-driven band, we had to make sure that the singers – me and Rachel Rossos – could be heard, unamplified, amidst all of the other instruments, which can layer up thickly in some of our arrangements. This paradigm made things simple: We had to be sure nothing would be louder than our vocals.
Luckily, both Rachel and I have trained classically and know how to project our voices, putting power and drive behind what we sing without hurting ourselves. This served us well for this performance, and we made other adjustments, too.
"When I was singing, I tried to face all of the audience members over the course of a song, in case my voice got lost in the wind while I was turned in a different direction," says Rachel. "I also made a greater effort to work the audience, which was both necessary, because of the park setting, and easier to do, since we didn't have to worry about mics."
As for my own singing, I made a point of supporting my vocals with plenty of breath, and also focusing the sound in my mask area (more or less behind the nose and eyes) while trying to keep my jaw and throat completely relaxed in the process. The idea was to create a vocal sound that carried the resonance of my entire body, but also had enough "ping" to cut through the other instruments and city noise.
This is a different approach than I would have taken if I were singing with a microphone and even a minimal amount of amplification. In such plugged-in situations, where I don't have to worry as much about projecting and being heard, I focus more on using different vocal colors and textures to create a performance that's dynamic and expressive. When it comes down to it, I actually prefer situations like our unplugged outdoor concert, as singing with a microphone sometimes makes me feel like I'm under a microscope. When it's just me, my voice, and the audience, I find it easier to let loose, sing from the gut (literally and metaphorically) and just have fun.
Most of the adjustments we made to the vocals happened more or less automatically, after we started playing. Our approach to our instruments required much more planning ahead of time.
Bass
At first, we thought about asking our bassist, Dmitry Ishenko, to bring an upright acoustic bass and just thump out his parts loudly enough to be heard, counting on the instrument's big, natural resonance. For logistical reasons, bringing such a large instrument turned out not to be possible. The next best answer? A battery-powered amp.
On short notice, I was able to borrow a Yamaha THR10 battery-powered amp. Though it's rated at 10-Watts and is meant primarily for practice, jamming, and custom tone generation — that is, not really designed for outside performances — the low overall volume of our show meant it would give us the sonic power we needed. The unit works on either AC power or AA batteries. We loaded it up with Duracells, brought a handful of spares, and took it down to the venue.
Despite not being designed for the task, the Yamaha did an admirable job, delivering a full and powerful enough bass tone to round out the low end of the band's sound; the bass tone also stayed clean when the unit was cranked to full volume. Dmitry was able to set it up in minutes and the battery power didn't waver during our 50-minute set. In a similar situation, I would use it again.
For bassists looking for battery-powered amps with more wattage, quite a few options exist. Check out this TalkBass forum discussion on the topic.
Drums
When it came to percussion, we left things up to our drummer, Rob Mitzner. Bring whatever you want, we said, but just make sure that it doesn't overpower the unamplified vocals.
Rob has played with us for a while and was familiar with our voices, and he's a total pro, so I wasn't surprised that the setup he brought worked in the outdoor, unplugged context. Instead of a bass drum, he brought a cajon rigged with a kick pedal attached. He also had a piccolo snare, a Zildjian K crash cymbal which he uses both to ride and crash, and a high hat with a tambourine mounted on top. The setup has the power to cut through in an unamplified setting, he says, and brings its own unique sonic fingerprint to performances, rather than creating a watered-down "drumset-lite" sound.
The successful balance between percussion and everything else had to do with more than equipment. In two rehearsals leading up to the performance – once we had heard that no amplification would be possible – Rachel and I made a point of not using microphones for our vocals, even though our rehearsal studios had them available. That way, the entire ensemble could get used to fine-tuning our performances and blending them together naturally and not have to completely adjust our playing at the gig.
Keyboard
My favorite set-up for playing with Aurical is an acoustic grand piano and my Nord Electro 3HP keyboard, though I often perform using just a single keyboard, calling up acoustic and electric piano sounds as each song dictates. Clearly, the latter approach was the one to take for this gig.
At first, I considered bringing my Nord with some sort of power pack, and either getting a hold of a battery-powered amp or plugging my Roland KC300 into some other portable power source. In the end, the best solution was the simplest one: bring a keyboard with built-in speakers that runs on batteries.
Again, since the vocals wouldn't be amplified, we wagered that the built-in speakers of a battery-powered keyboard would do the trick.
While the phrase "battery-powered keyboard" might bring to mind $100 keyboard-shaped toys that have sounds like "Dogs Barking 1&2," there are a number of battery-powered keyboard instruments with built-in speakers aimed squarely at the professional market. I was able to borrow one of these, the Yamaha NP-31, for this performance.
The instrument was absurdly light, just under 13 pounds, which made getting to the park much easier than I'd thought it would be. Like the THR10 amp, it runs on AA batteries.
As soon as we turned the instrument on at the park, it became obvious that it would be powerful enough. I didn't have to turn it up more than two thirds of the way in order to get a sound that was strong enough to blend with the other instruments. Unfortunately, given the design of the instrument, the speakers were pointed upwards and at me and not out at the audience, so I got more keyboard in my "mix" than I would have otherwise liked. But that was a small price to pay for having a self-contained keyboard-plus-amplification solution in front of me.
I was momentarily surprised by the sound of my keyboard playing, once we started the performance. Given the outdoor setting, ambient street noise, character and placement of the NP-31's speakers, and overall sound of the band in that setting, my playing on the lower half of the keyboard was not sounding as prominently as I had expected – and I normally lay into the lower register quite a bit when performing with this group.
Rather than interrupting the flow of the performance to mess with EQ or other settings, I adjusted my playing style, leaning more heavily on the higher register of the instrument, which blended perfectly with the band's sonic mix, and transposing some of my keyboard parts an octave up to make sure that they would be heard. Those adjustments, along with the low-end power already coming from Dmitry's bass, created a good blend and I was able to relax into the performance from there on out.
Melodica
A number of our band's tunes feature melodica — a wind-powered, hand-held keyboard instrument that sounds something like an accordion cross-bred with an oboe. It can be an awesome textural or lead instrument in the right setting, and the fact that it doesn't need electricity is a huge bonus, too.
The model we've been using is the Hammond 44 Acoustic-Electric Melodion (which you can see Rachel playing here).
If you've ever used or seen that instrument live, you know that it is nicely reactive to your breathe when it comes to volume and can project and cut through other instruments like nobody's business. Depending on the venue, we sometimes don't amplify it at all, even for club shows where the band is fully plugged in.
The answer with this one? Rachel just listened and adjusted the power of her breathing accordingly. If anything, this was the smoothest instrument to integrate into the performance.
In the end…
… the concert was a success. We had a great time, plenty of passers-by stopped to listen and enjoy, and some little kids even danced. Do you have stories about gigging with unexpectedly unplugged situations, or changing up your live-performance approach to transform a challenging gig situation into a positive experience? Tell us in the comment section below.
Image by Anton Gvozdikov via ShutterStock.com.
Disc Makers' regular contributor Michael Gallant's debut trio album Completely received a four-star review from DownBeat magazine and a five-star review from Critical Jazz, which stated: "This, my friends, is the future of jazz. Fresh, invigorating, progressive – there are simply not enough positive adjectives to list here." Learn more, download through iTunes, jam along with the new JamBandit app, or purchase through CD Baby. Follow Michael on Twitter at @Michael_Gallant or on Facebook.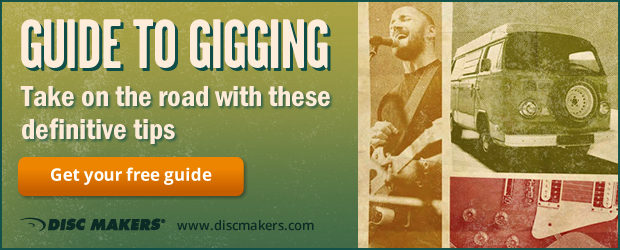 Read More
How to find and play unconventional music venues
Got an unconventional gig? Use unconventional promotion.
How to deliver great R&B vocals in the studio and on stage
Improve Your Live Music Show – Get Visually Creative!
How I Bombed On Stage