A song demo is trying to accomplish one thing: sell your song to the listener. While there's no magic formula for rising to the top, these 9 tips will help you avoid sinking to the bottom of the pile.
Last year, I got a call to produce a record for an artist on a NY label. It was a rush project, they wanted it distributed in early December in time to ship for Christmas. The songs were already chosen, but at the last minute the label decided they wanted to add two more songs.
We put out the word to our community that we needed songs within a week. Usually our song request process begins with a pitch sheet (or tip sheet) that spells out the song and lyric styles required for a project. That usually includes details such as: "up-tempo party songs" or "mid-tempo island country grooves" or "ballads" or anything that can give writers criteria for their submissions. The tip sheet will also detail who the artist is, along with other dos and don'ts about song submissions for that particular artist, etc.
Within 48 hours, we received over 250 songs. After hearing the first two songs, I knew what my next blog post was going to be about: I wanted to share the experience we had going through all these songs to give you a perspective from the producer's side as we try to do our job. The intent here is to reveal what goes through our "producer's mind" as we cut the list from 250 songs to the 15 or so we'll present to the artist who then chooses the final tracks to be cut on the record.
9 ways to screw up your song demo
1. Include a long intro. All we are concentrating on during the vetting process is the melody, lyric, and vibe of the song; and isn't that what you are selling? For the life of me, I cannot understand why anyone would produce a song demo with a 45-second intro. It feels like a lifetime when you have 250 to listen to. If every song had 45-second intros, that would be 187 minutes spent waiting for the damn songs to start! Think about it! What's the purpose of a long intro on a song demo? You are trying to sell the song, not blow people away with your producing skills. Why make us wait? This is such an annoyance. Every single one of these pissed us off immediately. To some extent, we rendered a poor judgment on the song before we even heard the first verse. Fair or not, this is what happens. Foretold is forewarned.
2. Submit a track with crappy, cheap production. We did come across a few songs with horrible production. We just laughed and ripped on them. They provided a welcome comic relief from the work load we had to complete. How does that make you feel? You have to compete intelligently in your marketplace. You don't need to produce the greatest record in the world, but poor production certainly colors our opinion. Food for thought.
3. Don't read the tip sheet or follow the parameters for what the project requires. If the producer asks for up-tempo party songs, don't send ballads. If the tip sheet has an artist with a limited vocal range, don't send huge songs requiring four octave ranges, no matter how good they are. Who's gonna sing them? Also, don't use an opportunity to pitch a particular type of song as an excuse to send every song you have. We don't care – not right now, anyway. We are only looking for the songs we need for this project so we can get on with producing it.
4. Send emails with vague or missing subject lines. As I mentioned, in 48 hours, I added 250 emails to my regular daily allotment. As a sender, you want to put the name of the artist your pitching for in the subject line so your song doesn't get lost in all the traffic. The subject line is how the receiver will find a song among so many emails. That's called common sense.
5. Don't research the artist before submitting a song. In the case of this particular artist, his songs all have a very positive message. We came across a couple songs about heavy drinking, sex, and adultery that just wouldn't be right for his brand. Clearly the writers who sent those in had no clue about the artist, and simply wasted our time. This doesn't make a good impression on us about your songwriting, no matter how good the song is. In fact, it makes a bad impression on us that you didn't provide what we asked for.
6. Choose a terrible singer. Choose a pro singer for your demo. Unless you're a real vocalist, don't sing it yourself to save money. FYI, suitable vocal ranges to the intended pitch are very important. It is really hard to hear a big, high, soaring melody an octave lower. We try, but it really is difficult, especially in the face of a 250-song listening session. Those demos with poor singers or inappropriate singers (with respect to the artist) are ignored immediately. Sorry. I strongly suggest that if your song would work down in a low octave as well as a high soaring vocal performance, demo it twice, or at least cut a second vocal so you have something that clearly represents both vocal ranges.
7. Don't work hard on your lyrics. We listened to some good songs with average lyrics through the first chorus. However, the great songs with killer lyrics kept our attention through the second chorus because we just couldn't wait to hear what the writer was going to say next. Simple artistic curiosity kept us inside that song. Lyrics will make a big difference every time.
8. Over-produce your demo I know, this sounds like the opposite of #2. In that I meant the sonic quality of the production, how the song sounds. Here, while I understand the impulse for any writer or artist to do this, if you have limited studio experience, don't try to produce an epic album track. Stick to the song demo side. Put background vocals only where they are obvious to lift the chorus. Do not include "oohs" and "ahhs" and fill in all the open space with background vocals and arrangement ideas. Your aesthetic may not be the same as the person we're pitching to and it might lessen the appeal of the song. Don't add too many guitar tracks or color instruments; keep it as clean as possible. You really want to leave room for the producer to do their job and take the song to another level. Remember, this should be a solid blueprint for a song, not a production template for a record. Another good reason not to overproduce is that tastes and trends change. We heard a few older demos with production that was in style 10 or 15 years ago, but not now. In those cases, the production choices took me out of the song. If the dated production values were not present, the demo would certainly be more durable.
9. Use lots of auto-tune. Holy cow, we had a demo where the vocal tuning was borderline Cher! It's unbelievably distracting. Having a quality, clear vocal is the way to go if you are trying to compete with the big boys.
Good luck out there! And if you have any other insights, we'd love to hear them in the comment section.
Johnny Dwinell is a veteran Los Angeles artist/producer/businessman who created Daredevil Production in 2011 to provide innovative artist development in the new music business. In mid 2013 Daredevil Production started a weekly blog as a free resource for artists and songwriters to use for inspiration, advice, support, and knowledge. In late 2013 Johnny Dwinell wrote the bestselling Music Marketing On Twitter book. Thousands of artists and songwriters have improved their understanding and execution of social media with the help of this free book!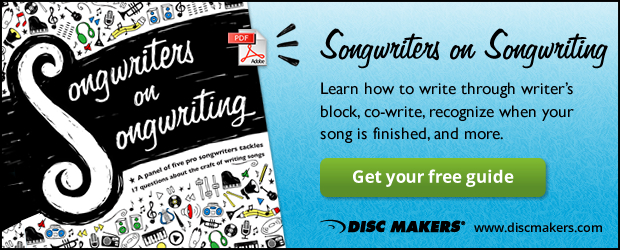 Read More
Are you making excuses, or dealing with challenges?
Using Auto-Tune in Your Home Studio
Producing Background Vocals
Avoiding common songwriting obstacles
Ask a songwriter: 5 questions for Byron Hill