To succeed in music, your live music performance has to be more than just a rehearsal on stage. Get creative, scale your performance to the venue, and give the people a show to remember.

It takes more than just great songs and great performances to get people excited about your music career, especially when you're just starting out or you want attention in a competitive city like Los Angeles, New York, or Nashville. A musical artist must produce a live show experience that excites the audience and reinforces its brand. Here are seven basic tips that might stimulate your imagination.
1. Deliver the goods for your fans
Ernie Petito formerly of Warner/Chappell Music, says, "There is a live performance element that is a crucial part of selling your songs." Believe it!
You'll have to scale what you do to the venue and occasion, but getting creative with your arrangement ad stage show can go from guest appearances to huge stage constructs. Korn brought a bagpiper up on stage with it, Marilyn Manson wore white contact lenses and even physically cut himself onstage to provide that little extra dramatic edge, and the drummer from Rage Against The Machine played with his back to the audience in front of a huge mirror so you could see everything he did.
Says Petito, "Industry persons and fans expect you to deliver, whatever that takes."
2. Make an impact on stage
Jody Whitesides, an independent artist, says jokingly, "If you want to make an impact on stage – EXPLODE! Not literally, of course, but you want to do something different than the average band."
Perhaps you'll have interesting instruments on stage with you like tympani, Tabla drums, or a huge harp, or you'll have guest musicians like a horn section or a small string quartet.
You might dress in interesting costumes and masks or have sexy dancers joining you up on stage.
Maybe you'll have film projecting on screens, televisions displaying news broadcasts, programmed voices playing between songs, specialized lighting, lit candles, fog machines, or flash pods.
You might invite the crowd up on stage with you to dance or hang out while you perform, or invite a local celebrity such as a sports star or radio DJ to announce your set.
3. Interact with the audience
Get the audience involved in your show as well. Hand out inexpensive instruments (say kazoos) so everyone can play along and interact during a certain part of one of your songs, distribute lighted glow sticks for everyone to wave around or beach balls for fans to toss around.
Or, if your metal band who has fans that mosh, you can always get the audience to create the ultimate "wall of death" (assuming, of course, that the venue where you're playing is cool with it.)
Finally, you might provide an opportunity for your fans to hang backstage and take a few selfies or vine videos with you as well. While there is only so much that independent artists can do when they are just starting out, some of the major artists are creating ultimate VIP packages where fans can eat full meals and hang out before the show.
4) Utilize new technology for further engagement
Be sure to utilize new technology to improve your live performance experience. You can allow fans to create the set list for the night by voting for certain songs from your website or texting requests in real-time while you're performing. You can also use sites like UStream, Blog TV, LiveStream, JukeZoo and more to stream content live for fans at home.
5. Don't forget the after-party
Make what happens after your live performances as equally as important. Though this is an older example, the band Motley Crüe became notorious for throwing the most out-of-control after- parties complete with whiskey, beer, and scantly clad women. People lined up for blocks around the Whiskey A Go Go club on Sunset Boulevard just to see the band's show and get a chance at attending one of the after parties.
6. Be consistent with your brand
Whatever live performance concepts you come up with, be sure they align with your music and with what you ultimately want to project. Don't force anything. Make it a natural part of your brand.
7. Put musicianship and songs before gimmickry
Just remember that I am not suggesting gimmickry in lieu of great songs and musicianship. It is all about the total package and giving your audience something that makes you stand out as an artist in the overcrowded marketplace. Bottom line, every show you do should be an event to remember, and never just another gig.
Image via ShutterStock.com.
The contents of this post are © 2014 by Bobby Borg BobbyBorg.com. All rights reserved. Not to be posted, printed, or used in any other way without proper attribution to Bobby Borg and Disc Makers.
Get your FREE download of Bobby's new Disc Makers guide, The Complete Marketing Process: Creating and executing a complete marketing plan, excerpted from Bobby's book, Music Marketing For The DIY Musician: Creating and Executing a Plan of Attack On A Limited Budget (September 2014, Hal Leonard). The book is available on the Hal Leonard website, Amazon.com, or at BobbyBorg.com.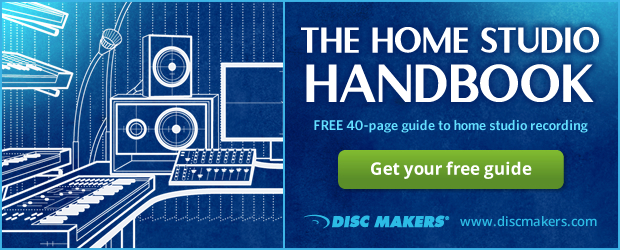 Read More
Three Keys to a Compelling Music Performance
Improving your music performance starts with a vision
Freshen Up Your Live Show – 5 Ways To Spruce Up Your Live Music Performance
Five mistakes keeping you from becoming a great musician
Every music genre in one incredible interactive infographic