Timeless songs require a mix of great writing, performances, production, and arrangement. Berklee Online breaks down the music instruments that make up Rolling Stone's 100 greatest songs of all time in this infographic.
For all of us who are musicians, and anyone who loves music, digging into the instrumentation and arrangement of our favorite recorded songs is part of the wonder and majesty of music production. Whether or not you're a true believer in Rolling Stone and its notion of what the greatest songs of all time are, its 2011 listing of the top 500 Greatest Songs is pretty comprehensive. (I'll admit, I haven't been able to read through all of them as yet.)
Berklee Online went a step further, and did an analysis of the music instruments used on the top 100 songs from Rolling Stone's list. As the Berklee post states, "While a large percentage of the selection use guitar, bass, and drums (no surprise), the 58 instruments in this graphic go beyond the expected. From the swarmandal The Beatles used in 'Strawberry Fields Forever' to the castanets in The Ronettes' 'Be My Baby,' and mouth harp in The Beach Boys' 'Good Vibrations,' these classic songs tap into more than the typical standby sounds."
Take a look at the infographic below. Any surprises? The glockenspiel on "Born To Run" wasn't one I could have pulled out of thin air, and the theremin is always a fun one to pick out from the crowd. I was just listening to the original Star Trek theme song with my kids last night to give them a taste of what it sounds like (and figured out that it's not even used on the recording!). Well, except in this video.
I also found in the Wikipedia post on the theremin that it wasn't actually used on the Beach Boys' "Good Vibrations." It may be a picky point, but the entry asserts that the sounds on that song were made by a Tannerin (AKA Electro-Theramin).
---
A musician, writer, and marketer, Andre Calilhanna manages and edits the Disc Makers and BookBaby Blogs. Follow Andre on Twitter @dre_cal. Email him at andre@discmakers.com.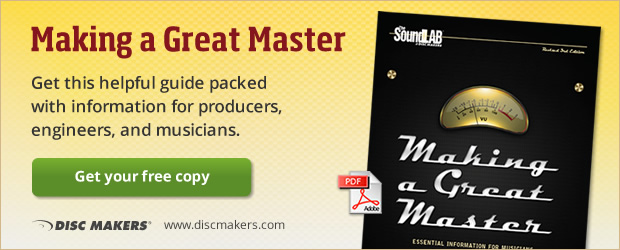 Related Posts
The creative genius of Paul McCartney's bass lines
Every music genre in one incredible interactive infographic
12 musicians who died in 2014
Butch Vig on record production
Twelve tips for producing massive and original electronic dance music
Are Dynamics Dead in Popular Music?