Whether you're just getting your band off the ground or you're seeking a new opportunity, playing unconventional music venues can benefit your music career.

When Harvard University professor, MacArthur grant winner, and world renowned jazz pianist Vijay Iyer scheduled the New York City release show for his 2015 trio album Break Stuff, he didn't choose a standard venue like the Blue Note, Village Vanguard, or even Carnegie Hall. Rather, Iyer's concert was staged within the Metropolitan Museum of Art, his band grooving along adjacent to the striking stone structures of the Temple of Dendur exhibit.
Iyer isn't the first artist to eschew traditional clubs, theaters, and concert halls in favor of more unique performing grounds; just check out "Gigs in weird places" for some other interesting examples from the Beatles, Crystal Fighters, Johnny Cash, and more.
Going off the beaten trail when it comes to scheduling your own shows can bring you unique benefits, but also present challenges that you might never have to face in more standard venues. Hillary McAndrew Plate, founder of New York firm Arts Consulting and Entertainment Strategies, has been helping create performances in unconventional spaces for years. Here are her thoughts on how to do it right.
Think outside the box
Not sure where to start looking for unconventional music venues for your next show? Check out "A list of alternative venues" from DIY Musician for some tips on where to get started. From movie theaters to airports, writer Chris Robley does a great job of giving a list of unexpected venue options that you can research in your city or community of choice.
It's also worth checking in with your own musical community, as you may be surprised at some of the unconventional music venues your friends and colleagues have played. A quick survey on my end yielded some intriguing results – California artist Kim Cameron tells about gigging at VA hospitals, Seattle producer and keyboardist Dave Gross once played a gig on an aircraft carrier, Kansas musician Jane Christison played accordion on a bus taking tourists around to see the Kansas City Christmas lights, and California composer Tom Peters jammed in a freight elevator. Perhaps the best story I heard, though, was from Canadian instrumentalist Aaron Lightstone, who played a gig on a barge that was docked within view of the ice-covered Arctic Ocean.
In other words, opportunities to share your music might exist, or be possible, in spaces you'd never expect – so when you're brainstorming possible venues, do your research and let the sky be the limit.
Look for opportunities to reach new ears
"One of the best reasons to do unconventional performances is to build your audience where you didn't have one before," says Plate. "Especially when you're starting out, it can be hard to get an audience to come to you – so an unconventional venue can give you the opportunity to go to them."
Plate recalls helping present a Caribbean jazz band for a performance in the foyer of a nursing home – a performance that turned out to be great, despite logistical challenges. "It was extremely interesting and also very moving," she says. "People in long term care facilities, for example, can be starved for culture and art, so bringing music to them can be a really special experience for everyone."
In addition to nursing homes, hospitals or schools, libraries or summer camps can all be places to bring your music where it may not just reach new ears – but be appreciated in a particularly meaningful and rewarding way.
Find the right person to reach out to
Just like with any other gig, finding the right booking contact is key. "If you're looking at nursing or care facilities, there's usually some kind of program curator who is doing enrichment for residents," says Plate. "Find out who that person is, see if you have a connection through your network, or just go straight to them and send them your press kit. Some venues will have formal submission processes, and that's fine as well."
When trying to seek entree into certain venues, turning your performance into an educational experience can help. "See if you can make what you do apply to an organization's curriculum standards," she says. "You can cold call an organization, find out if they have an educational program, and see if there's a way to get involved."
Think of unconventional music venues as "on ramps"
Say that, as a major career goal, you want to work with a big music presenter or arts organization – but don't have the popularity or cred to get their attention quite yet. Plate's solution? Start small and build the relationship from there.
"A place like Lincoln Center in New York has very established stages, but they also have outreach and community engagement programs, all of which take place at unconventional music venues," she says. "If you want to get into the larger, more established venues but aren't quite the right fit yet, find out about their outbound programs. Not only could you get the opportunity to play at a nursing home or children's shelter and have a positive impact on the people there, but it's an on ramp into that hosting institution that you might not otherwise have."
Simplify your tech – and your expectations
Whether you're playing in a park or at a long-term care facility, an underground warehouse party or a barge cruising along a river at midnight, chances are that the technical aspects of your show may tend towards the unpredictable. In other words, to stay sane, keep your technical needs and expectations as modest as possible.
"Never have expectations that you're married to when it comes to tech for the performance, and if you can simplify anything, do it," Plate says. "You typically perform with five monitors. Do you really have to have them all? If you're a classical crossover type group or playing acoustic bluegrass, can you go unplugged, and will the room have enough resonance so you can make it work? If so, performing that way could make things much easier for you, since it can be hard to know what you're getting when you go into an unconventional venue."
One challenge that Plate has faced in presenting events has been a lack of electrical support; she recalls having to unplug a vending machine so as not to blow a circuit during one performance. "Seating can also be an issue," she says. "Maybe there's no seating at all and the audience is migratory, just coming and going all the time. If you're used to having listeners sit in a theatre or club and listen to you, that can be a challenge."
The solution, she says, is to be thoroughly prepared to take things as they come. "Do not expect that, going into an alternate venue, that things are going to come out like they would in a concert hall," she says. "If you're prepared to be flexible and view the experience as an experiment that everyone gets to learn from, things can go really well."
Doing your tech-related research ahead of time can help you be ready for whatever challenges may come. "Never think that you're asking too many questions," says Plate. "The more you ask when you're going into unconventional music venues, down to how many power outlets are available and if the stage has a lip, the better. It's never a bad idea to ask for details."
"And always bring extra gaff tape, just in case," she adds with a laugh.
Visit the venue, and keep safety in mind
If you're playing at an unconventional venue, Plate strongly recommends checking out the site ahead of time (or sending a trusted friend to do so on your behalf). Not only can a site visit help you visualize and prepare for your show, it can also help you make sure that you, your band, and your equipment will stay safe throughout the performance.
"Knowing who is running the venue is a big part of knowing whether it's safe," says Plate. "If you're performing in a hospital, nursing home, school, or library, you're in an established building where other people are and you can probably assume a reasonable level of safety. Also, make sure that any contract you sign covers liability for yourself and your event and have a lawyer look at any agreement to make sure that the venue is taking responsibility for your physical well being. If a venue signs something like that and then puts you in an unsafe situation, you've got recourse."
If you don't have access to a lawyer that you trust, check out resources like Volunteer Lawyers for the Arts and California Lawyers for the Arts, both of which offer affordable legal aid to artists in need.
Equally important to any bit of paperwork are your own spidey senses. If the ceiling of the industrial loft you're scheduled to play in looks too rickety or an unconventional venue located in a dangerous part of town regularly leaves its doors wide open and unattended, consider playing elsewhere.
Make sure your fans know where to go
If you're performing at the 9:30 Club in Washington, DC or the Viper Room in Los Angeles, chances are that your fans won't have a hard time figuring out how to get to your show. But what if your venue unconventional venue isn't such a well-known musical hub?
First things first, make sure that the directions to your gig are clearly written and readily available on your website, social media, email blasts, and printed materials – and if it's particularly complicated, run them by somebody who hasn't visited the venue before to make sure everything is decipherable, especially if special instructions are necessary. Does the waterfront warehouse you're performing at require visitors to park on the gravel road a block away and walk along the canal to the second unmarked door? Spell it all out ahead of time so your audience knows what to expect.
Signage can help, Plate adds, pointing to everything from posters saying "Live Music This Way" to flyers that you can hand out to local businesses ahead of time. "If the neighborhood knows about what you're doing, they'll be able to find you," she says. "If the neighborhood doesn't, audiences, especially from that community, will have a harder time. When you're playing at unconventional music venues, getting buy-in from the neighborhood around you, and giving them good signage, can really help you."
Enjoy the adventure
Want to have a fire dancer come on stage during your big finale, or play in the round and combine your show with an outdoor vegan barbecue? Playing in an unconventional venue can open up a world of possibilities for how to present and share your music on a broader scale.
"Unconventional music venues have always been an option and people have been playing them forever," says Plate, "but they're really regaining popularity in a way that lets artists experiment with their content, build audiences, and create special projects that can't always get into traditional venues, or that don't match their normal branding. They're really a great opportunity."
As with any adventure, preparedness can make the difference between success and failure. "Approach an unconventional gig with the same rigor as a regular one," says Plate, "but relax certain expectations and technical requirements, of course. Just embrace the nature of the venue and there can be endless benefits, if you have the mindset and cautiousness that you need to pull it off."
Image via ShutterStock.com.
Disc Makers' regular contributor Michael Gallant's debut trio album Completely received a four-star review from DownBeat magazine and a five-star review from Critical Jazz, which stated: "This, my friends, is the future of jazz. Fresh, invigorating, progressive – there are simply not enough positive adjectives to list here." Learn more, download through iTunes, jam along with the new JamBandit app, or purchase through CD Baby. Follow Michael on Twitter at @Michael_Gallant or on Facebook.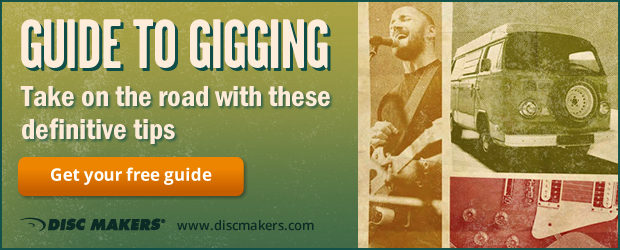 Read More
7 Effective Strategies To Get Your Music Noticed
Improve Your Live Music Show – Get Visually Creative!
Artist Booking Essentials: College concerts and the military market
Indie Touring Strategy: Getting Out on the Road
Tales of the worst music gigs ever
Owning the crowd: music performance tips from the "One Man Sideshow"