In this post, we study Oz Noy and Scott Healy – two cases where an unintended live tracking session turned into a live album release
Albums often come to life after great amounts of planning, practice, budgeting, and coordination — plus the orchestrated spontaneity of the recorded performance itself. On the other hand, sometimes great albums are made without the artists even realizing they're doing it.
Case in point, Asian Twistz, by renowned New York guitarist and composer Oz Noy, and Live at Kilbourn Hall, by Grammy-nominated composer (and Conan O'Brien keyboardist) Scott Healy. Both live albums resulted from recordings that were not originally intended for release, but turned out to contain the controlled magic and sonic integrity to fill the role perfectly.
Perhaps the biggest advantage of recording what might become an album, without being aware that you're doing so, is that any red-light pressure on the performers is nonexistent. You and your band don't have to worry about playing a take for the ages, or really anything other than delivering a great live performance.
Of course, the journey from live performance to a box of 1,000 finished CDs isn't normally so simple. There can be many steps between playing an outstanding live concert (that someone just happens to be recording) and releasing the subsequent live album, polished and ready for the world. Read on for stories, strategies, and advice from Healy and Noy that can help you make your accidental album a not-so-accidental success.
Case Study 1: Asian Twistz by Oz Noy
When Oz Noy toured through Asia in the Summer of 2014, he burned up stages with the expert help of Etienne Mbappe on bass and Dave Weckl on drums — but it was only due to Weckl's prowess as an audio engineer that the tour crystallized into the 2015 release, Asian Twistz.

"Dave only plays with a specific Yamaha mixing board and mixes his own drums live, and then Etienne and I went through the same mixer for each concert," explains Noy. "On some of the nights, he recorded the set directly out of his mixer to sixteen tracks on Pro Tools, which was loaded on a MacBook Air. He does that frequently, just for reference."
When the band returned from tour, Noy was asked by his contact at Abstract Logix Records if any of the shows had been preserved for posterity. "I asked Dave and he sent me three shows that he had recorded," says Noy. "The performances were very good and the sound was pretty good — at least definitely workable."
Noy chose the best takes out of the three shows, made a few small edits to the audio, and then sent the files back to Weckl for a final mix. "The results turned out great!" says Noy. "The fact that it was recorded like that, on the road with no extra recording gear, makes the results extra impressive."
Hear clips and buy the CD at abstractlogix.com.
Tips and takeaways
1) Choose the right mixing engineer.
Choosing the right engineer for the mix "can make a world of difference," says Noy. "Even if the source recordings are not great, with the right mixer, you can make stuff sound pretty amazing." For Asian Twistz, Weckl proved an ideal choice for the mixing engineer, not only because he was intimately familiar with the music and vibe of the band, but also because he had deep knowledge of his own drums and how they can and should sound on a record.
2) Record as many shows as you reasonably can, and record multi-track whenever possible.
When you're on the road, always try to get a multi-track recording from the sound engineer's mixing board, or track everything yourself, as Weckl did. It's worth the added effort and hard drive space.
"Especially for singer-songwriters or solo artists in general, you can get great results on tour by using very little gear and spending very little money," Noy says. And even if the recorded shows don't add up to a great live album, as they did with Noy, you still have tons of recorded material to study and learn from, which was Weckl's intent in recording the shows in the first place.
3) Focus on track selection and keep edits to a minimum.
Even if you have multi-tracked recordings of every single instrument from a series of live concerts, sounds can often bleed into multiple microphones, making editing the audio difficult to do in an organic, natural-sounding way. The solution? Save your edits for the points where it's needed the most and instead, spend your energy choosing the takes that capture the energy, spirit, and power of your very best live performances.
Case Study 2: Live at Kilbourn Hall by Scott Healy

Not long before receiving a Grammy Award nomination in 2014 for his big band composition "Koko on the Boulevard," Healy was invited by his alma mater, the Eastman School of Music, to visit campus, teach classes, and present a concert of his original music, played by a ten-piece jazz ensemble consisting of students. Healy programmed the evening with new, challenging music that he'd written and, while he knew that the concert would be recorded, he never thought it would turn into his next commercial release.
"A few weeks after the concert, I heard the recording and I was stunned," wrote Healy in the album's publicity materials. "There was so much music packed into this evening, and the ensemble played everything so well. I could hear and feel all their attention to the detail and shape of my music. Add in flawless performances, burning solos, and an unmistakable exuberance and creative vibe — I could hear the richness of the hall and feel the energy of the audience. I knew I had a record's worth of great material on my hands, one in which both my brand new music and unrecorded older pieces are fully realized. Plus the recording quality is stellar."
Healy was so impressed by the rough mixes he first heard that he almost used them, as is, as the tracks for his album — but after careful listening, he reconsidered. "There were just a few bad spots where an instrument jumped out, mainly due to bad mic placement," he says. "I can't really blame anyone though, as we had done a short soundcheck for the live sound system, and not bothered to even really point the mics in the proper direction."
When it came to making his own mix of the album, Healy got his hands on the raw, high-res, multi-track files in 96 kHz / 24-bit format. "Each brass and reed instrument was miked and there were only two mics on the drums, one on the bass drum and a stereo mic overhead," he says. "We recorded bass both via direct input and through a mic on the bass amp, and had two mics on the piano."
After three or four mix sessions, Healy sent the 24-bit mixes to mastering engineer Michael Fossenkemper in New York. Three days later, he had the finished album. "Meanwhile, Brooke Lundy had designed the CD artwork and laid the whole thing out on Disc Makers' custom templates, and about 10 days later I had one thousand CDs sitting at my front door!" says Healy.
Hear clips and buy the CD at bandcamp.com.
Tips and takeaways
1) Embrace the simplicity of an unexpected recording session.
"In retrospect, I'm glad I didn't set out to make a live album," Healy says. "The soundcheck would have been an agonizing dialogue with the booth. The musicians would have been glued to their mics, uptight, and focused on not making mistakes, picturing every note they played as living forever." Instead, the players were relaxed, intense, and happy — a much better vibe both for live performance and recording.
2) When it comes to mixing and editing, work with what you have.
Though the performance was largely spot-on, Healy did note one significant flub — a false entrance that happened a bar earlier than it should have. Luckily, Healy says, it made musical sense, so he left it in. "In fact, someone complimented me on the novel orchestration choice of having the same entrance twice, a bar apart," he says. "I just nodded and said, 'thanks.'"
3) If a stereo recording of the whole performance is available, use it.
To Healy's ears, the recorded tracks that "saved" the live album and made the final mixes "sparkle" came from two sets of microphones that were set up to capture the sound of the entire room, rather than any individual instrument. One stereo pair was set up close to the ensemble, while another was set further back in the concert hall. "Those tracks evened out the panning and gave us a nice, warm reflection off the wood in the hall," Healy says. "We constantly referred to the original live two-track mix, and found the perfect balance of direct and room mic sound through a lot of trial and error."
4) Be clear about your vision for the album.
When Healy went to audio engineer Billy Mims to sculpt the final mixes, he was lucky to find a kindred sonic spirit. "Billy's a firm believer in 'true' instrument sounds, so I didn't have to have my usual 'don't EQ the horns' discussion," Healy says. "We focused more on trying to bring the rhythm section to life with subtle compression and EQ on the bass and drums. We initially worked hard to set up the stereo imaging of the concert hall, making the panning left to right match the placement of the instruments on the stage. I wasn't crazy about having the piano hard left and the baritone sax hard right, but I'd set the band up in a semi-circle and it sounded great."
5) Give the mixing process the time and attention it deserves.
A live recording situation may not be ideal for capturing a commercial release, so extra effort devoted to making the mixes as pristine and expressive as possible is time well spent. "We had a few issues that had to do with separation on the various tracks, but fortunately the ensemble had played dynamically, and there were few major mixing moves to do," says Healy. "I found myself studying the original scores, finessing some of the balances, and riding the volume of the solos in a way I'd never had time to do on previous mix-intensive projects. I don't like to use the word 'organic, but it was an organic process."
Disc Makers' regular contributor Michael Gallant's debut trio album Completely received a four-star review from DownBeat magazine and a five-star review from Critical Jazz, which stated: "This, my friends, is the future of jazz. Fresh, invigorating, progressive – there are simply not enough positive adjectives to list here." Learn more, download now through iTunes, jam along with the new JamBandit app, or purchase through CD Baby. Follow him on Twitter at @Michael_Gallant or on Facebook.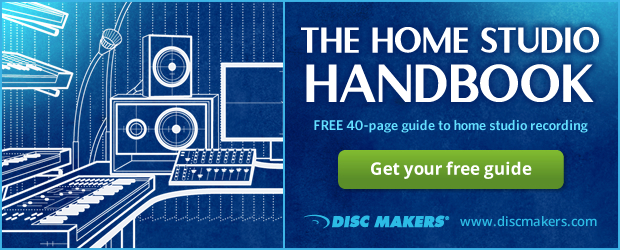 Read More
Getting the best from your live music recording
Recording your live gig: Part 1
A Great Live Music Performance Requires More Than Being Rehearsed
Pre-production tips for recording drums
Drum Tuning Advice for Recording and Gigs